As you have probably noticed I am trying to educate myself about the history behind oppression and racism. Someone asked me whether I follow the South African news as closely as I do the US news and I try to keep myself aware of what is happening all over the world. Right now I am focusing my attention on two primary areas, both related to Human Rights. One of these is the Black Lives Matter movement and the other is the Trans Lives Matter movement. Both of these issues are critical.
In order to attempt to understand what the Black Lives Matter movement is about and how the US came to be so divided on race I feel that I need to know the history behind it. If you do not know this info either then hopefully my blog serves to educate you too.
Someone shared this meme and I realised that there is so much American history that I do not know anything about and so I decided that this will be my 'reading list'. I will take a new topic each week and research it and condense it in my writings. Hopefully I do justice to the history of these subjects.
I have already written about Juneteenth, so this week's blog will be about the Tulsa Race Massacre.
Tulsa was a highly segregated city in the early 1900's. Most of the city's 10,000 Black residents lived in a neighborhood called Greenwood, which included a thriving business district sometimes referred to as the Black Wall Street. During the Tulsa Race Massacre (also known as the Tulsa Race Riot), which occurred over 18 hours on May 31-June 1, 1921, a white mob attacked residents, homes and businesses in Greenwood.
It started on May 30, 1921, when a young Black teenager named Dick Rowland entered an elevator at the Drexel Building to go to the floor with a black bathroom. The young white elevator operator, Sarah Page, screamed and Rowland ran away. The police were called, and the next morning they arrested Rowland.
Rumours circulated through the white community and the local newspaper published a front page story that Rowland had been arrested for the sexual assault of Sarah. A mob of white men formed with the intention of lynching Rowland and a group of black men arrived to defend and protect him.
After shots were fired and chaos broke out, the outnumbered group of Black men retreated to Greenwood.
Over the next several hours, groups of white Tulsans, some of whom were deputized and given weapons by city officials, committed numerous acts of violence against Black people, including shooting an unarmed man in a movie theater. White men fired rifles at young and old black residents, gunning them down in the street.
As dawn broke on June 1, thousands of white citizens poured into the Greenwood District, looting and burning homes and businesses over an area of 35 city blocks. Firefighters who arrived to help put out fires later testified that rioters had threatened them with guns and forced them to leave.
Some 1,256 houses were burned and 215 others were looted. Two newspapers, a school, a library, a hospital, churches, hotels, stores and many other Black-owned businesses were among the buildings destroyed or damaged by fire. The National Guard were called in and martial law declared. Up to six thousand blacks were detained.
The event has been called "the single worst incident of racial violence in American history" but is one of the least-known. News reports were largely squelched. The front page of the newspaper was removed from the archives.
In the hours after the Tulsa Race Massacre, all charges against Dick Rowland were dropped. The police concluded that Rowland had most likely stumbled into Page, or stepped on her foot. Kept safely under guard in the jail during the riot, he left Tulsa the next morning and reportedly never returned. Many survivors left Tulsa, while black and white residents who stayed in the city were silent for decades about the terror, violence, and losses of the event. The massacre was largely omitted from local, state, and national histories.
In 1996, seventy-five years after the massacre, the Oklahoma Commission to Study the Tulsa Race Riot of 1921 was formed. They concluded that between 100 and 300 people were killed and more than 8,000 people made homeless over those 18 hours in 1921. The Commission's final report, published in 2001, said that the city had conspired with the mob of white citizens against black citizens.
The information uncovered many years after this incident tells us that racism was prevalent within the police, the media, the national guard, the city officials and all of the people involved in this cover up. It also tells us that little has changed today in many of these regards.
That is the reason for the protests, the taking of knees, the Black Lives Matter movement and all of the other uprisings that are now occurring.
This weekend in the US there were Indigenous protesters at Mount Rushmore. The Black Hills area is sacred Lakota land.
The protesters feel that Mount Rushmore is a symbol of oppression as it is located in South Dakota's Black Hills, which rightfully belongs to the Lakota people under the 1868 Treaty of Fort Laramie.
Indigenous groups also expressed concern over the pyrotechnics display planned for Trump's event. Wildfire experts have warned that the use of fireworks could cause a forest fire and potentially contaminate surrounding bodies of water. Trump dismissed these concerns and over rode the 11-year-old fireworks ban at Mount Rushmore.
Photos of the protests show local police and National Guard members responding to the scene equipped with riot gear, gas masks, pepper spray, and smoke shells.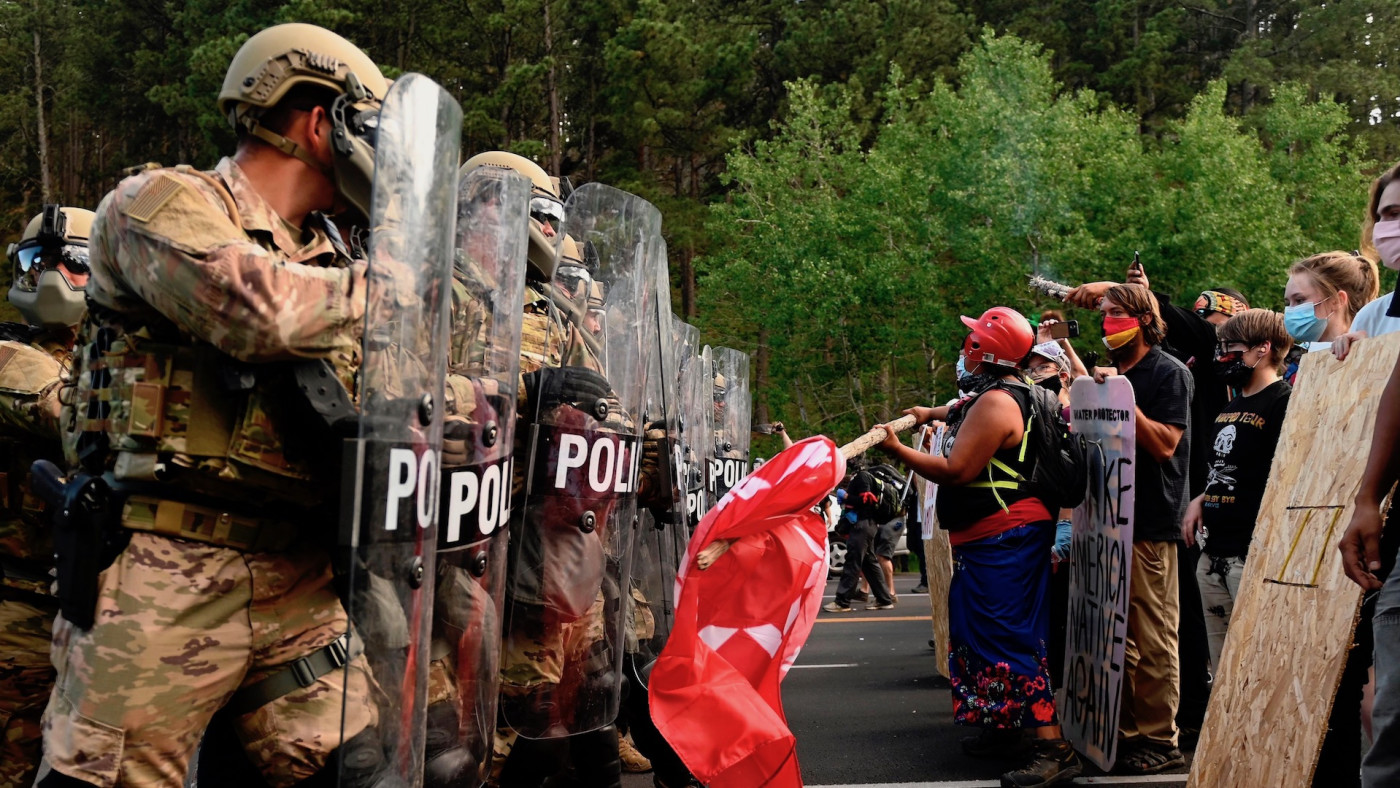 Protests have also occurred again in our little village. Last Sunday we had notification of another protest march in Hangberg. The community of Hangberg came together and had a peaceful march until they were stopped by several police officers while en-route to the local Hout Bay police station. The community members were refused to continue the march to their destination due to breaking lockdown regulations. The Hangberg community leaders handed over a peace memorandum against evictions to Superintendent Stefanus of SAPS (SA Police) when City of Cape Town officials failed to show up.
I previously wrote about the ongoing issues of shacks being demolished in Hangberg and other areas and this is continuing.
Over 20 informal settlements were destroyed in Khayelitsha this week. One of these shacks was the home of Bulelani Qolani who was in his shack washing when the officers arrived. He asked the officers for two minutes to get dressed and remove his belongings.
The officers refused and dragged Bulelani naked from his shack and around to the area in front of the shack, then tackled him to the ground. After a scuffle, Bulelani falls and then gets up again. He manages to run back into the shack which was in the process of being demolished.
The City of Cape Town has tweeted the image below to say they have suspended the officers who perpetrated this inhumane treatment.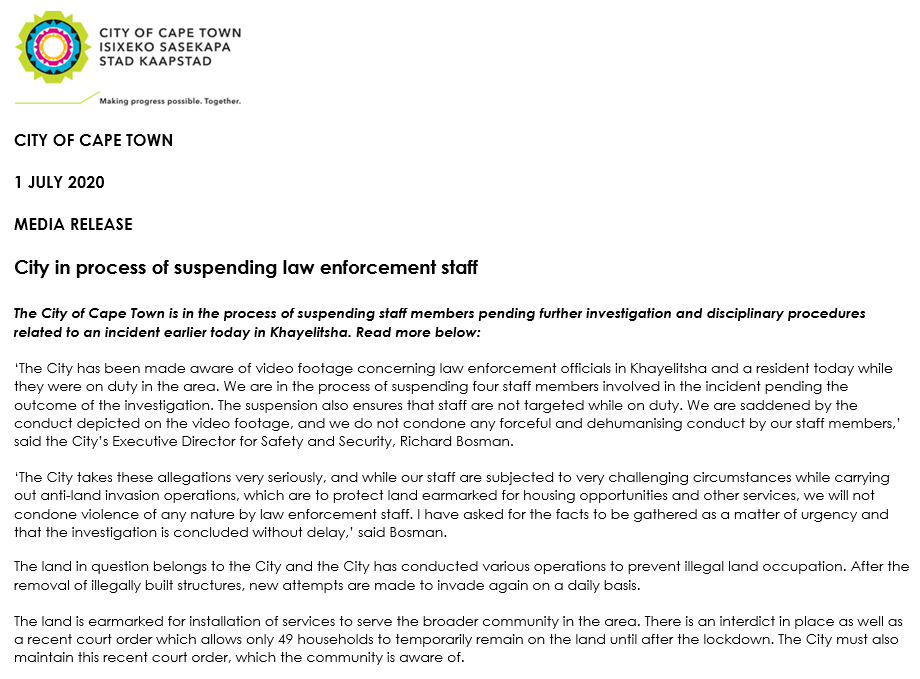 The other item prevalent in our lives is obviously the pandemic. So many people are acting like it is 'over' and refuse to wear a mask or to socially distant. I have read of many instances where Americans have gotten aggressive towards others who ask them to either give them a bit of space or to put on a mask. It has become politicised in the US. Mainly because Trump has made a point of not wearing a mask, and this transmitted a signal that if you're a good supporter of the president you don't wear a mask. Unfortunately it will not be only his supporters who get ill.
The Statistics in South Africa are: 1,792,078 people have now been tested and the overall numbers for the week are:
But what is worrying is the advert recruiting for staff to assist in the management of health care in the Eastern Cape. I would have hoped that this recruitment drive would have occurred at the point of lockdown as that was supposedly the reason for lockdown, to allow the health care facilities to get prepared? However I read multiple posts about the state of the hospitals in the Eastern Cape.
Then we read about hundreds of used testing kits found abandoned in a field! What about the people who had these tests or the virus which may remain on these kits?
And here is an interview with Thobile Mbengashe, who is the "Director of HIV and AIDS and TB at Departmen of Health" according to his LinkedIn profile. Note that he cannot even spell 'Department'. He waffles nonsense for ages so try not to nod off.
What an absolute cluster fuck.
I mentioned in my last blog that it was my Mom's birthday on the 26th of June. I was so upset to see that she decided to go out to a restaurant with her brothers last weekend. This at a time when Georgia and Tennessee are recording the highest levels of new COVID infections since the start of the pandemic!
My Mom has asthma and her lungs are in very poor condition. The chances of her getting terribly ill if she gets infected are pretty high. It made me so worried about her and I won't relax until two weeks have passed and we can see that it did not affect her. I can understand that many of us are now suffering from 'lockdown fatigue' and Mom is not coping well with being on her own, but I would prefer that she limit the risk of exposure by staying in as much as possible. I just want her to be safe.
The South African restaurants and many other businesses such as hairdressers are allowed to open this week as long as they follow the guidelines required for social distancing and hygiene. I will not be going into any restaurant or hairdresser for the near future.
On Saturday Norm and I played barber. I cut his hair and then trimmed my own fringe as it was getting out of control and was annoying me. You can see the grey hair is starting to come through now. Most of my grey is around my face. Hopefully it looks interesting once it is grown out and not like a zebra on crack.
I think I did a decent job on Norm's hair. I used the shears on the sides but cut the top with scissors. Really rubbish scissors at that!
Norm did a grocery shop on Tuesday as we had been out of food for days and had lived on take-away meals all last weekend. I never thought I would say this but I enjoyed being able to cook again!
On Tuesday night I cooked chicken breasts. I had corn on the cob and pumpkin to go with it so I decided that called for a barbecue vibe. I made a sauce out of ketchup, mustard, Worcestershire and maple syrup and basted the chicken with it and popped it into the oven. I roasted the pumpkin in coconut oil and half way through I chucked in some whole mushrooms.
Wednesday night I had a half a fillet to deal with. I cut it into thick slabs and did a simple marinade of olive oil, Worcestershire sauce, garlic, salt and pepper. I boiled the remaining ears of corn, roasted the other half of the bag of pumpkin and fried mushrooms in garlic to form the base of a sauce. I added a bit of thick beef stock and a splash of cream and my sauce was good to go. I baked some hasselback potatoes as well. I nuked them for a minute, sliced the top thinly then rubbed them with sea salt and olive oil and popped them in the oven. I heated some arancini balls stuffed with mozzarella that Norm had bought from Woolworths. For once I cooked the steaks as Norm was busy walking the dogs. It was all delicious.
Thursday I baked pork chops in just a dash of Worcestershire, a splash of soy, salt, pepper and garlic. I fried carrots in butter and a drop of honey, fried mushrooms in garlic and butter and steamed baby broccoli.
On Friday after work I sat out by the pool and watched the birds. Lola was a bit of a deterrent to them coming near, especially as she was drinking out of their bird bath.
That evening we got our usual take-aways and true to form I had sushi from K1 in Hout Bay. I had the same as always, salmon roses, prawn roses and cucumber roses with prawns. It was delicious.
On Saturday afternoon Caitlin popped by to collect the things we had been storing while she had her balcony redone. She is still dealing with the dramas over the leaks in the flat below her and is worried it is going to cost her a lot of money to remedy so we had a long chat about that. There is always something when you own a home. We had a socially distant visit while I cooked dinner. It was so nice to see her even if we cannot hug.
For dinner last night I cooked a cottage pie. I made a mince and veggie base and topped it with cauliflower puree and a layer of cheddar cheese. I parboiled brussel sprouts in chicken stock then fried them in butter to get a bit of colour.
I mentioned in my last blog that we had our new tumble drier delivered. As we have had so much rain it was great timing. Our old one was over 20 years old and just stopped working. We saw a post on one of the local social media groups asking for old appliances and we messaged the guy and Norm dropped the old dryer off with him. He managed to get it working easily by replacing a switch and then sold it on to someone. This made me so happy that it was not just contributing to a landfill, that someone made some cash and that someone else gets the use of our old drier. A winning result all around!
The weather this week has been sunny but misty and interspersed with rain here and there. It has been very winter like with a welcome crisp coolness in the air.
At night when the sun goes down it starts to get very chilly. That is when I become a human couch.
Pixie never leaves my side, day or night.
Navajo is never far away either.
Some of my succulents are starting to bloom which I have not seen before. The top pic is a plant in my new treasure chest from Potted Up. The orange one on the bottom left of the collage is a plant that Norm found windmilling down the street and we just shoved into a pot and it is thriving. The white blooms are in the bubble planter in my kitchen window. My plants make me happy.
This week I have started a new series on Netflix called 'Heartland' which is based on a series of books by Lauren Brooke. It is about a family owned horse ranch and is probably supposed to be geared towards teens but as I love horses I love this show. There are 13 seasons so it will keep me amused for a while!
Norm and I started watching a few new series together as well. One of these is Lenox Hill on Netflix. It is a documentary following the lives of 4 doctors and is based in the New York hospital Lenox Hill. Lenox Hill is a very old teaching hospital located in the Upper East Side. We have only watched a few episodes but we like this type of show where we see real people's lives.
The other show we started is another genre we enjoy, unsolved crimes. Unsolved Mysteries has just been released on South African Netflix. It is a bit unsatisfying not to have these crimes wrapped up in a tidy bow but we still find these crime shows fascinating.
Yesterday we watched the documentary Athlete A on Netflix.
Athlete A is a documentary about the years of sexual abuse perpetrated by USA Gymnastics team doctor Larry Nassar. Nassar was accused of assaulting at least 250 young women and girls dating back to 1992, but ultimately over 500 girls came forward once the abuse was made public. The investigation uncovered over 37,000 images and videos of child pornography from Nassar's home, including a video of Nassar molesting girls in a swimming pool. Nassar was sentenced to 60 years in federal prison in 2017 after pleading guilty to child pornography charges. In 2018 he was sentenced to an additional 40 to 125 years in prison after pleading guilty to an additional three counts of sexual assault.
Pedophiles are drawn to careers which give them access to children and they are often master manipulators. However the girls were penalised and ostracised who did come forward to report Nassar and the abuse was covered up and allowed to continue. It was discovered that the sport of gymnastics had a culture of abuse: mental, physical and psychological. This culture then enabled pedophiles to be able to abuse girls in many different scenarios. There were many other coaches who had been reported as abusers and they were not stopped or reported to the authorities either.
The FBI is still investigating some of the other parties involved in the cover up. This is a very painful show to watch but it is definitely worth watching, especially for people who have children who participate in sport. From a 'must watch' point of view I give it 5 Kitten Stars. ⭐⭐⭐⭐⭐
Now on to the other topic I am trying to educate myself on, I also watched the documentary 'Disclosure' which is about people who are Trans. The film follows an in-depth look at Hollywood's depiction of transgender people and the impact of these stories on transgender lives and American culture.
I found it very educational about the history of media and it's influence on how people react to others who live this life. Again, from a 'must watch' point of view I give it 5 Kitten Stars ⭐⭐⭐⭐⭐
I had never noticed that whenever a trans person is 'outed' on film, the reaction of the person who 'discovers it' is to be physically ill. I do not understand why people get so angry about how another person chooses to live their life if it is not impacting them personally?
I had read recently about the high incidence of murders of people who are living as trans. In 2019, at least 27 deaths of transgender or gender non-conforming people occurred in the U.S. due to fatal violence, the majority of whom were Black transgender women.
On May 31st Selena Reyes-Hernandez was murdered by a young man when she told him she was transsexual.
Reyes-Hernandez is at least the 17th transgender person killed in the U.S. so far this year.
There were two murders in one day on the 9th of June
Riah Milton a 25-year-old Black transgender woman was killed in Liberty Township, Ohio, on June 9.
And Dominique "Rem'Mie" Fells, a Black transgender woman, was killed in Philadelphia, Pennsylvania, also on June 9. Dominique died in a horrific way.
We must not neglect the fact that not only do Black Lives Matter, but Black Trans Lives Matter too and these lives seem to have even less value to the people who are intent on causing harm to others.
Finally for my feel good items of the week I give you 'Cats in Quarantine'. 'Cats in Quarantine' is a tribute to Dame Gillian Lynne and features 333 cast members from productions of Cats around the world dancing to Sir Andrew Lloyd Webber's iconic music, whilst in isolation.
This video brings together cast members from London, New York, Toronto, Zurich, Vienna, Germany, Australia, South Africa, Moscow, South Korea, UK tours, US National tours, International tours, the Royal Caribbean Cruise, and the 1998 film.
I first saw 'Cats' live in the late '80s when I lived in Los Angeles. I loved it then and I love it now. Saying that, I did not watch the new version of the film and do not really care if I do so. Some things are better left in the past.
Here is a fun video of 22 different musicals in 12 minutes done on the James Corden show. It stars Lin-Manuel Miranda and Emily Blunt.
Hamilton is now streaming on Disney+ and I hope to be able to see it, but for now here is a taster. It was filmed when Lin-Manuel Miranda was starring in the show.
I love musicals.
I realised last night that today is mine and Norman's 23rd wedding anniversary. (Thank goodness for Facebook memories!). I am so lucky that we met and I am so blessed to have such an amazing husband. I still cannot believe it has been 23 years!
I hope you all stay safe and healthy. Please stay home if you are able to do so. If you must go out please wear a mask, if not for yourself then for the safety of others.
Until next time, socially distant kisses from the Kitten x0x0x0x0x0