The number of people who have been tested for Covid-19 in SA are 1,529,009. The overall statistics are:
It is sad to see that so many have not survived, but it is good to see that so many have recovered. The missing counts are those who have it but are asymptomatic or who did not get tested and are not counted in the stats above. I have read that the hospitals here are filling up and the government has opened several 'field hospitals' to help cope. The country is still on Level 3 lockdown and Norm and I continue to isolate. We are in our third month.
This week has been a bit cold and wet, it started raining on Sunday and carried on for much of the week, with a few intervals of sun. Maybe winter has finally settled in? (How many times I have I said that?)
Monday we had a thick mist over the valley. It looked quite eerie.
Whenever the sun is out the little sunbirds appear. They are South Africa's version of hummingbirds and my Grandmother has always sent me hummingbirds to let me know she is around when I am low.
There are so many in our garden it gives me such comfort but they are too tiny to take a pic of. You just see the flash of red flitting in and out of the flowers. They particularly love our bottle brush tree and the cape honeysuckle vines we have which are ripe with beautiful bright orange flowers.
When the weather is nice I can sit by the pool watching them for ages. They have very loud voices considering their size. There were 2 of them flitting about on Friday when I finished work. Lola, Pixie and I sat by the pool listening to them sing.
However on Saturday the weather turned a bit mad. The rain was coming down in sheets and the wind was howling! I felt a bit like Dorothy in her tornado as I lay in bed listening to the windows rattle and the rain pelting against the windows.
I felt very blessed to be wrapped up warm in bed, in a sturdy home drinking a coffee made by my hubby, with a cat on my lap and a dog on my feet. I can only imagine what it is like in a shack for those who live in the informal settlement just a few minutes down the road from us. When I finally got out of bed I filmed a bit of the storm to show you.
As mentioned in my last blog, last Sunday was Father's Day and Caitlin came by to drop off Norman's presents. As it was raining we could not sit by the pool like we did in our last visit but luckily we have a large open plan lounge, so Caitlin sat on one sofa and I sat on the other. She also kept her mask on the entire time. The animals were all very happy to see her.
The kids gave Norm a lovely maroon sweater and a cap for wearing on his walks. They both look great on him, he is a handsome devil isn't he?
While waiting on Caitlin to get here I spent the morning cleaning the kitchen and cooking. I made a broccoli and cream soup for lunches during the week and I made a pizza sauce for that evening. I also built a big fire as it was so cold.
After Caitlin left we made the pizza. We had limited items left to go on it, but we had a few artichokes, some mushrooms, mozzarella and pancetta and it was very nice.
The cats love it when I build a fire, Lola sits on my chest and is very happy even if it makes it impossible for me to use my arms.
I worked til 7pm on Monday as I needed to set up my new laptop and I could not do that on client time. Norm upgraded his MS Office to a family plan so I did not have to pay for it. He is so good to me. The package was R900 to purchase but the upgrade saved me about R400.
As Norm and I both worked so late he just nipped down for a take away in the village for our supper that evening. I had Chinese food from the Blue Lotus and he had his fave eggplant parmigiana from Casarecchio next door (I swear that man could eat that same dish 5 nights a week). After dinner Norm carried on working until 9pm because he is so busy. We were both exhausted and just spaced out in front of the telly for a few hours before bed.
On Tuesday afternoon we had a notification come through on the security app that the protests had started again in Hangberg on the other side of the bay from us. I have written about this for the last few blogs if you want the back story.
The only information I have about the conflict on Tuesday was that SANParks (South African National Parks) officials went into the area to serve notices and warnings on people who were building on SANParks land. SANParks entered the area with the protection and assistance of SAPS (the police). This time the Red Ants were supposedly not involved.
The community has launched an urgent court bid to prevent the City from demolishing any more shacks in the area. The land in question where shacks were demolished was initially earmarked for housing but in November 2019 the City decided to build an electricity depot on the site. Residents then filed an urgent application in the Western Cape High Court to interdict the City from continuing further developments on the site.
Residents believe the City has violated a standing order granted by the Western Cape High Court called the Hangberg Peace Accord. This court order outlines the process in dealing with "illegal" structures. In terms of the accord, the City had agreed to build houses on the site but had instead built the electricity depot without consulting the community.
While looking for info about the Hangberg incident I found this video about other incidents where the Red Ants have been involved in demolishing properties and evicting people during lockdown. This was being done when people are not allowed to go anywhere else or to buy any materials to build a new structure and are left to make do. The government had also said that landlords could not evict anyone during lockdown but that obviously did not apply to them.
As explained in the video above the Red Ants are owned by an Afrikaaner, a man descended from the people who implemented apartheid. However the government which is ordering these evictions is the ANC, the African National Congress and the party is made up predominately of black Africans, so this injustice is being instigated by more prosperous Africans against poorer black Africans. The ANC cares nothing about upliftment of the people who continue to vote them into power, just about maintaining power and filling their pockets.
The government has been promising to build housing for the poor, however these promises are not being fulfilled at a rate that is sufficient. In the 20 plus years that the ANC has been in power very little has been done in regards to public housing for the poor.
This week in the USA another black man was threatened with lynching. Darrell (aka Bubba) Wallace Jr is the only black NASCAR driver and he had been instrumental in urging NASCAR to ban the Confederate flag. Wallace said he believed that the Confederate flag should not be flown at races because it represented hate, not heritage. He found a noose hanging in his garage in Talledega.
The FBI were called in to investigate and they claim that the noose was there last year, long before Wallace was assigned to the spot at the Alabama track for a race this week. NASCAR said that a pull rope for the garage door had been "fashioned like a noose" and left there. Wood Brothers Racing said in a statement that one of its employees had this week recalled "seeing a tied handle in the garage pull-down rope" last year. The FBI say their evidence, including video footage, showed the noose in the garage as early as October 2019. I am still not sure how I feel about this, video evidence can be tampered with but maybe it is true, we may never know. However I smell good old boy network BS and a desire to quickly suppress any bad publicity.
Many of the recent hanging deaths of blacks in the US have been deemed as suicides so I do not trust many of these so called investigations.
You would think that the police would be on their best behaviour in the current climate but that is not the case. A video was released of Quentin Suttles and his friend being pulled over, harassed and beaten by Buffalo NY police officers. The video is a combination of police body cam and cell phone footage. The cops broke his scapula by twisting his arm and when he said it was broken and did not move it in the manner they wished they beat him. They punched him repeatedly in the face and head and also fractured his orbital bone. How his friend remained calm and did not launch herself onto their backs I have no idea. But I have never been black and had to live within the constraints that black people have to adhere to in order to not be murdered by racist cops. This video made me feel physically ill.
We have also seen that an investigation has been launched into the murder of Elijah McClain by Aurora Colorado officers Nathan Woodyard, Jason Rosenblatt & Randy Roedema. Elijah was a massage therapist who played violin for shelter kittens on his lunch break in his hometown because he thought the animals were lonely. He was 23 years old and a gentle soul who did not merit the attack and ferocity the police exhibited.
In August last year McClain was stopped by the officers following a 911 call from some Karen saying he looked suspicious. Elijah was walking home from a convenience store and was wearing a mask because he was anemic and it was cold. An officer placed McClain in a chokehold, and he briefly lost consciousness. They released the hold and he began struggling again (as you would if you had just been unconscious and woke up disoriented). When paramedics arrived at the scene they administered ketamine to sedate McClain. McClain suffered a heart attack while in the ambulance, and he was declared brain dead three days later. The family asked for an investigation at the time but it has only happened now due to intense social media pressure and exposure to the public.
How many other deaths happen where there is no body cam footage? All 3 officers body cams allegedly 'fell off' in the arrest of Elijah. I do not have faith that justice will be served on these officers but I hope I am wrong.
Yesterday Colorado protesters shut down Highway 225 in a peaceful demonstration calling for justice for Elijah's death.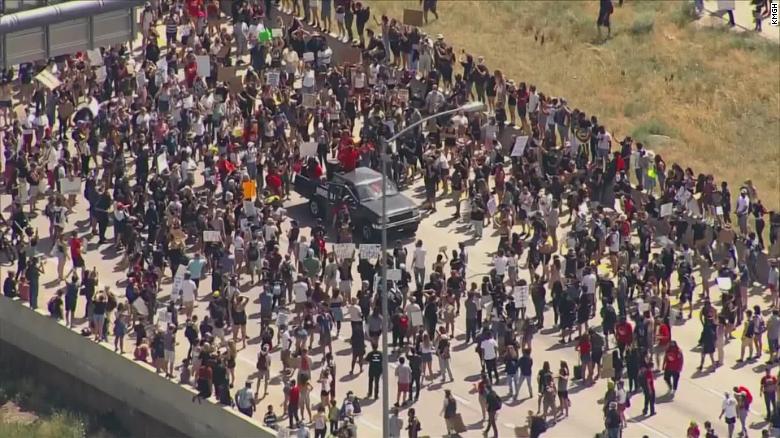 Colorado has at least passed a new law. The Enhance Law Enforcement Integrity Act mandates body cameras, requires public reporting on policing, prevents rehiring of "bad actors," holds individual officers liable for their actions, restricts the use of chemical agents and projectiles, and establishes that officers can only use deadly force when there is an imminent risk of danger to human life if apprehension is delayed. I guess we have to see that as some sort of positive result of the exposure of bad policing?
In all of the heartache and turmoil we have to hold onto the little things that make us happy. On Tuesday I received my new coffee cups from Hallo Jane. They make me smile every time I use them.
Norm had still not made it to the shop on Tuesday so I dug around in the fridge and decided on breakfast for dinner. I usually do a cheese omelette but we had no cheese so I just stuffed it with fried onions and I used my last avocado to make some guacamole to go on top along with a spoonful of salsa. I served bacon and fried potatoes and onions to go with it. It was very tasty and meant Norm did not have to go out for a take away.
He did not get to the shops on Wednesday either so I had to come up with something from our very slim selection of items in the fridge. I had a bit of leftover pizza sauce, a bit of passata, an onion, bacon, some penne and a plan. I fried the bacon and onion until browned, added the sauce and passata and extra seasoning and then a splash of cream and a pinch of sugar to soften the acidity of the tomato. I added a pinch of chili just because I love chili.
I topped it with pecorino cheese and we were good to go! Another day where we did not have to leave our cave.
On Thursday however our privacy was 'violated'. We had ordered fibre to be installed now that we are both working from home, I need the speed and performance for processing data over the client network. The men came around and pulled the cable into the kitchen and installed the router. Now we just have to set it all up. Hopefully it should make a difference when the weather is bad as we often lose internet access in storms or heavy rain. Saturday our internet kept dropping while I was busy online.
Thursday Norm popped out to the shops to get some food. He bought fillet steaks for dinner that night. The steaks were not the best cuts of the fillet but the meat was tender. I cooked baked potatoes and a butternut and pumpkin puree to go with it. I fried mushrooms and added cream and beef stock to make a sauce for the fillets. I forgot to take a pic though. Oops. Use your imagination, it was divine.
Friday it was all a go. We had 5 different 'deliveries' Our lovely neighbour Kate dropped off a loaf of fresh bread. My house-sitter dropped off the keys she has had since Lily's wedding trip. We feed our dogs raw food and a month's supply of food was also delivered.
Makro finally delivered our tumble dryer. As it is getting too cold and damp to hang washing on the line we were happy it arrived. We ordered it about a month ago!
Last and not least, I had a delivery from Takealot which included my new coffee maker!
I know the red does not match my tiles but I adore red and as my lounge is red I have splashes of red in the kitchen and I am so happy with it. It is cute and tiny and makes a kick ass cuppa.
On Friday we had take aways. I had sushi in spite of the cold weather and Norm had his fave eggplant parmigiana from Cassarechio. I had my usual sushi order of prawn roses, salmon roses and cucumber roses topped with prawns. I asked the chef to please not use the skin of the cucumber and he more or less complied. I got free mayo so I won't complain. (Or did I just complain?)
Friday was my Mom's birthday and we organised a family zoom call with my children, Norm, my Mom and I. Mom loves Alice in Wonderland so we did a bit of a theme – I was Alice and wore a dreadfully ugly long blond wig, Norm wore rabbit ears and a hat (the ears are broken so he needed a quick fix). Trevor was The Caterpillar with his vape pen substituting for The Caterpillar's hookah pipe.
Lily was the Cheshire cat and she did an amazing job with her makeup.
Caitlin was the Mad Hatter in her top hat, coat and tie. She was drinking a cider out of her fancy tea cup.
Mom was delighted when she logged on and we all had such a laugh. They said I looked like a homeless Alice on crack.
Mom had some of her girlfriends around to her house that evening and they had a dinner for her. I am so glad she got to spend some time with other people I just hope she stays safe from exposure to the virus. At least they did not go out.
The severe weather yesterday meant that we just snuggled up and stayed inside. The dogs did not even get a walk which meant they were full of crazy energy. The cats loved being able to settle in for a good cuddle on my lap.
Norm popped out to get us a take away from Posticino and we just chilled out that evening. I am always happy to play games on my iPad and he has so much work to do he just keeps working away even when 'watching' telly. It was nice to have a lazy weekend.
Today the weather has cleared but it is still cold and damp. I will build a fire in a bit to cozy up to. I hope that you are having a good weekend and that you stay safe.
Please wear a mask if you go out but stay in if you can. Together we can get through this.
Until next time, socially distanced Kisses from the Kitten x0x0x0x0x0x