Last Monday was a busy morning for us hibernating hobbits. We had the plumber in to sort out our leaky pipe and Norm had to go out to the chemist and for a shop. That is how narrow our lives have become!
Navajo went with Norm to the shops and when Nava sees that Norm is getting dressed for an outing he goes insane with excitement. He is quite a big boy to be cavorting all over the house squealing like a pig. He models his behaviour on the Pomeranians and so he spins in circles and bucks like a bronco when he is happy. Behaviour which is cute in a 3 kg fur-ball is not always so pleasant in a 40 kg dog!
Monday was also the start of Level 3 as mentioned in my last blog. One of Norm's errands was to buy booze now that we are allowed to do so. He said that there were queues of people but not insane chaos like some of these images we saw on the news.
I guess that is one advantage of shopping local and living in a smaller village.
South Africa was one of the few countries which banned the sale of alcohol but studies in South Africa have found that alcohol is a major factor in crimes including murder, rape and assault. Alcohol-fueled violence, and particularly domestic & gender based violence, is a huge problem in South Africa. There are threats of restricting the sale of alcohol again due to the increase in hospital visits from alcohol related injuries since lockdown shifted to allow it.
Of course one of those instances of injury was at the hands of our national South African Defense Force (SANDF) in March, before the regulations were changed. In March, soldiers confronted 40-year-old Collins Khosa and accused him of contravening lockdown regulations. He died hours after the confrontation. There was a sham of an inquest and the SANDF defence force board's internal investigation exonerated the SANDF members of any culpability in Khosa's death. That is such bullshit. Khosa's family claimed officers and soldiers held his hands behind his back while he was choked and beaten. They also claimed he was pushed up against a wall and hit with the butt of a machine gun.
On Friday night the ANC launched an anti-racism and police brutality campaign. At the launch the President apologized for the deaths of Khosa as well as 10 other citizens at the hands of law enforcement. I doubt that brings any comfort to the families of these victims.
This week we read that the Pretoria High Court has declared the regulations promulgated for COVID-19 lockdown levels four and three as unconstitutional and invalid.
The Liberty Fighters Network challenged the regulations set by Minister of Cooperative Governance and Traditional Affairs Nkosazana Dlamini-Zuma, arguing that they encroached on and limited their rights as contained in the Bill of Rights in the Constitution.
The court found that the lockdown regulations indeed did not satisfy the rationality test and were not justifiable in an open and democratic society based on human dignity, equality and freedom as contemplated in Section 36 of the Constitution. The declaration of invalidity on the rules is suspended until the minister reviews, amends and republishes the regulations in consultation with Cabinet.
The South African stats on the Covid 19 pandemic are that 891,668 people have been tested.
However these stats will not be accurate as the Western Cape government is rationing its Covid-19 testing in Cape Town, prioritising people it considers to be most at risk amid a nationwide backlog in test results and increased demand as it approaches its Covid-19 peak.
It is asking people in the Cape Town metro who experience mild symptoms and who are not part of one of the at-risk groups, to assume they are Covid-19 positive, and isolate themselves until more test kits are procured.
Meanwhile in the US the protests carry on over the murder of George Floyd and the racism which is endemic within the US. There have been countless instances of violence at the hands of the police. This behaviour is encouraged by Trump who tweeted the phrase originally spoken by the bigoted Miami police chief Walter E. Headley: 'When the looting starts, the shooting starts'.
The police used teargas and rubber bullets to clear a path for Trump to walk from the White House through Lafayette Square to St John's Church. Peaceful protesters, priests and families among them, were assaulted by national guardsmen and federal officers, they were gassed, shot with rubber bullets and forcefully cleared from the president's path.
Trump walked to St John's, the 'Church of the Presidents', to be photographed by the press, holding aloft a Bible.
The president had ordered an assault on his own citizens, in order to stage a PR stunt. The man has no empathy for the people he is supposed to represent. His ego is always at the forefront of his actions.
If this creature is reelected I may have to leave social media. I do not think my soul can take 4 more years of his evil and his followers defending his sins.
There are videos of the police shooting pepper balls at cars which contain black people. Shaiitarrio Brown and his pregnant fiancee, Brittany King were driving down the road in Denver when the police shot a pepper ball at their car. When Shaiitarrio got out of the driver's side to tell them that they had shot at a pregnant woman they opened fire at the car, firing 50 to 75 rounds, hitting Brittany in the abdomen and breaking her hand when she tried to shield her face.
There are photographs of the LA police shooting an unarmed homeless man in a wheelchair in the face for seemingly no reason at all.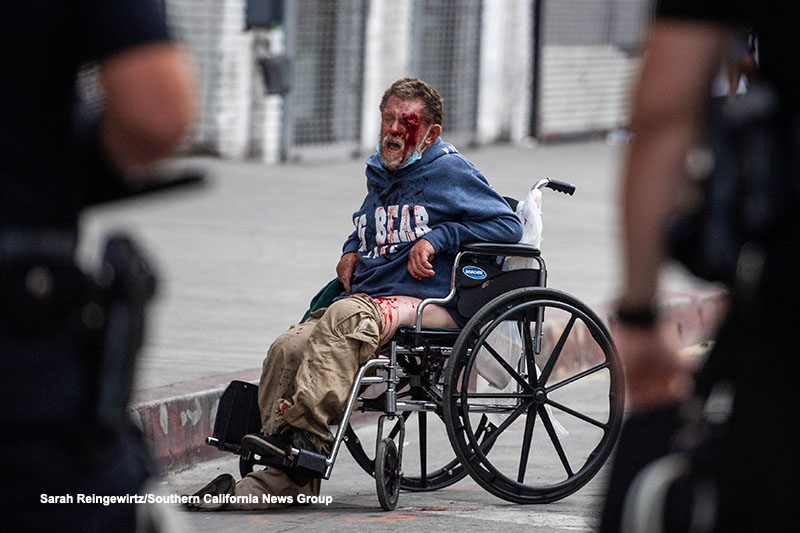 Or videos of the Los Angeles police (LAPD) applying excessive force to peaceful protesters.
In Atlanta several police were fired after tasing African American students who were stopped while driving down the road after curfew.
In Buffalo, two emergency response officers shoved a elderly man to the ground causing him to hit his head and start bleeding badly. The man was seriously injured. They did not stop to assist the man they kept walking. Two of these men have now been fired and 57 of their colleagues have resigned from the force's emergency response team in solidarity.
What kind of person is indignant at their colleagues being chastised after such a show of violence?? It tells us a lot about who is being recruited into this type of job. Blatant toxic masculinity.
It is almost as if the police working the protests have to be excessively violent against everyone in order to justify their violence against black people.
Before I catch a load of backlash, I know that not all cops and people in the military are 'bad' however there are so many stories of cops who plant evidence, beat those they have arrested and frame people of colour that it is hard to spot the good ones.
There are some men who are not afraid to stand up for what they believe is right and show their support for the protests, such as the Utah Marine who placed tape with 'I can't breathe' over his mouth.
He stood alone at the Utah Capitol building, showing his support in a way that got attention for the cause in a place where it would be noted.
One of the news items which cheered me up no end was that Mayor Muriel Bowser, the Washington DC mayor, has changed the name of the plaza outside the White House to "Black Lives Matter Plaza" in a rebuke to President Trump.
The Mayor also unveiled a two-block long mural painted onto the street leading up to the White House declaring "Black Lives Matter".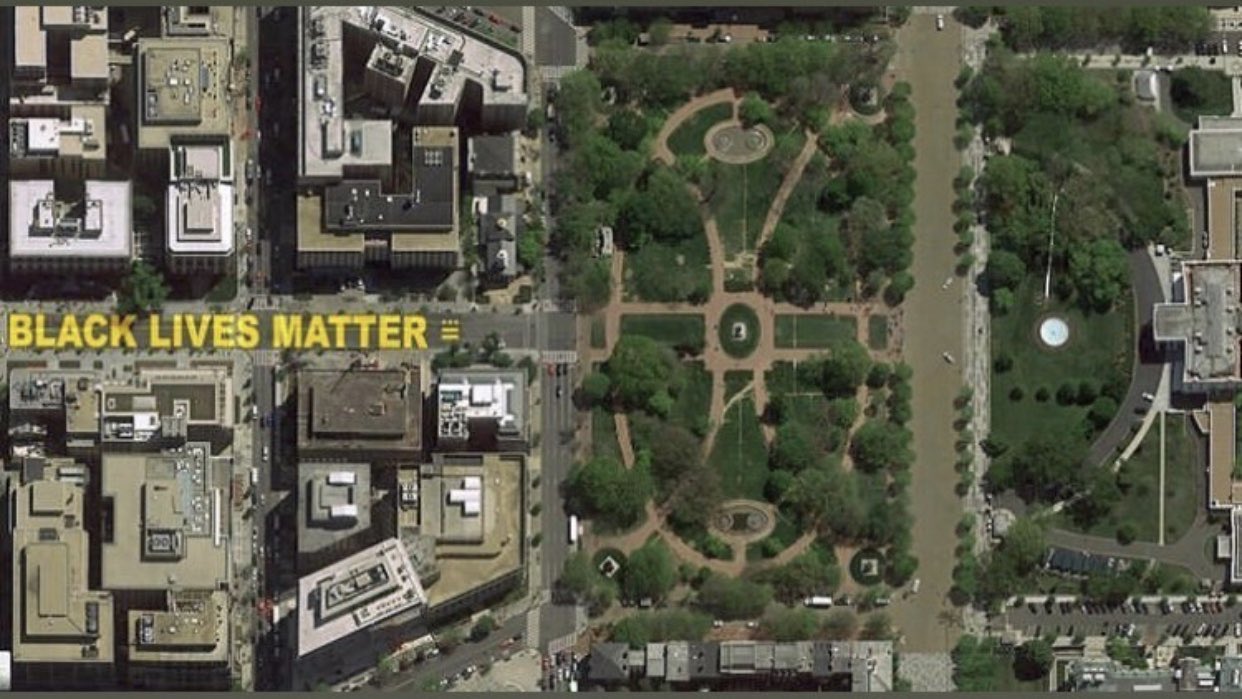 Mayor Bowser also demanded that Trump remove federal soldiers from Washington.
When Bunker Bitch Trump promised to Make America Great Again I think he never envisioned the change would come from rebellion against the racism he encourages and is at least partly responsible for.
This protest has revealed just how systemic the violence is within the US police force. We can only hope that change is instigated from these protests, however I think that it is so systemic that it may take a while to weed out the evil.
We need this change.
Our own lives are getting very monotonous and we probably need a bit of change as well. Hopefully reading about it is not getting monotonous to my subscribers but I have no intentions of getting out any time soon.
When Norm got home with the shopping on Monday he went through the cleansing and packing away ritual as always. He is not taking any risks with contaminating our house.
Monday afternoon while I was on a client call the doorbell rang. It was a delivery from Takealot. Norm had ordered a few things and when he opened the box I see it contains his new laptop. I would have been over the moon with my new toy and straight away set it up and got exploring its features and functions if I had just received a new laptop. Norm however was more fascinated with the cleaning products he bought.
I had to allow him to clean my keyboard. I adore him but he is an odd, odd man.
When Norm does the weekly shop he tries to get a couple of nice steaks for our dinner that night. The butcher in Woolworths is closed so you have to choose from what is on display. All they had were pepper encrusted fillets and I am not a huge fan of pepper but it was those or nothing and so he went for it. The pepper was not overwhelming, it was quite nice. The crust was a mix of ground red and black pepper, garlic and chili flakes. I just added a dash of Worcestershire instead of my usual marinade. I boiled corn on the cob, steamed broccoli and roasted some sweet potato slices in olive oil. I fried sliced mushrooms in garlic then added some cream and a bit of gravy powder to make a sauce for the steaks. Norm grilled the steaks and they were perfect, bright pink inside with a gorgeous crust outside.
That night when we were getting ready for bed, on a whim I decided to cut my fringe (bangs for you Yanks). I could not handle not being able to see any longer. I just held out 2 clumps of hair in front of my face and cut them. There are still a few bits where I missed and will give them a tidy up. But all in all it is not a horrid job?
I was on calls most of the day on Tuesday which is very tiring. Especially when we are reviewing shared documents or project plans, it is very challenging for me visually and I think that the eye strain makes me even more tired. I spent ages on a call with my colleague downloading new tools for our project.
My last call went on quite late so I wanted something quick to cook for dinner. Norm had bought organic chicken sausages so I fried those in butter and boiled the remaining corn on the cob. I made coleslaw and fried chips in the airfryer.
On Wednesday when I logged onto my personal laptop it just spun on the welcome screen. I had done a big installation of a new set of SQL tools the day before and should have done a restart but I was busy doing other things and decided to do it the next day. It spun for over an hour but luckily I could work on the other client desktop. Eventually I had to do a hard restart and it came right but it was a bit worrying!
For dinner that night I baked pork chops which I had drizzled in teriyaki and a bit of maple syrup. Norm had bought a huge bag of butternut so I roasted half of it and saved the other half for another night's dinner. I sliced cabbage and fried it in a bit of butter. Simple but tasty.
I had another busy day on Thursday but I have made great progress this week on my new project so that made me happy. I am gaining new technical skills with the tools and that is always interesting and good for the CV.
I had minced beef in the fridge which I needed to cook and last week's burger success made me decide to attempt meatballs. I have never made them as I am not a huge fan of meatballs but Norm likes them so I gave it a bash. I added garlic, seasoning and a dash of Worcestershire and made them into compact little balls and fried them in butter. For the sauce I chopped and fried a carrot, a red pepper, an onion and garlic and once done I pureed it then added tomato paste, passata and a bit of beef stock and let it simmer while I fried the meatballs then I added the meatballs to the sauce.
It was pretty tasty but I am still not a fan of meatballs. Even my own!
Friday after work I sat outside with the doggies after work. It was a gorgeous evening and the light on the mountain was stunning.
Norm and I decided to treat ourselves to a take away since the level change now allows us to go and collect food from restaurants. We tried to be organised and I called well ahead to order my sushi from K1 but I could not get through to Casarrechio. Norm arrived to order his melanzane parmigiana from Casarrechio and then went to collect my sushi and they said an order for 'Lisa' was not ready. His order was handed over at Casarrechio when ready and he went back across the street to K1 only to be told my order was still not ready. It had been well over an hour by then and he asked whether they had an order for Norman and yes there it was. Bugger. Cold prawn tempura and room temperature sushi all ready to go. Despite that fumble it was absolutely delicious. I had prawn tempura, king nigiri, prawn roses, salmon roses and bamboo roses with prawn. I was in heaven.
Saturday was my son Trevor's 34th birthday.
Lordy that makes me feel ancient. He is such a wonderful person, sweet and kind and loving. He lives several hours down the coast from us so we did not get to spend time with him. The family are having a group zoom call later tonight to wish him well.
I did get to see my daughter Caitlin yesterday. She is having her patio redone and asked us to store her stuff here while the work is being done. She popped by to borrow Norm's little truck to move it all. She stopped for croissants on the way here and we sat outside at a safe distance to hang out for a bit by the pool before she headed back home.
Caitlin sat on one side of the pool.
I sat on the other side of the pool.
The dogs loved having us outside and tootled about the entire visit with big smiles on their faces.
They are so cute.
Caitlin took Norman's truck home & packed it with her items from her patio and returned. Norm helped her unpack the truck and then we sat on opposite sides of the lounge to chat some more. She went home about dinner time so after she left Norm and I just had a quick dinner of fish and chips from the freezer and then made a drink and relaxed in front of the telly for the rest of the evening.
Today we had a long lie in bed. Norm brought coffees upstairs after he fed the dogs and we had a cozy morning. Pixie decided to snuggle up under the duvet with me.
After we got up I pottered about with the plants and Norm helped me change the covering on my 'desk' and give it all a good tidy up.
Norm made brunch for us while I worked on my blog and in a bit we need to prepare for the zoom call later as it involves a bit of arts and crafts for our theme.
The weather has been clear this week, it is sunny and warm if you are outside but still reasonably cool inside. It rained overnight on Tuesday and we woke to cool damp air which was very pleasant when working. In Cape Town at this time of year it gets a bit chilly as soon as the sun goes down but we have not had to light fires this week, a cat on the lap and a warm blanket is enough.
For entertainment I have started a new series called 'Dispatches From Elsewhere'.
It has a great cast which includes Jason Segel, Andre Benjamin (aka Outkast's Andre 3000), Richard E Grant & Sally Field. .I love the bizarre nature of it. Norman watched 5 minutes, proclaimed it weird and wandered off. The first few episodes are from the perspective of each of the main characters and episode 2 is about Simone, played by Eve Lindley. Eve is trans and she also plays a character who is trans.
The narrator, Octavio (played by Richard E Grant) describes Simone as 'someone who wakes up every day hoping she'll finally be happy, yet the only thing keeping her from happiness is herself'. Is that not a life lesson for many of us? Often times we just have to choose to be happy. All of the building blocks are there, around us, we just have to decide to change our perspective and accept that we have a pretty fabulous life. Obviously this is not true for everyone, some people are stuck, either by their environment, their situation or by inaction. Some may be stuck in a bad relationship or a crappy job or a horrid home life. But there are always aspects, no matter how small they may seem, which we can focus on and try to find a glimmer of hope and happiness.
For me happiness is about gratitude. Being thankful for my many blessings no matter how small. I am safe. My family are safe. I am blessed. I try to focus on these things whenever I fall into a place of despair. My heart has been so heavy this week due to the scenes coming from America and our social restrictions here in SA. I am trying to remember I have a beautiful home with a pool and a stunning view. I have our little garden to potter about in, I have my husband to look after me and he is my best friend. We are both able to continue to work from home. I have a wonderful family. I have so many blessings.
Now I will end off with my new blog section of 'interesting things I find while digging about'. I came upon the story of Gertrude Pridgett. Gertrude was born in Columbus, Georgia on April 26, 1886 and she became a traveling performer by the age of 14. Later she married William 'Pa' Rainey and became Madame Gertrude Rainey, billed as The Mother of the Blues.
Here is one of her recordings of her performing with Louis Armstrong.
Here is another, 'Jealous Hearted Blues'. I could almost hear this song being redone in a modern fashion and sung by Rihanna.
There are stories that Ma was a lesbian or at least bisexual and lived a life filled with same sex orgies and various other risque situations. It was commonly believed that Ma Rainey and Bessie Smith had a sexual relationship; however, there is no hard evidence to support this. What is known is the Smith frequently got into trouble with her jealous second husband, Jack Gee, over her affairs with women such as Lillian Simpson, a chorus girl in Smith's touring show, Harlem Frolics. Like Rainey, Smith sang songs with explicit lesbian content such as "It's Dirty But Good" from 1930. "I know women that don't like men The way they do is a crying sin. It's dirty but good, oh, yes, it's dirty but good. There ain't much difference, it's just dirty but good."
I could not find a clip of that song but found another. Do I sense a bit of irony in the lyrics?
Bessie Smith was from my hometown of Chattanooga, Tennessee. I am a major blues fan and I have really enjoyed this bit of research and I hope you enjoy the tracks I found.
And for a bit of lightness and sugary sweet loveliness I end with a cover version of Elvis' "I Can't Help Falling In Love" as sung by the adorable Claire Cosby.
I hope you are all staying safe. If you have to go out please wear a mask and apply social distancing.
I am looking forward to my family zoom call later and I will share the pics next week. As always we have a theme and it is going to be too funny! I adore my crazy family.
Until next time, socially distanced Kisses from the Kitten xoxoxoxox