The world is full of rioting and chaos at the moment. This week the death of George Floyd has sent the States into anarchy and many international cities have also protested in support.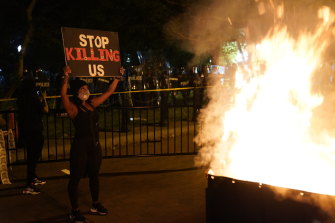 At least 25 cities in the United States including Atlanta, Detroit, New York, Washington, Nashville, Indianapolis, Reno and San Jose were the site of tense protests after the death of George Floyd in Minneapolis. Many of these cities are under curfew and the National Guard has been deployed after the protests escalated.
Police cars and government buildings were burned and businesses looted. In one Midwest city, a person was killed and at least two more shot. More than 1,400 people have been arrested in 16 cities since Thursday.
There is so much anger over the blatant racism and disregard for the lives of African Americans. We all watched Derek Chauvin kneel directly on George's neck, firstly while George cried out that he could not breathe and then continuing to hold that position after George had stopped breathing. Chauvin kneeled on George's neck for 8 minutes. It has sickened and angered the world. Especially as Derek Chauvin was put onto paid leave while they 'investigated the incident' and did not charge him. Even now that they have charged him it is only with third-degree murder and manslaughter which many feel is insufficient.
Trump is doing nothing except inflaming the situation with his threatening tweets and statements.
Closer to home, President Ramaphosa gave another speech to the nation last Sunday night. He waffled a bit and eventually told us that we will go to Level 3 from the 1st of June. We will then be able to go out for exercise at any time of the day and we will be able to go to restaurants for take away orders rather than use a delivery service. We will be able to buy alcohol but the ban on tobacco will continue. This has enraged the smokers as they were promised that the sale of tobacco would be allowed at Level 3 and this is the second time they have had promises broken. President Ramaphosa was such a hero at the beginning for his decisive and proactive management of the virus but many have left that camp and are now very unhappy with the reversals on his previous promises.
It seems that every time we have an address from the President it triggers my anxiety even when it results in news that is beneficial to us personally. My anxiety then triggers my insomnia and I lay awake for hours. Last Sunday after lying for ages I took a sleeping pill but it had no effect and then at 3am I took a second pill and then eventually got to sleep. I was like a zombie on Monday and had endless technical issues at work so it was a cluster feck of a day.
We woke to pouring rain on Monday and the rain continued through to midday Friday. Due to the drought and water shortages we have had for the last few years the rain is much needed and appreciated. Our pool is to the brim just from rain water. It was quite chilly and you can feel the cold of the seasons changing. On Monday it was 13 degrees Celsius (that is 55F for you Yanks). The only heating we have is a wood fire and I only light it at night, so I was working in a cardigan and furry boots. I found this funny as I was working in flip flops and cool, flowy dresses just last week! But that is South Africa for you, you can have every season in a single day.
All week the rain caused major issues with the internet and I could not manage to conduct my conference calls without getting kicked out regularly. One call was with the data architect who was trying to help me set up my database for one of my clients. I need this to deliver the tasks I am assigned. I also kept losing connection to the database for my other client which resulted in rerunning my queries. It was so frustrating.
On Monday Norm went out to do a shop as we had ran out of food. As always he brought it home and disinfected the fridge and freezer items to pack them away and left the rest in a basket in the garage for 24 hours.
That night we cooked the fillet steaks he had bought. I steamed some gemsquash, boiled corn on the cob and baked a potato. I fried mushrooms in garlic and butter and once they were done I added a container of double cream. I must have had the heat up too high however as the cream just instantly turned to melted butter! That confused me greatly but I refused to chuck it out and waste my mushrooms. I drained the butter from the pan and sprinkled in a bit of flour, some Bisto gravy granules and stirred that through then added a bit of milk and kept whisking until it came right. I was so impressed that I resolved it! Norm grilled the steaks and it was all very yummy.
On Monday night we discovered that one of the toilets was leaking. We had discovered a different toilet had been leaking the week before but we decided to wait until the lockdown eased, but the 2nd leak was very bad so we called the plumber and booked for them to come around on Tuesday morning. Norm was concerned about me being near anyone from outside our home but the plumber arrived with a mask and gloves and after he left Norm disinfected everything. The dogs were watching the plumber very closely and would have been straight in to sort him out had he come near me. I feel so looked after between Norm and his disinfectants and the dogs and their beady eyes trained on any possible assailants (even mild mannered plumbers).
All the excitement of a person from outside coming in wound Panda up and he and Pixie played around me while I worked.
As soon as I finished work I built a big fire as it was so cold. I cooked dinner while Norm walked the dogs. I made chicken, feta and spinach sausages and cooked the rest of the gemsquash and corn on the cob. I cooked chips in the air fryer. I am not sure why my gemsquash was so green but it did not kill me so it must have been fine.
After dinner I settled in front of the fire with my iPad and furry blanket and Lola came to join me and keep my legs toasty warm. It was lovely and cosy.
I worked late several nights this week due to late conference calls and I built a fire every evening as it was so cold and rainy.
On Wednesday night I had free range beef mince to cook and I had been craving a really nice burger but as they are not really suitable for take away I decided to try and make my own. I seasoned the meat with loads of pepper, garlic, some onion flakes, chili flakes, Worcestershire sauce and teriyaki. I divided the meat into 4 portions and put a block of Brie cheese into the centre of each burger. I fried them in butter and resisted the urge to flip and mess with them to avoid them falling apart. I grilled some bacon, fried some onions and made chips in the air fryer. Once the burgers were cooked I popped thick slabs of cheddar onto each of them and put them under the grill to melt it. I sliced a thick slab of ciabatta bread and placed the burgers on top, then layered the bacon, pickles and onions on top of the burgers. It was exactly what I had been wanting and was so delicious.
That night we started watching a show on Netflix about Jeffrey Epstein. It is called 'Jeffrey Epstein: Filthy Rich'. We watched the first episode that night and as a survivor of childhood molestation it made me feel physically ill. I felt so angry at the lack of prosecuting him for so many years when they had evidence going back decades. I felt so much sorrow for the girls who were his victims. He basically set up a child prostitution pyramid scheme and would recruit young girls who came from homes which had very little money, or girls who were victims of neglect or previous abuse and paid them to procure other young girls for him to abuse. Like all abusers he had a knack for identifying the sort of victim who would not push back against his advances.
I do not know what age the youngest of his victims was but it was said that for one of his birthdays he was given 3 twelve year old French virgins that a friend had 'bought' from their parents and after his party the girls were sent back home.
It is hard to watch but I found it fascinating how he managed to get away with his abuse and still maintain such high standing in society. I guess it is true that money buys pretty much anything, including children's bodies and the entitlement of escaping from having to pay the price of their abuse for so many years.
I do not think that Jeffrey committed suicide. He was too much of a narcissist to do so. I think that one of the other powerful men (or women) who were involved in these sickening events had Jeffrey murdered to avoid their exposure in court. I think that Jeffrey was part of an international ring of people who conducted child trafficking for sex, he may have even been the head of this ring as the history of how he acquired his money is a bit murky.
We can only hope that some of these perverts get exposed for their part in it and that some sort of justice is served for the victims.
On Thursday it was even colder as it had dropped down to 11 degrees Celsius (51 in Fahrenheit). I remembered that I had my mermaid tail blanket that the kids had given me and I shoved my furry slippered feet down into it and that definitely helped. However getting up to let the dogs out was a bit of a challenge! How do mermaids manage??
For dinner I covered a pork roast with teriyaki, a drizzle of honey and added mushrooms to the pan and baked it. I roasted butternut and strips of carrots in coconut oil and then when they were almost done I added in a few bits of broccoli and cauliflower. I stir fried spinach, puréed it then added a tablespoon of thick cream and crumbled in 2 rounds of feta.
Pixie and I had a cuddle in front of the fire after dinner. How adorable is this face??
Our GP had suggested that Norm and I both get a flu shot as a means to reduce our risk of getting sick from the flu during the tumultuous times of Covid and we had been on a waiting list for months. On Thursday the nurse phoned to say they had stock and we made an appointment for Friday morning when the chemist opened to get the shot. When getting ready I could not be bothered with very much makeup and so I just put on my usual red lippy, then when I went downstairs to leave and we popped on our masks and I realised I had been a bit silly. There were very few people in the shop and we were in and out quite quickly. The injection itself was not that sore but the medication going in was very sore.
On our way home Norm stopped at the Seattle Coffee Company to reward me for being a big girl and not screaming, crying or punching the nurse.
It was so nice to have a proper coffee and I have to say that was one of the best chocolate croissants I have ever eaten. The pastry was so soft and the chocolate was really rich and creamy.
As a result of our outing I started work a bit late but I had worked late several days that week and had time built up to make up for it. In fact I had so much time built up that I finished work a little bit early too.
It had stopped raining and had warmed up a bit by the time I finished work and Pixie and I sat outside for a bit to enjoy the sun.
On Friday night we decided to order take-aways as a treat. I hate cooking on a Friday. We ordered from Posticino in Hout Bay. Norm ordered Lemon Chicken with chips and vegetables but I fancied one of their pizzas. They have a lovely thin and crispy base. I ordered a Mexican and asked them to leave off the green peppers but as you can see that did not happen.
That night we snuggled up on the couch but as it was so much warmer we did not need a fire. The animals still seemed to be cold!
Lily told Caitlin and I about a new game called Redecor which we are all now playing. You get a blank room design and you have to decorate each item in the room. Each room is different and some may have a request from the 'client' you are decorating for, such as use natural materials or to use a particular brand of fabric for example. Then you are placed into groups of 10 players to compete in voting. If you get 1st place you win prizes. It kept me amused most of Friday night and I sense a new game addiction!
I also spent a lot of my free time this week redesigning my blog. Now that I have upgraded I have more options in design and I think it looks much fresher and current. The only thing that bugs me with the template is that the 1st blog cover pic overlaps my header image but that cannot be fixed. Other than that I am much happier with it. What do you think? Your feedback is welcome!
Saturday we slept in until the dogs forced us out of bed. Norm brought me a coffee in bed and then eventually I got up and moved to the balcony to drink my next coffee. It was a gorgeous sunny day.
I pottered about in the garden and planted clippings in a pot Norm found in his never ended forays into the depths of our garage. Norm cleaned the pool and worked outside. When he came back into the house he noticed we have yet another leak. There is a leak in the pipe that provides water to our fridge. So that means tap water and no ice until Monday when the plumber is coming back again. The creepy crawly in our pool is also not creeping (or crawling for that matter) so we need to get our pool guy in to look at that too. Home owning is a never ending set of issues sometimes!
That afternoon I worked on my blog design for a few hours and then I watched the finale of RuPaul's Drag Race season 12.
It was presented from the homes of RuPaul and the top 3 girls, Jaida Essence Hall, Gigi Goode, Crystal Methyd. It was a bit low budget looking as a result but at least they made an effort to finish off the season despite lockdown restrictions. I won't tell you who wins in case you also watch it and have not seen the finale. I adore this show so it always gets 5 Kitten Stars.
Norm had not eaten his take away from Friday night as he had a big lunch late afternoon so he decided to have that for dinner on Saturday. I ordered some sushi and Chinese food from The Blue Lotus in Hout Bay. I chose prawn roses, salmon roses and crispy chili chicken. It was all very delicious and I enjoyed it. It is not perfect sushi but it was good.
I have started watching series one of a show called 'Homecoming' with Julia Roberts on Amazon Prime and caught up with an episode on Saturday. It is a bit odd and vague and I have only watched a few episodes so I am completely confused about WTF is going on but I am enjoying it. It is a bit slow moving and Norm did not enjoy it so I am watching it on my own. I love Julia Roberts so maybe that is what hooked me.
I also started another series called 'Sweet Magnolias' on Netflix.
As you can probably guess from the title it is based in the American South. It is about 3 women from a small town who have been lifelong friends. It has some recognisable faces but I could never have told you their names until I looked it up for my blog. JoAnna Garcia Swisher and Heather Headley have both been in many different things, Brooke Elliott is from Drop Dead Diva and I recently saw her in an episode of Dolly Parton's Heartstrings. Regarding the other actors, Chris Klein plays the unfaithful husband to JoAnna's character and you may recognise him from American Pie. His side piece is played by Jamie Lynn Spears. I have only watched a few episodes but so far I am enjoying it.
Now for the weekly South African stats on Covid 19. The number of people who have been tested in SA is 701,883. The weekly stats in South Africa are below.
As mentioned, the country is due to go to Level 3 on Monday so we will get a taste of freedom. The booze queues will be insane as everyone is gasping for a drink. Even many of us who stocked up before lockdown have ran out of stock long ago. I have a wee bit of vodka left but Norm's wine supply ran out a while back.
And finally for my 'feel good' items of the week I found these videos.
First of all, Amsterdam design firm Studio Drift presented a spectacular drone light show of a moving red heart beating in the sky as a tribute to healthcare workers.
And I will leave you all with this video of one of Theo Jansen's 'beach creatures' which I find quite beautiful and mesmerising. Enjoy!
Once again I want to express my gratitude to Mother Earth and the Great Spirit. I am grateful for my job which allowed me to work from home, for my warm secure home and gorgeous view, for my kind, clever and beautiful children and for my Mother and my wider family. I am grateful that my children are happy and successful and have such amazing partners. I am grateful that we are all healthy and have food on our tables. I am grateful for our animals.
If you can stay at home please do so. If you have to go out please think of others and wear a mask.
Until next time, Socially distanced Air Kisses from the Kitten x0x0x0x0x