As much as I have been resisting joining in with the perky 'Be Productive Brigade' I must confess to a feeling of great self satisfaction at the end of last weekend. Norm and I were both busy wee bees and I have really enjoyed looking at the fruits of our labours all week.
As well as the glass globe from Josh that I wrote about in my last blog, I had another plant holder that he and Lily had bought for me several years ago but I never got around to nagging Norm enough to convince him to hang it. He was obviously feeling indulgent last weekend as he got out his drill and hung the planter on the rock wall going down to the pool.
I love it!
The area around the pool is one of my fave places in my garden. It is surrounded by lovely purple flowers, one of my Buddhas and several little pieces of metal garden art.
Norm has been cleaning out the garage and he found some glass bowls left over from Lily's hoard of event planning bits and pieces. I washed them and added some clippings from my other plants and topped them off with the apricot pips.
I love looking out at the view and seeing these on my concrete table.
I also divided up some of the plants that had multiplied and were a bit crowded and distributed the bits throughout my other planters and added some of the apricot pips to many of them.
It makes me so happy to look at them all. Such a simple pleasure. I was even happier when I spotted that one of the new succulents I have from Potted Up was blooming! It is called a Ruby Necklace. It is showing me that it forgives me for nipping off one of his legs to plant in another pot. The bloom is like a little burst of sunshine.
I have a big rustic chair that we call my Throne and it sits on the patio next to my new treasure chest and I changed the cushions to blend with the blues a bit more.
I know the purple stool now looks a bit out of place but that is my wee table for my coffee and phone when I am sitting on my throne. Caitlin painted it years ago and I do not want to paint over her work. Maybe I can paint the legs? Or not.
Last Sunday night we were going to make our home made low carb high fat pizzas. I made the pizza sauce and let it cook for a few hours to get the flavours cooked in (is that a thing? I always do it so don't ruin my magic if not.)
I had chopped up all of the toppings and put out the measured cheese mixture, the beaten egg and the almond flour all ready for Norm to make the base. When he went to get the baking paper he discovered we were out. The dough is incredibly sticky and you are supposed to put it between sheets of baking paper to roll it out. He raced down to the shops but they were closed and we had a real dilemma. We eventually just put down a lot of flour and tried our best but it was not a great result. However we ended up with a base and it did not stick to the new pans the kids bought Norm. We made individual pizzas and I added chopped green olives, artichoke hearts, garlic mushrooms and black pepper crudo.
Monday night the cupboards were bare so I had to do a deep dive into the freezer and we had fish fingers, chips and beans. A British classic and a meal that I loved as a child. I went through a phase where I would only eat fish fingers and fries or grilled cheese sandwiches when I was a fussy kidlet.
We relaxed for a bit then went up to bed quite late. I did not turn on the lights as Pixie was already in bed and I trod on something that felt odd and it caused me to trip. I went over to put on the light and discovered a dead bird which had been torn to bits and strewn all over our bedroom carpet. It was deliberately placed on my side of the bed as a message, like the 'horse head in the bed' scene from The Godfather.
The Kitty Mafia was sending me a menacing message.
There has been a turf war in my bed. Lola kitty usually comes up to bed and sleeps with me for a while every night, eventually wanders off after I am asleep and then comes back up to wake me 5 minutes before my alarm goes off. Blue kitty obviously caught onto this routine and in typical Bully Blue style started going up before bed time and sleeping on my pillow in wait for my arrival. If Lola sees him she scoots off because he bites her. So Blue has been sleeping with us for a few weeks now but he is not sweet and cuddly like Lola, he lies there meowing loudly and poking us in the face with his claws out. The night before the birdy massacre while we were on the couch he came up and poked his claw into my nipple (no bras in lock down) and I screamed and chucked him off the couch.
He holds grudges and the poor birdy had to pay the price of my nipple attack.
Norm had to clean up the decimated bird bits from the carpets while I washed my foot and screamed in the bathroom. Then once it was safe to come out we went to bed but all I could think about was the soul of that wee bird trapped in our room so I offered up an Ho'oponopono prayer to him.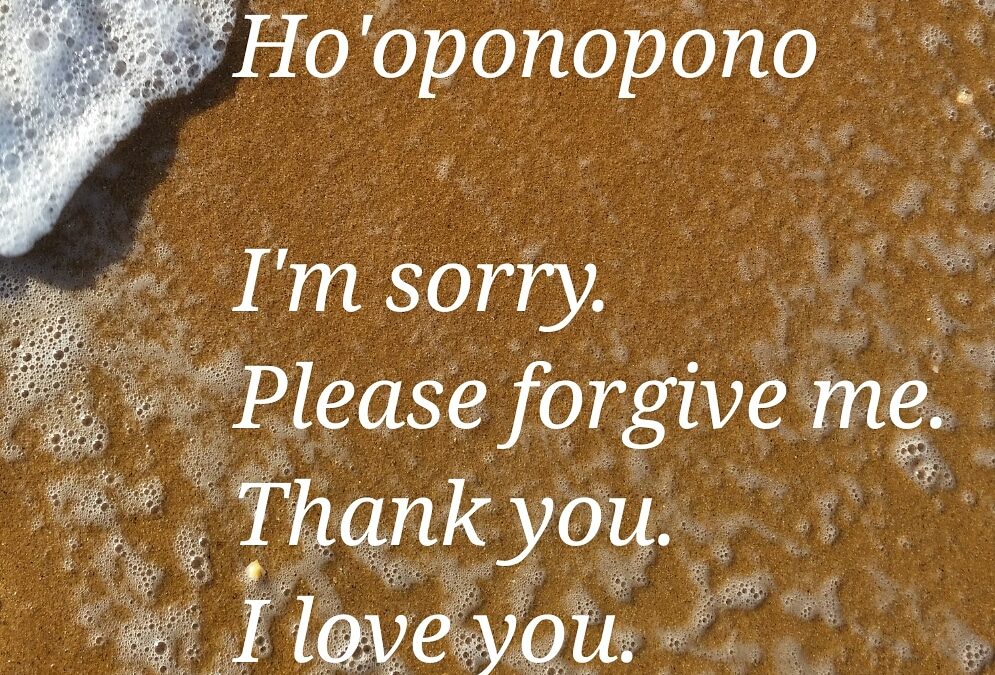 Ho'oponopono (ho-o-pono-pono) is an ancient Hawaiian prayer made up of four powerful phrases: "I am sorry. Please forgive me. Thank you. I love you." I have written about the power of this prayer before. Our drumming group has performed group Ho'oponopono prayers to Mother Earth to ask forgiveness for what we have done to her. The prayer is good for making any sorts of amends to anyone or anything. You just need to state your intentions.
I hope the birdy was not a mother and that it did not suffer too much. I burned some sage and did another prayer in the bedroom before bed the next night.
On Wednesday morning the two cats had a scuffle and later on I heard Norm upstairs having a long chat with Blue about being nice to his sister. It went on for ages and it made me think about what a kind and patient grandfather Norm will make if my kids ever give us any grand kids. Nudge, nudge kids…..we aren't getting any younger!
In the meantime the animals are my babies. Frustrating as they may be they provide hours of love and amusement. Pixie is obsessed with her ball and wants us to play catch with her and will sit barking at us until we cooperate. I was sitting on the front porch enjoying the flowers and my view and Pix barked until I joined her in the garden. She then refused to give up the ball to play. Silly moose.
Navajo is always the sweetest, he loves to lie looking at the gate when I am outside on the porch.
When I work Nava lies right beside me, usually between me and the door. He decided to lie behind me and I did not see him and I backed into him with my chair. He gave a little yelp but forgave me when I soothed him and he just lay back down.
Panda alternates spending time with me and Norm. They enjoyed the cool morning on Thursday as it was very misty over the mountains and nice and cool. The mist is beautiful but I can feel the damp in my arthritic bones.
Norm had to hit the shops on Tuesday as we were out of pretty much everything. As usual he disinfected all of the fresh and freezer items and left the others in the garage for 24 hours before bringing them in.
I am so grateful that I have him to go out for me. Tuesday marked 2 calendar months since I left my house.
On Tuesday night when I went to check what food I had to cook, I noticed that the expiration date on all of the meat he bought was for the following day! I have noticed this trend since lockdown, the meat seems to not be lasting very long. Wonder what the reason for that is?
I decided to cook the chicken breasts as they usually go off the quickest. I had some leftover pizza sauce so I wanted to use that. I browned the chicken breasts in butter then put them in a glass dish and topped them with the sauce and baked them. I roasted butternut in coconut oil seeing as I had the oven on for the chicken. To go with it I steamed some broccoli.
It was simple and tasty. The butternut had a nice crispy outside and was smooth and creamy inside.
On Wednesday I baked pork chops and I coated them in a bit of fresh garlic, dijon mustard and honey. I boiled corn on the cob, fried mushrooms in garlic and butter and made my own version of brussel sprouts. I slice the sprouts in half, boil them in chicken stock, garlic and a dash of chili flakes, then once the liquid has cooked down I add a big dollop of butter and fry them until they get a wee bit of colour on them.
The chops were nice and sticky and the side dishes went well with them. It was a tasty and flavourful meal.
Thursday we woke to a misty damp day with so many clouds the mountain was not visible. We had a bit of a downpour and it kept the day cool for working most of the day.
On Thursday at work I caused a bit of an issue. I was being fully transparent but that exposed someone for not following protocol and they were a bit unhappy with me. As a consultant I am always open and honest, but not every client wants that if it makes it obvious they have not done their job. I stand by what I did, as all I did was carry out my responsibilities of my contract.
For dinner that night I had beef mince to cook. It was the last of our meat and as it was the weekend coming up I figured I should try and finish off the vegetables as well. I fried a chopped carrot, red pepper, and an onion then added sliced mushrooms. I fried the mince in another pan and added a bit of beef stock, Worcestershire sauce and a dash of soy to it then drained the oil once it was browned and added the meat to the cooked veg. I added lots of beef stock, some garlic powder and onion powder, a dash of chili flakes and some tomato paste and let it simmer while I steamed some cauliflower and cleaned some spinach. I then pureed the cauliflower and added a bit slab of butter. I put the meat mixture on the bottom of a glass dish, topped it with a layer of uncooked spinach and then the pan was too full. Oops. Norm suggested I put it into the oven to let the spinach wilt but it made the spinach look like dried up leaves. Oh well. I layered the cauliflower puree onto my dried leaves and topped it with cheese and put in the oven again. I boiled the last 2 ears of corn to go with it.
It tasted delicious but if I try this again I will wilt the spinach in a bit of butter before I add it rather than try to squish it on! Every day is a school day.
Just after dinner I had a surprise video call from my friend Mandi and we chatted for ages and ages. It was so lovely to see her face and to laugh with her because we always laugh so much. It perked me right up! We have been friends since our kids were babies but she moved to Canada several years ago and I miss her so terribly much. We always had such fun together no matter what we were doing, and we used to get up to all sorts of nonsense. I miss that but maybe I am too old for nonsense now, I feel constantly exhausted!
We went off to bed and we were woken at 6 am when the electricity went off. Norm purchased a voucher on his banking app and went down to the garage to enter the code. We went back to sleep for a bit but it left us so tired the next day. As Friday is rubbish collection day on our street the dogs were going mental all morning. *Sigh*
Panda was behaving like an ADHD lunatic. Pixie kept looking at him like he was insane.
That night I ordered sushi to be delivered from the Blue Lotus. I have been craving sushi since we went into lockdown. I ordered salmon roses, bamboo rolls and prawn roses.
The place I normally order from was not on the Mr D delivery app, I am not sure if K1 are closed during lockdown but Blue Lotus was the only place in Hout Bay which had sushi on offer. It was twice the price of K1 and it was nowhere near as nice but I was still happy to get sushi. Norm just had leftovers as we had plenty of the dish I made on Thursday left and he does not eat sushi.
Saturday morning the weather was again overcast and cloudy in the morning which kept the morning cool.
It burned off by midday but the morning was cool enough for me to do a bit of faffing around in the garden. Norm continued in his effort to clean out the garage and he found all sorts of things. He found several CDs full of photos that I need to go through.
We again decided to just use Mr D to deliver a take away on Saturday night. There are very few options available on that app but we chose Posticino. Norm ordered the chicken Marsala with vegetables and I chose chicken schnitzel and spaghetti with Napoletana sauce. It was piping hot when it arrived. It was very yummy and so nice to not have to cook (or eat my own food!).
We had a relaxed evening and then a long lie in bed this morning. Norm brought me coffee in bed then I showered and did a hair mask and sat out on the upstairs balcony to let it set in.
My hair is so dry and hopefully the hair mask makes it less frizzy. I am so glad no one except Norm is seeing me at the moment as my roots are pretty savage.
While I was writing Norm made an amazing brunch for us. He fried halloumi, grilled bacon, poached eggs and served avocado and rosa tomatoes with it. It was divine if a bit too big for me to finish. I am a lucky Kitten!
The President is scheduled to do another Address to the Nation tonight. We are all hoping he announces that SA can move to Level 3, but there are doubts as to whether this will be nationwide or whether the western province stays on Level 4.
This week it was announced which areas in South Africa are deemed to be Covid-19 'Hot Spots' and our suburb, Hout Bay, is one of them. The epicentre is literally about a mile down the road from our house.
This article shows you where the hot spots are all across Cape Town.
"The province has recorded over 11 000 cases of the virus as at 13:00 on Thursday. Deaths in the province stood at 235, though 5,677 people had recovered from the virus. In a digital press conference on Wednesday, the province said it believed that having 62.6% of the national number of cases simply means that community transmission "seeded" earlier in the Western Cape, and that other provinces could soon follow suit."
This graph shows the projection of anticipated infections from June to November. An estimated 12 million Covid-19 infections could occur by November, of which around 3.7 million may be detected. The large majority of these would be cases with only mild symptoms.
The number of people who have been tested in SA is 564,730. The overall counts are shown below.
I am holding thumbs and crossing fingers that we are granted the freedom to exercise whenever we wish so that we can take a stroll with the dogs after work. I am also hopeful that the restriction on alcohol is removed and we can at least order alcohol online for delivery if nothing else. We deserve some sort of reward for keeping our asses at home for over 2 months! The local news has hinted that the alcohol ban will be lifted but that cigarettes and tobacco will continue to be banned. The whole country is aware of the reasons why Minister NDZ is keen on pushing that agenda.
In regards to our entertainment while caged, I watched 'Becoming' which is a documentary about Michelle Obama whom I adore. It follows her on her book tour and gives us a glimpse into the woman she is and what a wonderful family she has created. Her daughters seem to be such down to earth thoughtful, intelligent young ladies.
I liked seeing Michelle as a 'real person' rather than just the First Lady and it was interesting to see her personal taste start to influence her clothing style rather than sticking to the conservative (often navy) clothing she often wore while 'playing the part' of First Lady. Now she has a touch of bling in a lot of her clothing.
I really enjoyed this documentary and give it 5 Kitten Stars. ⭐️⭐️⭐️⭐️⭐️
I finished watching 'Dead To Me' which I really loved. It was incredibly intense and left us with a cliffhanger which hopefully indicates a Season 3 will be on the cards.
I also give this series 5 Kitten Stars. ⭐️⭐️⭐️⭐️⭐️
Norm and I have just finished a series called 'Trial By Media'. Each episode covers a different high profile trial where the media potentially influenced the verdicts. It is equally fascinating and frustrating but we both enjoyed it. It is heavy though and we could only manage one episode per evening as it often leaves you with a bad taste in your mouth. I give it 4.5 Kitten Stars. ⭐️⭐️⭐️⭐️✨
We also started a show this weekend called 'Blood & Water' which is based in Cape Town and is a South African production. It is about a girl's search for her sister who was abducted at birth. We are only a few episodes in but it looks like it will be worth watching.
This week Norm and I have treated ourselves a bit. Norm ordered a new laptop as his is on its last legs He also ordered a tumble drier and some sort of new floor cleaning thingy and I treated myself to an upgrade of my WordPress account. I had been using the free plan for the site but I ran out of media space ages ago and that is why I have used Instagram to host my media. But I had ran out of space even without hosting my media on the site so I had to either start a new blog on another free site, move over to a developer who could set it up and manage the site for me or to just stay where I am and pay to upgrade. I chose the latter. I paid for 2 years in advance and the plan came with a year's use of my own domain, in case you noticed that I am now 'KittenInTheCity.com'. I am thinking about changing the design too. The free plan used templates and mine has a 'peach' theme as my strap line is about being a Georgia Peach but I might give it a different look. What do you think?
Anyway, as always I hope you all stay safe. I am continuing to be grateful for my comfortable home, our beautiful view, our garden, my old and new friends, my family, my mom, my children and their partners and their families and for all of our health. I am grateful that we are able to work from home and that we have plenty of food to eat. I wish you all enough.
If you go out please wear a mask and maintain social distancing, if not for your own health then for the health of others.
Until next time, Kisses from the Kitten xoxoxoxoxoxo