It was lovely having a three day weekend both last weekend and this weekend, especially as that resulted in a three day work week and everyone loves that! Assuming that you are getting paid of course. I am very grateful for paid holidays, especially in such a stressful time as the Covid Era with so many people losing their jobs or having a pay cut.
My anxiety levels fluctuate multiple times in a day and I feel like I am always on a knife's edge and it takes very little to knock me off. I can always feel panic bubbling along very near the surface. I am usually not a drinker at all, I only drink socially, but since the lock down I am having two vodkas a night. I do not feel tipsy but it does help relax me. Regardless of the vodkas, I cannot imagine how I would cope without my daily anxiety medication. I am sure I would be curled up in the fetal position on the couch, rocking, humming and sucking my thumb.
My concerns are not so much for the immediate but for the future. How long is this situation going to go on? When will I see my kids? When will I see my Mom and my extended family in the US? Will there be an impact to my work seeing as my employer has already lost several clients due to the economic impact of the lock down?
I wish I was one of those carefree hippy chicks who wear floral wreaths on their long tangled hair and flowing tie dyed dresses and skip about singing kumbaya.
I wish I was able to 'slow down and enjoy' the lockdown as one friend suggested to me. There are even people who are being rather judgmental about how we should spend the lockdown, questioning whether we are learning a new skill, spring cleaning our homes or re-evaluating our life's purpose….blah blah blah……
No.
I am just trying to stay sane. Or at least maintain the same level of sanity I had prior to the apocalypse (however minimal that may have been).
Everyone responds differently to this type of situation. Some people thrive on stress and perform brilliantly under pressure. The strategic thinkers may be contemplating the best approach for keeping deaths at a minimum while affecting the economy the least. The stoners seem to be in paranoia overdrive, latching on to every conspiracy theory going. The spiritual ones are joining into group meditations or dancing naked in the moonlight. The 'go with the flow' types are sitting in the sun or just contemplating their navels. The mentally ill may be climbing the walls or depressed. People who are in isolation on their own could be struggling due to lack of personal contact. Us highly emotional empaths are absorbing all of the turmoil and pain unless we are constantly on our guard. And there is so much turmoil, pain, fear and panic on a global level it is hard to protect yourself from it all.
There was more sad news this week when we heard that struggle icon Denis Goldberg had passed away. Denis lived in Hout Bay and we would sometimes see him out and about. The first time I met him was at an event called 'An Evening with Denis Goldberg' which was organised by our friend Tom. Denis was a funny, kind and intelligent man.
"Denis was a South African social campaigner, who was active in the struggle against apartheid. He was accused No. 3 in the Rivonia Trial, alongside the better-known Nelson Mandela and Walter Sisulu, where he was also the youngest of the defendants. He was imprisoned for 22 years, along with other key members of the anti-apartheid movement in South Africa. After his release in 1985 he continued to campaign against apartheid from his base in London with his family, until the apartheid system was fully abolished with the 1994 election. He returned to South Africa in 2002 and founded the non-profit Denis Goldberg Legacy Foundation Trust in 2015. He was diagnosed with lung cancer in July 2019, and died in Cape Town" on Wednesday.
I found this interview with him online and thought I would share it.
With all of this sadness and turmoil I am glad I have work to distract me from obsession and depression. I am also grateful for social media, music and television to occupy my down time.
Speaking of television, last weekend while I was off work for 3 days Norm had to work a bit so I started a few new series on my own.
I have just finished watching "Making The Cut" with Heidi Klum and Tim Gunn.
It is a little bit of a similar concept to Project Runway in that it features designers presenting their clothing for judging, but in this series they do not have to be able to sew as they are provided seamstresses. Most of the time they do not have face to face contact with the seamstresses, the designers have to create patterns and convey their designs with notes and drawings. The show started out with 12 designers who faced challenges and assignments that tested their design skills and their abilities to run all aspects of a business. Each episode featured a fashion show. At the end of each episode one or more of the designers were cut from the list until there were just two. The last two created an entire collection to show on the runway. I enjoyed this show and will give it 3.5 Kitten Stars. ⭐️⭐️⭐️✨
I also started a show called 'NOS4A2' (pronounced Nosferatu) which was written and produced by Joe Hill, the son of Stephen King. I really enjoyed his other series Locke and Key which I previously reviewed and I thought this one also looked interesting.
I am only a few episodes in but it has captured my attention. I love a bit of horror as long as it is not just endless gore and death.
We finished 'The Widow' which I had blogged about previously and it ended up with a 4 Kitten Star rating ⭐️⭐️⭐️⭐️. I was annoyed with our Kate on a few occasions when she behaved stupidly. But the African scenes were filmed in South Africa and I kept recognising various backdrops so I loved that aspect of it.
Together Norm and I started a series called 'Win the Wilderness' and I have just finished the last episode this weekend. It was produced by the BBC so Norm was interested in it even though it is a reality show. The concept is that six British couples arrive in Alaska to compete for the ownership of an extraordinary home in the remote wilderness. The home was hand built by a couple called Duane and Rena Ose who have no one to inherit the property. Duane and Rena had tried to sale the property but had no success and were being courted by many television companies for a variety of different concepts of reality shows but ultimately liked the proposal the BBC put forward.
The scenery is stunning and as always with any show which has eliminations I get very sad for those who lose out but I was very pleased with the couple who won.
We have also begun watching Australian MasterChef and we have gone all the way back to series 1. I think I am a glutton for punishment as I am so weepy at the moment that all of these shows made me cry! I cried over the last episode of The Widow, I cried at the guy with the sick wife in MasterChef, I cried when Duane and Rena Ose left Ose Mountain, I even cried over NOS4A2! Who cries over a horror? Me apparently.
The weather is about as unpredictable as my mental state at the moment. Last Sunday was sunny and lovely but Monday started out very overcast and windy. We could not even see Table Mountain due to the mist.
It cleared up later and got reasonably warm. The rest of the week was sunny and gorgeous but not unbearably warm and the wind died down. I love this time of year when it is sunny but not sweltering hot.
Friday Lola decided it was a perfect day for sunbathing. I found the rainbow type of reflection curving across the photo very interesting! Wonder what that is due to? A spiritual being? A colourful orb? A gay spirit guide? Or just a smudge on my phone lens? We will never know!
It is always a bit discombobulating when Tuesday is the first day of the work week and this time we had to hit the ground running. I got up early and showered as I had several online meetings with clients and in case everyone had their video on I decided I should tart myself up a wee bit. I washed and dried my hair and put on mascara and lippy (and a bra!).
It was all for naught as no one put on their cameras and neither did I as I was going to avoid having to look at myself.
As always my big boy Navajo was right by my side making sure I am safe.
As soon as I log off from work I am covered in beasties as they all decide they need cuddles once I head over to the sofa.
I am still trying to plan our meals carefully so that we have minimal wastage. It sometimes means we have similar meals, especially regarding vegetables, but at least we have enough food so I won't complain. As long as I am doing most of the cooking Norm is happy enough with whatever I put on his plate (or at least he is clever enough to keep quiet if not)!
Norm went out to do a shop last Monday morning. He got up early and arrived at the shops just after 8am only to discover they only opened at 9am as it was a holiday so he had to wait. He had taken Navajo with him so that Nav had a bit of an outing and Norm went back to sit in the truck with him, especially as it was cold and he had on shorts (Norm not Nav, Nav is a nudist). By the time Norm went back up to the shop at 9am he was stuck behind a queue to get in. He did a big shop and came home and disinfected all of the goods which needed refrigeration and left the others in the garage for 24 hours to give the virus time to die should it have been catching a ride on our goods.
That night I baked some chicken thighs. I am not usually a fan of dark meat but Norm misunderstood what I asked for so I had to make do. I sprinkled mine with plenty of spices which makes it look a bit dark but the skin was nice and crispy, not burnt. To go with the chicken I steamed a few gem-squash, baked a small potato, fried the last of our cabbage and fried mushrooms in garlic butter.
On Tuesday I had minced beef to cook and decided to do Mexican food. #TacoTuesday. Mexican food has so much flavour and is usually so quick to prepare. I made home made guacamole and put out bowls of fromage frais, salsa, grated cheese, lettuce and tomatoes for toppings. Norm had his meal as a mexican salad but I had tacos. I also made some refried beans by mushing up a tin of sugar beans and adding cumin, chili powder, onion powder, paprika and garlic.
It made me very happy. I love Mexican food of any sort.
On Wednesday I made a big pot of vegetable soup for our lunches. It is nice to have something healthy while working.
That night I cooked organic chicken sausages. I fried mushrooms in garlic and butter, wilted some spinach and added that to the mushrooms along with a tiny bit of cream. We just served chips done in the air fryer to go with it.
It was yummy if not terribly healthy or nutritious. Sometimes you just need chips!
On Thursday the last portion of meat left was Kassler chops. Kassler chops are of Germanic origin, they are like steaks made out of gammon or ham for those who are not familiar with them. I had never heard of them until I left the US. I steamed cauliflower, fried sliced carrots in butter and stir fried the remainder of the baby spinach until it was wilted. I grated a bit of sharp cheddar cheese and sprinkled it over the hot cauliflower and it melted beautifully.
On Friday when we dropped to Level 4 many of the local restaurants opened for delivery however Norm and I figured that the entire village would be desperate for take out and we decided to rather just cook. I thawed the pizza sauce I had frozen last week and Norm made the low carb base we love. I then added the toppings and we baked it. We had green olives, artichoke hearts, parma ham, mozzarella and red onions for toppings. It was one of our best ones yet.
Even though we dropped down to Level 4 the counts of positive Covid patients is increasing in South Africa but that is to be expected as more people are being tested.
We are still far behind the UK which has a similar population. (SA is estimated at 57,224,906 & the UK is estimated at 67,886,011 people).
We had heard that the increased counts in South Africa were due to the front line essential workers getting infected. One of our largest local grocery stores closed due to a positive case. How many people did they interact with until they were tested and determined to be positive, especially if they were one of the lucky symptom free carriers?
Major General Leon Rabie of the Police Force reported that more than 100 members of South Africa's police force have tested positive for Covid-19 and one officer has died. According to Rabie, 2,917 police officers were tested and the results were negative for 1,795 of them, while 103 were positive. One thousand officers are in quarantine.
On Friday the 1st we moved to Level 4 in South Africa. This graphic compares the summary of the 2 levels of restrictions.
The guidelines of what is allowed in level 4 and what is not allowed were also published and I made a collage of the two, excuse the formatting but I am definitely not a graphic designer! The left side of the image is what is not allowed and the right is what is allowed.
President Ramaphosa had advised us that the ban on cigarette sales would be lifted when we moved to Level 4 and you could hear the collective wheezy sighs of relief from the nicotine addicted. However in a drastic about turn Cooperative Governance and Traditional Affairs Minister Nkosazana Dlamini-Zuma (AKA 'NDZ') said that after 'consideration and debate', the ban on cigarette sales would remain in place for "public health" reasons. Dlamini-Zuma said 2000 public comments received on the amended lockdown regulations (out of 70,000) were against the lifting of the cigarette sales ban, which had prompted the renewed discussion. The Tobacco Industry representatives intend to challenge this decision.
This reversal of a promise by Ramaphosa has triggered a complete shift in the energy of the residents of SA. Ramaphosa had the full support of the majority of the country in his strong handling of the virus, but now that his word was broken and the word of NDZ and other ministers has over-ruled his promises it makes us question who is the puppet and who is the master. The hatred we all have for the corruption and decimation of SA by our previous president and her ex-husband Jacob Zuma is always bubbling up ready to erupt and this shift seems to have lit the pilot on the volcano of discontent. Everyone is pissed off about the nonsensical decisions being made which compromise our freedom.
As with many things in African politics there is corruption. Of course you only have to follow the money to see what is behind the change of heart, NDZ has relationships with various gangsters who are in the illegal cigarette trade and banning the legal sale of cigarettes has increased the money made by the illegal supply chain. The trade in illegal cigarettes costs the country billions each year. Tobacco products are heavily taxed, making tax evasion potentially a very lucrative endeavor. The South African Revenue Service (SARS) have said that the ban on alcohol and cigarettes during lockdown is costing the economy over R1.5 billion in lost revenue. This at a time when our economy is being shattered by the lock down.
I hate cigarettes and cannot bear being surrounded by cigarette smoke but what people do in their own homes is none of my business so while I did give feedback on the regulations I did not support the ongoing ban of cigarettes. I did have a whinge about the continued ban on purchasing alcohol. Norm has now run out of wine and has moved onto gin. Luckily for me we snagged a few bottles of vodka prior to lockdown as that is the only liquor I drink. Once they open up sales of booze in level 3 I will also stock up on cider as a back up! Unless of course NDZ has a friend in the moonshine business and it gets pushed back to level 1.
The other insane decision the government has made for Level 4 is around physical activity and exercise. The government has said that people can only exercise from 6 to 9 in the morning. So basically everyone in the country must go out in the same time frame. You are supposed to apply social distancing but that is impossible to achieve and still stay in an area which is safe, especially for women. For example it seems that half of Cape Town was having a stroll on the Sea Point promenade on the first day that restrictions eased.
This image is from Strand so it is not just one coastal area.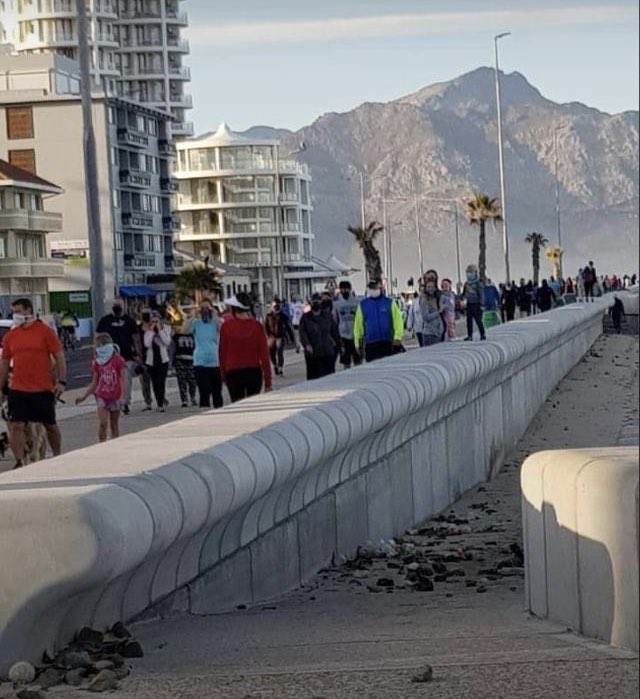 SAPS have issued a warning to all residents that from Saturday 2nd May 2020, there will be a zero-tolerance approach for the following:
1) All persons must have a mask.
2) You may only walk/run/cycle on the paved areas only.
3) The grass and beaches are strictly out of bounds.
4) You may not drive to perform the exercise and have to walk from your residential address.
5) By 9am you must stop all exercise in public.
This situation can also lead to an increase in crime as you will not be able to vary your patterns of movement very much and criminals will know your house is empty during certain hours of the day. Many times criminals watch you for a period of time to determine when the house is empty and it will be easy if everyone is out at the same time. We are also heading into colder weather and it is dark in the mornings thereby increasing the risk to personal safety. It is a daft decision.
On Saturday we held a drum circle via Google Meet. Many of us had issues with technology. I could download the app via my iPhone but could not download the app via my laptop and the invite gave me errors when I tried to log on via Firefox or MS Edge. Google Chrome has not worked since my attempts to upgrade my laptop and I finally just downloaded the app via my iPad and logged on via that. Lola decided she needed to be involved and parked off right in the way.
We all did a sage smudging on ourselves as best we could.
Then we held a talking circle where we each went around the group and shared our feelings or whatever spirit called forward. I talked about coping and trying to practice gratitude and keeping my privilege in mind when I start feeling resentful for this situation.
Next we all sang and drummed.
It felt so good to have the unburdening of the talking circle and to see the lovely faces of the other ladies from our circle. It was good for my soul to sing the songs of my ancestors and the sage helped to clear some of the negative energy which resides in most homes. I felt so uplifted afterwards. I can be exactly who I am with this group, there is no judgment or hostility and negativity with them. They are my tribe. We sang for a few hours and then logged off the call.
Norm then made us a late brunch of poached eggs on toast with bacon. It was just what I needed after the drumming.
The day is cool and very overcast and I can barely see the mountains.
Navajo is also enjoying this cooler weather and is having a mooch about the garden.
I am going to attempt to cut Norman's hair just now as he cannot cope with it being so shaggy. Wish us both luck as I am sooooo not handy. We are going to watch a film a bit later and then I have another day off tomorrow which is fabulous.
I hope you all continue to be grateful for your many blessings. As always I am grateful for our comfortable home, my wonderful husband, my children and their partners, my mother, my relatives and my friends. I am grateful for my pets who provide me so much comfort, love and amusement.
I am grateful.
Please stay home if you can. If you cannot please wear a mask and practice social distancing. I hope we all manage to stay safe from this virus and that a vaccine is available soon. Oxford University is progressing well in their development of a potential contender and should know in a few months if the vaccine works on humans. Let us all send up a prayer or a positive thought for these scientists.
Until next time, Kisses from the Kitten xoxoxoxoxox