These days there are so few opportunities for happiness that you need to grab it wherever you can.
I mentioned in a recent blog that I had watched the Fran Lebowitz 'Pretend It's A City' series and one of the things she discusses is the term 'Guilty Pleasures'.
I totally agree with my spirit animal Fran. We have to find those small pleasures where we can. For me it can be as simple as watching the patterns of sunlight move across the mountains, listening to the birds singing while they play in the trees by our pool, playing games on my phone, drinking a frothy coffee in bed that was made by my husband (umm just to clarify, he made the coffee not the bed), cuddling a dog or a cat or watching frivolous things on telly which make me smile or give me distraction from the chaos going on in the world.
Last Sunday Norm and I watched the Inauguration concert 'Celebrating America'.
We had watched the swearing in ceremonies live on the 20th but not the performances afterwards. The theme was 'Unity' and I loved the messages of hope and positivity from each artist.
I enjoyed all of it but some of my favorite bits were John Legend covering Nina Simone's 'Feeling Good' and reassuring us that "It's a new dawn, it's a new day" and "it's a new life" and that we should all be "feelin' good".
I enjoyed Demi Lovato who sang an upbeat cover of Bill Withers' Lovely Day, accompanied by the images of doctors and nurses singing along in their hospital scrubs.
I loved the Black Pumas performance of their hit 'Colors'. I really enjoy their soulful sound and lead singer Eric Burton has an amazing voice.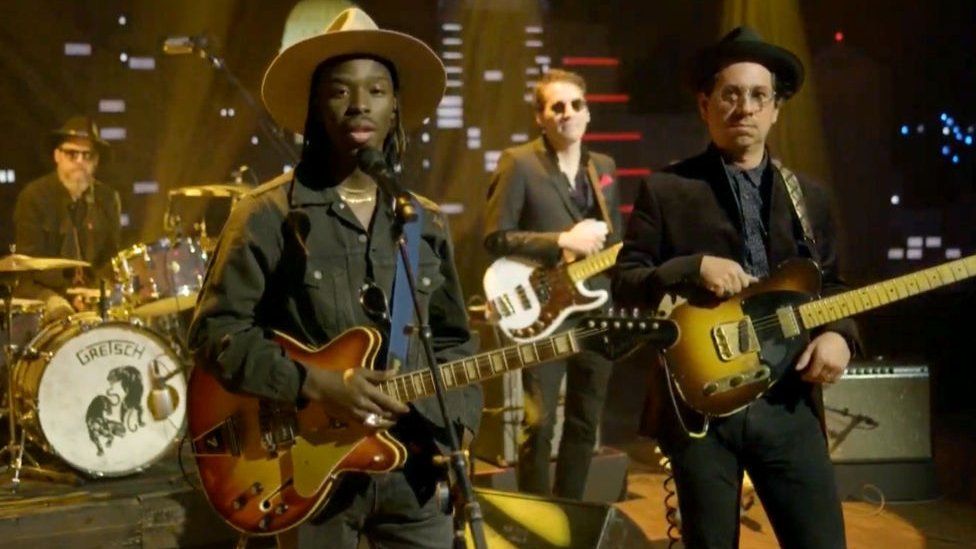 I enjoyed Justin Timberlake and Ant Clemons performing their new song 'Better Days'. I liked the little dance scene in the empty dark streets.
I loved the fireworks in the background of Katy Perry's performance.
I loved watching the Biden family dancing around while watching on television screens inside the White House and I loved seeing Doctor Biden and President Biden framed by the lights of the fireworks at the end. You can really feel their love and respect for each other when you watch them interact.
I felt very inspired, positive and hopeful for change in my home country. It is such a difference from the anxiety created by the machinations of the previous administration.
After we watched the concert Norm wanted to do a bit of gardening. Last Saturday the neighbours over our back wall had taken down a tree which was adjacent to our wall and the noise of the chain saw was unbearable. It was a very hot weekend and we had our doors all opened with the security gates locked for safety. We had to pause the telly as it was crazy loud. Then a branch fell over into our garden which Norm had to chop up. Luckily none of our pets were nearby when it fell. That night we smelled smoke and then our entire room was overwhelmed by the acrid smell of burning wood. It was so strong we had to close our back doors but our lounge still smelled strongly all evening. The lack of tree now means that we can see everything and everyone in their garden and house and when they have people over it sounds like they are sitting next to us on the couch. They have young people living there and they like to party.
Our passionfruit vines had grown upwards and attached themselves to the tree they had cut down and the vines had snapped off and fallen down back towards our back wall. Norm tried to redirect them onto the other climbing frame and hopefully they are not too traumatised and will take hold and spread across the wall rather than upwards.
Then Norm decided to trim the vines growing along our front wall by the pool. The trees and growth are getting out of control. We want to get someone in to trim the trees but for now Norm just clipped a bit of the vines so that we get more sunlight and warmth on the pool. This is the wall when he started.
And this is the wall when he finished. You can barely tell he did anything unless you compare how much of the roof next door you can see, but he hauled off a truck full of cuttings. At least we can see the neighbour's lovely lemon tree and it gave our scrawny buddleia some much needed light. Hopefully the buddleia will thicken up now.
While Norm worked I pottered about watering flowers, filling the bird feeders, dead heading plants and generally just getting in Norm's way. But the dogs loved having us outside and they wandered about quite happily.
Or else they begged to be carried when they got tired or hot.
On Monday Norm was running around like a blue bottomed fly fetching and carrying things. First he had to drive an hour away to drop off the desktop PC I had been using for a previous client project. I have not been on that project in months and a desktop takes up a lot of space so we finally made a plan to hand it back to them.
After that he went to collect a second hand desk I found online. Since lockdown I have been working on a slab of MDF suspended across 2 trestles which is not very stable and has no storage. I had finally found a new one online that I liked but it was almost R12k on sale! I was not willing to pay that and Norm suggested I try some second hand stores and this one popped straight up! It was just over R1k and I nabbed it straight off.
We intend to sand the desk down and stain it a dark colour to match the rest of our lounge furniture, it is solid wood so it should come up nicely. I am very chuffed with it.
Once Norm collected the desk he went to do a grocery shop as we had nothing to eat in the house so I have cooked all week which means we at least are in control of what we consume.
I have had several deliveries this week seeing as the only symptom I have developed from the Covid lockdown is an addiction to shopping online. I ordered a huge box of fancy coffee, some cool summery dresses and t-shirts and I went a bit amok on the Salon 500 site. With my grey growing in, my hair is so dry and frizzy if I use the 'high street' brands so I bought a few items which were marked down to see what works well. These should keep me in supply for a long time!
Today I have used the 'So Long Damage' shampoo and conditioner and put on a hair mask my Mom gave me and am going to leave it on all day.
We had to get the plumber out on Wednesday as a large puddle suddenly appeared on the front walkway. Luckily Norm noticed it, I would have assumed it was dog wee or something dog related. The dogs had to be locked in for the safety of the men working. The Poms might have only nipped an ankle but Navajo gets very wound up by people on the property. This barking and hysteria went on the entire time they were working until Norm finally took pity on my nerves and took the boys upstairs with him.
On Friday Navajo went to the doggy physio. My friend Michelle drove him there and when she arrived he greeted her then ran straight up the ramp into the back of the truck and shoved his head out the window with a giant smile on his face. He loves going for outings and he loves Michelle so he is a happy boy when she arrives. The laser treatments are really helping him.
Today Norm took Pixie to the vet as she has a little bump on her leg which is annoying her and she will not stop licking it. The vet wants to put her under on Monday and cut it off as well as another cyst she has on her head so wish her good vibes please.
Now for the current status of Covid in South Africa. There have been 8,203,584 tests conducted which has resulted in the following stats:
On a global scale, South Africa is in 15th place on the count for total cases for a second week.
SA is now 42nd in the count of deaths per 1 million population, prior to that we were 43rd for 2 weeks. SA had held onto 45th place for a few weeks before that so we are still creeping up on the scale which is quite worrying.
The US has had 447,459 total deaths and is 11th place in count of deaths per 1 million population. The UK is now in 5th place and has had 104,371 deaths.
South Africa's first vaccines will arrive in the country on Monday. The first million of the 1.5 million doses of the shot developed by AstraZeneca Plc and the University of Oxford and produced by the Serum Institute of India Ltd have been cleared by South African regulators for use. They will be ready for distribution in 10 to 14 days and 1.25 million health workers will receive them.
It may be a very long time until our family get vaccinated. I will continue to stay at home for the foreseeable future.
Last week Norman and I watched "The Night Manager" on Amazon Prime.
It is an adaptation of a novel by recently deceased David John Moore Cornwell under his pen name John le Carré. It has a rather illustrious cast and stars Tom Hiddleston, Hugh Laurie, Olivia Colman, David Harewood, Tom Hollander, and the stunning statuesque Elizabeth Debicki. The main plot line is about an undercover operation to bring down a major international arms dealer (played by Laurie). This one was really great, a fabulous plot, a brilliant cast, a lovely setting for many scenes and even some things going boom for those boys who are fond of such drama. I loved it and I give it 5 Kitten Stars ⭐⭐⭐⭐⭐.
We watched one episode of the new Netflix series 'Fate: The Winx Saga'. Apparently it is a spin off of a Nickelodeon animated series called 'Winx Club' but I did not see that so have no idea how this one compares other than it has actual humans (humans pretending to not be humans but you know what I mean). It follows the changeling fairy Bloom as she attends Alfea College and adjusts to life in the Otherworld, where she must learn to control her dangerous magical powers. I enjoyed the 1st episode but it is a bit pink and fluffy for Norm so it will be one I watch on my own. I have not read any of the Harry Potter books or watched the films and am not a fan at all of that sort of thing so I was a bit surprised I liked this. But I adore fairies and the concepts of the battles for control of the dark side.
As my not so guilty pleasure show to watch on my own in the background while I play games, I have started watching The Real Housewives of Beverly Hills. OMG what a load of drama and nonsense. Of course I love it. Yes I know I am 10 years late boarding that train but I have lots of past seasons to trawl through so it is all good. Damn some of these ladies are insane. One is an alcoholic, at least one is psychotic and most of them have had way too much plastic surgery. #BlowFish
I just finished season 1 which was aired in 2010 and starred Kyle Richards, Adrienne Maloof, Kim Richards, Lisa Vanderpump, Camille Grammer and Taylor Armstrong. I give series one 4 Kitten Stars ⭐⭐⭐⭐ and I have just started season 2 which has introduced some more unruly women to the mix.
For my musical treats this week, first of all I give you one of my old faves in my one of the NPR Tiny Desk Concerts that I love. Regular readers know I love Miley and NPR so it is another not so guilty pleasure. I love her retro 70's rock star attire and the Alice in Wonderland sized venue. The set list is "Fade Into You", "Golden G-String", and "Prisoner". I hope you enjoy it.
My second offering is a newly released video from the very talented Jon Batiste. This song has such an old skool sound and I love the clothing and energy of the dancers. It is a real feel good song.
I hope you have all had a good week and that you stay safe. If you have had access to the vaccine I hope you are grateful for that access and that you were sensible enough to take it. Trust me, Bill Gates does not GAF where you are or what you are doing. If you have to go out, please wear a mask and practice social distancing but even if you have had the vaccine, please try and stay home if you can.
Until next time, socially distant Kisses from the Kitten xoxoxoxoxox