The week between Christmas and New Years is notoriously a bit of a black hole. The Bermuda Triangle of Annual Leave. What day is it? What have we been doing? Where have we been? This period of time can usually be tracked by the places we have gone, the people we have seen, entertained or been entertained by, the meals we have prepared or eaten out, but even those types of interactions are off in 2020. I am usually so busy I have to keep notes for my blog each week and then edit due to too much info (yes the current long streams of drivel are usually the edited version).
Then I saw a meme about not bothering to try to achieve anything other than a couch like state.
I thought this was a great idea. I came up with the imagery of a squashy but stylish Purple Velvet Sofa, my favorite colour and fabric. Deep, dark and languorously luxurious.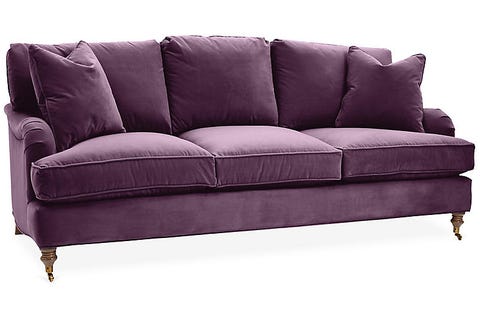 So that has been my only goal, to have no goal. I sit for hours in my throne or in the garden just enjoying the view and watching the birds and butterflies. I tune in and listen to the sounds of the valley: horses neighing, roosters crowing, cars or motor bikes roaring up and down the valley, dogs howling or barking, birds singing or even having what sounds like a domestic over some seeds or something worth fighting for in bird land. Focusing on the feeling of warmth from the animals that are inevitably lying on my feet.
Mindfulness in action. Being present. Being here. Being conscious. Being aware. Being grateful.
I have spent the entire holiday in one caftan or another and one hat or another when outside. No make-up on, my hair just air dried in the heat. No effort, just existing.
I do feel truly relaxed.
I have cooked very little this week. I cooked a big pot of chicken and butternut curry and served it with roasted cauliflower and almond slices. That lasted for two night's dinner.
The funny thing is that this time of year the village is usually so rammed with visitors that we avoid going out at all. We especially avoid the local restaurants and just exist on simple meats cooked on the grill or salads so I am not sure why we are so off routine this year. The weather is off and then there is that pesky virus and all that.
As if we do not have enough drama to deal with, load-shedding was implemented again on Wednesday night and our electricity supply was shut off from 10pm to 12:30am that night. We usually sit counting the minutes until it is back on, grumbling and tetchy. This time we decided to just go with the flow (we can make no difference in the process so why get so frustrated?). We brought out the lanterns and candles and broke out the new scrabble game that Norm gave me for Christmas and set it up on the sofa. I piled up cushions and Norm wedged in on the footstool so that we could both get to the board.
Panda thought this was all great fun and kept prancing across my rack of tiles and the board creating havoc.
Just after midnight, as we finished our second game the lights came back on. It was the most pleasant loadshedding we have ever experienced, we did not even notice the time passing!
Thursday morning we woke late and had our usual morning coffee on the veranda. Once we went downstairs Norm pottered about cleaning the pool and sweeping the pool area.
The dogs alternated between barking frantically while attacking the pool brush or lying in the shade and panting loudly from over-exerting in the heat.
The sky alternated between dark rolling clouds and clear blue skies.
Norm and I often like to just go for a nice quiet meal on NY Eve but get home before midnight, but even that was out of the question this year. Instead we decided to dress up in something nice, decorate the table outside and celebrate life in the midst of the natural beauty of our own garden.
And then it poured with rain. So much for that plan. Implement plan B.
We still got a bit dressed up – I had bought myself a new dress which I had not yet worn and I put on the new necklace and ring Norm had given me at Christmas. I told Norm that the Tuareg cross on my necklace was so sharp and deadly that should we ever get captured and imprisoned when wearing it I am sure I would be able to escape. It is like the Swiss Army Knife of necklaces, I think it even has a bottle opener.
Norm put on his kilt but South Africanised it by accessorising it with bare feet and a T-shirt. Later in the evening when he put on his cardigan and reading glasses I did feel a bit like I was hanging out with an elderly librarian (but Norm still always looks sexy to me, I just have a weird imagination and no I do not have a weird wooly granny fetish).
With the weather dilemmas we decided to settle upstairs on the balcony as it is sheltered from the wind and rain but still has a view of the lights twinkling across the valley. We opted for a game of Scrabble to start our night off (even though the bag appears to say 'CRABBLE' I have been assured it is not a cheap knock off).
Somewhere in the valley we could hear a party playing techno music *she says vaguely from her shriveled and prune-like crone lips*. If it was nice music we would have enjoyed the free background tunes but it was not. So we played one game then moved downstairs. Norm found a video selection from the previous years' shows of Jools Holland's Annual Hootenanny. We watched that and danced around drinking vodka and wine and talking nonsense.
As we had ordered Thai food earlier in the evening I was not very hungry but we did have the drunk munchies late that night so Norm made up a simple cheese platter to nibble. *Note: image styled by a bloke*
As the time crept closer to midnight we decided to try and find a countdown somewhere online but we got so distracted drunk googling that we realised we missed it when we heard shouting outside. Oops. I asked Alexa to play 'Auld Lang Syne' and we had a quick cuddle and a peck. We wished each other a better year going forward than the one we had left behind. We toasted to those we love, those who love us, those who love the ones we love and to those whom we have lost.
I have not learned a new language, knitted any scarves or baked any banana bread. It has been a rather horrid year in so many ways but then I think that many of us have also gained in some ways. I have survived and in some ways I have thrived. I have gained patience, I have always been impatient but there is no way to rush a virus. I have learned tolerance, tolerance of other people's fears, insecurities and pain. OK I still have a lot to work on for the latter but I am trying. I definitely think mine and Norm's relationship has improved by being imprisoned together. Or I just have just developed Stockholm Syndrome.
And what a lovely segue into my section of info about the Covid stats. Smooth, eh? *clunk*
There have been 6,659,318 people tested in SA, resulting in the following stats:
On a global level SA's stats have now shifted to start to reflect the second wave and we have now moved up from 18th to 16th for total cases and 43rd for deaths per 1 million population. SA had held onto 45th place for total deaths for 1 million population for a few weeks.
To keep ourselves amused, Norm and I have watched a ton of Christmas Movies (I love them, he hates them, refer to 'tolerance' above). None were that remarkable that I can even remember their name now so the less said about that the better, those films are just background filler.
We also started watching the new Shonda Rhimes series 'Bridgerton' on Netflix which all of the ladies are raving about. The show is about the eight close-knit siblings of the Bridgerton family who are looking for love and happiness in London high society. Daphne is played by English Rosy faced Phoebe Dynevor and when the girls are presented to the Queen, Daphne is deemed the most beautiful sibling. Daphne's brother Anthony (played by Jonathon Bailey) and mother, Lady Violet (played by Ruth Gemmell) want her to marry a large toothed, horse-faced, slimy toad.
The reason the ladies are all atwitter is because of the rather delectable Regé-Jean Page who has been cast as Simon Basset, Duke of Hastings. Where the heck has Shonda been hiding him?? Regé-Jean was raised in Zimbabwe but schooled in the UK and he is HAWT. I see big things in his future. I am excited to watch the rest of this series.
Norm and I often find a very old series which we have not watched and then it becomes part of our routine and we watch an ep a night. At the moment we are working our way through 'The Exes' a series from a few years ago.
We both like Kristen Johnston (whom we knew from '3rd Rock From the Sun'). Kristen stars as Holly, a female lawyer who owns a flat occupied by 3 of her previous clients. For pure visual comedy it also stars teeny Kelly Stables as Eden, pocket sized assistant to 6 foot tall Holly. You may know Kelly as Kelly from 'Superstore'. 'The Exes' is amusing enough to qualify for our 'lighthearted last show before bedtime' slot.
We watched the movie 'Death of 2020' which was hilarious. I love Samuel L Jackson, Hugh Grant and Lisa Kudrow who portray the main characters in the show. I did not even recognise Hugh! I give this show 4 Kitten Stars ⭐⭐⭐⭐
For my musical discovery section of the blog I have gone with our NY Eve flow and included a few performances from this year's Jools' Hootenanny. The first is by one of my fave voices, Michael Kiwanuka, singing 'Lean on Me'. Look at the look of adoration on Jools face.
The second is from Celeste, performing 'Love is Back'. Celeste has a stunning voice and I love the dress she wore!
Anyway. It's a weird week. Be a couch as long as you can, then maybe slowly work your way up to a chair. Do what you need to get through. Focus on survival.
Try and stay home and self-isolate if you can. Wash and sanitise hands regularly. If you must go out apply social distancing and stay away from others, and if they are not wearing a mask avoid them like the very plague they may indeed be carrying.
Until next time, socially distant Kisses from the Kitten x0x0x0x0x0x