Monday came at me hard and the rest of the week has been just as challenging. Monday I went back to work after my 12 days of rest and relaxation. I have not left my house for weeks as South Africa was sent back to lockdown level 3. President Ramaphosa was alarmed at the high number of trauma cases that the hospitals were trying to cope with due to people celebrating the end of the year, getting too intoxicated and starting fights or injuring themselves. This annual occurrence of holiday traumas was happening in the midst of South Africa starting to ride the second wave of the virus. Therefore Cyril has pushed SA back to Level 3 and closed most of the public areas, made it illegal to be in public without a mask and has implemented a nationwide curfew from 9pm to 6am.
After starting to relax a bit over the progress of the SA stats moving in the right direction, I will now be closely monitoring them again. The latest stats on Covid 19 in South Africa are that 7,043,680 people have now been tested, resulting in the following stats:
On a global front, SA is ranked 16th for total number of cases. This is the same as last week. The week prior we had been at 18th. SA is now 42nd in the count of deaths per 1 million population. SA was 43rd last week and prior to that had held onto 45th place for total deaths for 1 million population for a few weeks. We are now slowly creeping higher which is quite worrying.
The US numbers are extremely high and 378,149 people have now died. I read that a person is dying every 24 seconds in the US from Covid. Two of my uncles in the US who live in Tennessee have now had their vaccine. They sat in their cars in a queue for 7.5 hours to get it. My Mom still has not been vaccinated and it really worries me. I hope that Georgia rolls it out soon.
This week the UK also locked down, the second wave seems to be hitting people harder than the first wave, so wherever you are, hang ten and ride this wave out while keeping safe. #KowabungaDude
My challenging week ended on a sad note as Norm and I attended the virtual memorial service for Ray who was married to my friend Rose. Rose is Amber's mom (Amber is Trevor's fiancé) and I already call Amber my DIL. It was a lovely service and I am glad that we could participate on-line. I feel so sad for Rose and all of Ray's family and loved ones.
The drama over the US presidential election has carried on. A recording was released of trump telling Georgia Secretary of State Brad Raffensperger to "find" votes to overturn the election results. How can it not be a crime to have a sitting president attempt to subvert the democratic processes?
Then on Wednesday the whole world was aghast when international news stations showed us the attempted coup by domestic terrorists who were storming the US Capitol building. We watched as an avid Trump supporter, identified as Ashli Babbit, a 14-year Air Force veteran, was fatally shot in the chest at the Capitol while trying to breach a door into one of the chambers.
Trump had summoned his people to Washington D.C. on the 6th of January as that was the day that lawmakers were certifying the Electoral College votes won by President-elect Joe Biden. Shortly before the building was breached, Trump told his supporters in a speech outside the White House that the election outcome was an "egregious assault on our democracy" and instructed them to "fight like hell" before encouraging them to "walk down to the Capitol."
The event was organised as part of the 'Stop the Steal' movement and was sponsored by the 'Women for America First' group.
Norman and I stayed up far too late watching this situation unfold with complete and utter horror. The US has become a banana republic and the chief orangutan is bananas. It was all quite surreal.
We heard that the domestic terrorists intended to take members of Congress hostage and that they came prepared with zip ties to secure them.
The terrorists had plans for those hostages when they had them. Photos were released of the west side of the capitol building where the terrorists had set up a noose to hang the 'traitorous' politicians.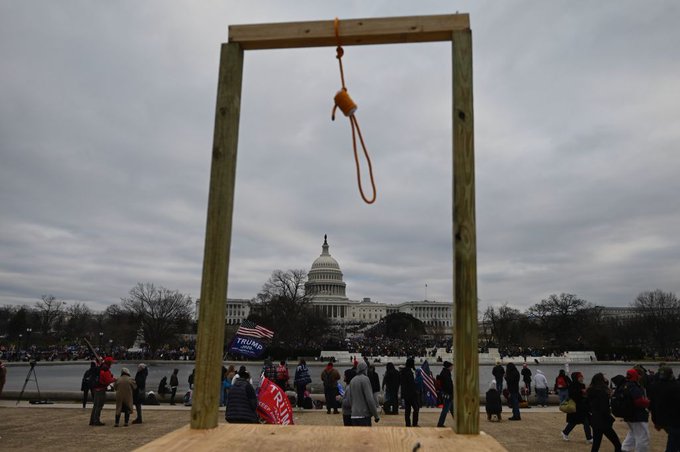 It appeared as if the Capitol police had simply opened the gates and let the protestors in and were then vastly outnumbered. L. Lin Wood is a pro-Trump attorney, political commentator, and conspiracy theorist based in Atlanta, Georgia. He encouraged the protestors to execute the hostages.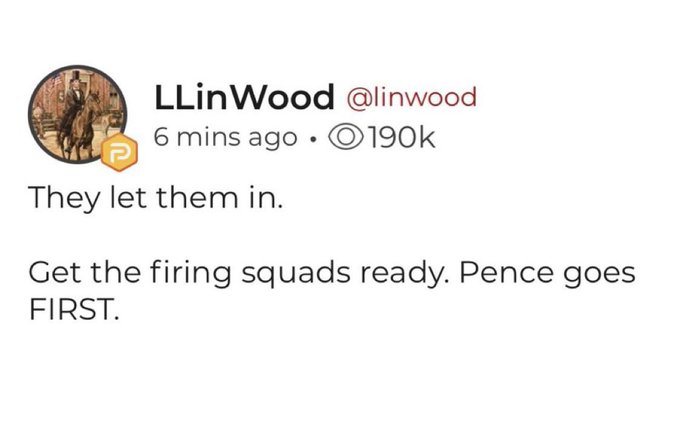 President Biden held a press briefing where he challenged Trump to 'step up' and do his job. Biden said that the words of a president matter. At their best, he said, they can inspire. But at their worst, he added, they can incite. And this is exactly what happened. Trump lit the match.
When there was no response from Trump to the many requests to call out the National Guard, Pence stepped in and did so and they were mobilized to assist federal law enforcement officers.
Eventually Trump issued a video press release where he wound them all up again, told him he loved them, kissed them on the forehead and told them to return to their caves until summoned again.
Comparing the way that the white protestors were welcomed into the Capitol and allowed to roam with no restriction to last spring and summer when Black Lives Matter protesters were confronted by well-equipped police, paramilitary units, National Guardsmen, unmarked troops, and unbridled vigilantes it is very clear that these protestors were allowed to do what they want because of the colour of their skin.
The peaceful BLM marches were met with tear gas, violence and arrests. National Guard troops were deployed to the Lincoln Memorial on June 2, 2020, during protests held in Washington, DC, over the death of George Floyd.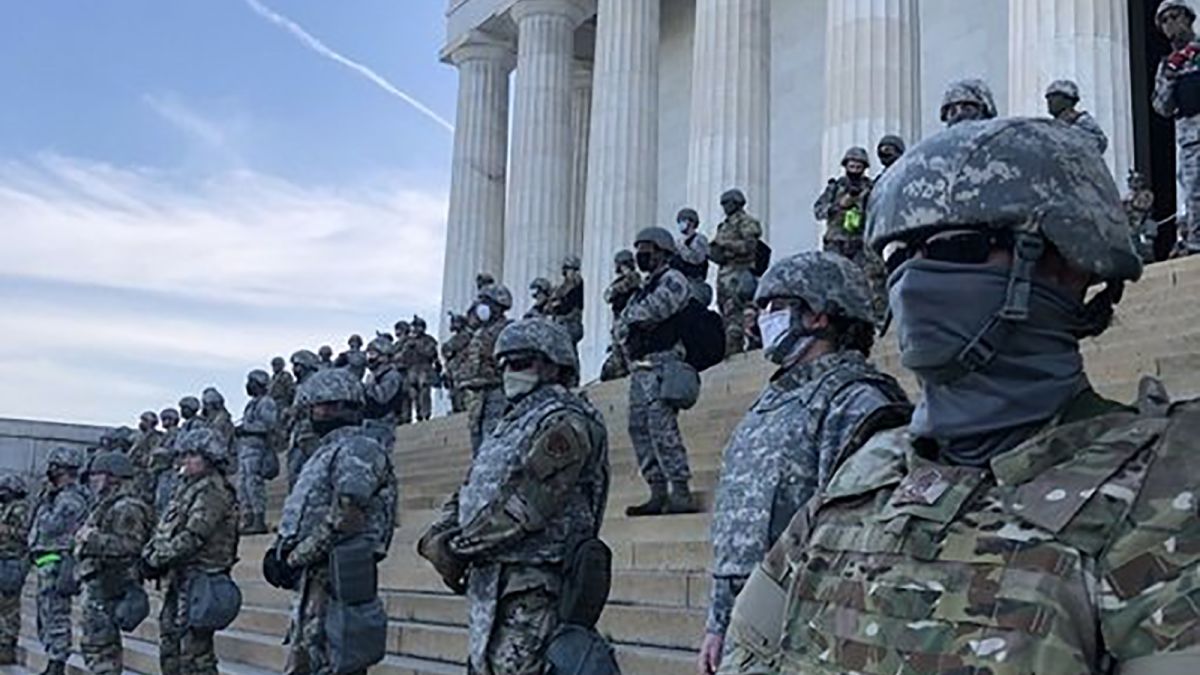 On Jan. 6, the Capitol Police, the 2,000-person force whose job is to secure the legislative complex, failed to deploy enough officers to protect the Capitol from rioters, and put them out in regular uniforms instead of riot gear.
Joy Reid summed it up well when she said: "For reference, as of Wednesday evening, merely 52 people were arrested during and after the swarming the Capitol — 47 for violating the 6 p.m. curfew and six for other charges, including unlawful weapons possession. Meanwhile 427 people were arrested in DC between May 30 and June 2, 2020, while demonstrating against police brutality and racial injustice following George Floyd's death. And that's not even including the thousands of arrests that occurred across the country in the months that followed. Numbers don't lie, and these figures are stark."
As one of my very clever friends said about the comparison of BLM protestors vs. Trumplodytes is that BLM is 'fighting oppression. They're fighting democracy.'
The police ended up arresting only a small number of the protestors. They recovered pipe bombs at both the RNC and the DNC and found a vehicle on Capitol grounds containing an arsenal of weapons and Molotov cocktails. These people did not come to protest, they came to terrorise and kill.
The activities on Capitol Hill have pushed loyalists to now consider calling for President Donald Trump to leave office before his term is over in two weeks. Trump cabinet members are reportedly holding preliminary talks about invoking the 25th Amendment. There are also discussions of a second impeachment if the President does not resign.
The violent, Trump-fueled riots, has forced lawmakers to scrutinize the mental capacity of Trump and question whether he is able to serve out his final days in office.
As well as impeachment I think he and the protestors who can be identified should be charged with sedition.
Following the end of the protest, the Trumplodytes started their spin saying the protest was by 'Antifa' masquerading as MAGA supporters. However the images tell a different story.
The carriers of emblems which have long histories of white supremacy, still crying over losing the civil war and the fact that black people have rights.
The antisemites and holocaust deniers. In addition to the 'Camp Auschwitz Staff' shirts, people were seen wearing shirts with "6MWE" which stands for "Six Million Wasn't Enough," a reference to the number of Jews killed in the Holocaust.
The Neo-Nazi group NSC-131 also joined the insurrection, according to reporter Hilary Sargent. The Nationalist Social Club (NSC) or 131 Crew (131 is alphanumeric code for ACA, Anti Communist Action) is a neo-Nazi group with small, autonomous regional chapters around the country.
The QAnon supporters such as Jake Angeli, 32. QAnon have spouted all sorts of insane theories about pedophiles, blood drinking celebrities and pizza. Angeli calls himself the 'Q Shaman'.
Overnight, Congress reconvened and counted the electoral votes and confirmed Biden's victory. After some objections, the count of Joe Biden's 306 votes to President Donald Trump's 232 was finished in proceedings that lasted until 3:40 a.m.
The following day it was reported that in addition to Ashli there were 3 other protestors who died as well as a Capitol Police officer who died from injuries. The officer, Brian D. Sicknick, was the fifth person to die from Wednesday's violent clash in Washington. Sicknick was allegedly hit over the head with a fire extinguisher by a rioter. Ironically Sicknick was also an alleged Trump supporter so it was a bit cannibalistic that he was killed by one of his own tribe. Hopefully there is footage of this incident and they can track down the culprit and charge them with murder.
The main blame for this should be lain at the feet of Trump but he has been enabled by the republicans who supported his falsehoods and claims. They wound up supporters with lies about illegal voting, a rigged election and claims of a stolen election and that Vice President Mike Pence could overturn the result unilaterally. All of these Republican lawmakers, such as Senators Josh Hawley, Mitch McConnell, Ron Johnson, Mike Braun, Lindsey Graham, James Lankford, Steve Daines, John Kennedy, Marsha Blackburn, and Ted Cruz as well as Senators-elect Cynthia Lummis, Roger Marshall, Bill Hagerty and Tommy Tuberville who fanned these flames intended to incite violence should also pay for their divisive, undemocratic, seditious behaviour.
Some people are saying that Trump supporters have been radicalised, the same as people are radicalised by ISIS or other terror groups. It is an interesting point to ponder.
Meanwhile, the true victory of the day was submerged under all of the drama and trauma caused by the attack. The 6th of January was also the day that the Georgia Senate run off was held and the Democrats ended up taking both of the seats and flipping the Senate to blue!
I was so touched by Rev. Raphael Warnock's acceptance speech when he spoke of the pride he felt after his mother, who raised 12 children, cast a vote for him in Georgia's Senate runoffs. Warnock is Georgia's first black Senator.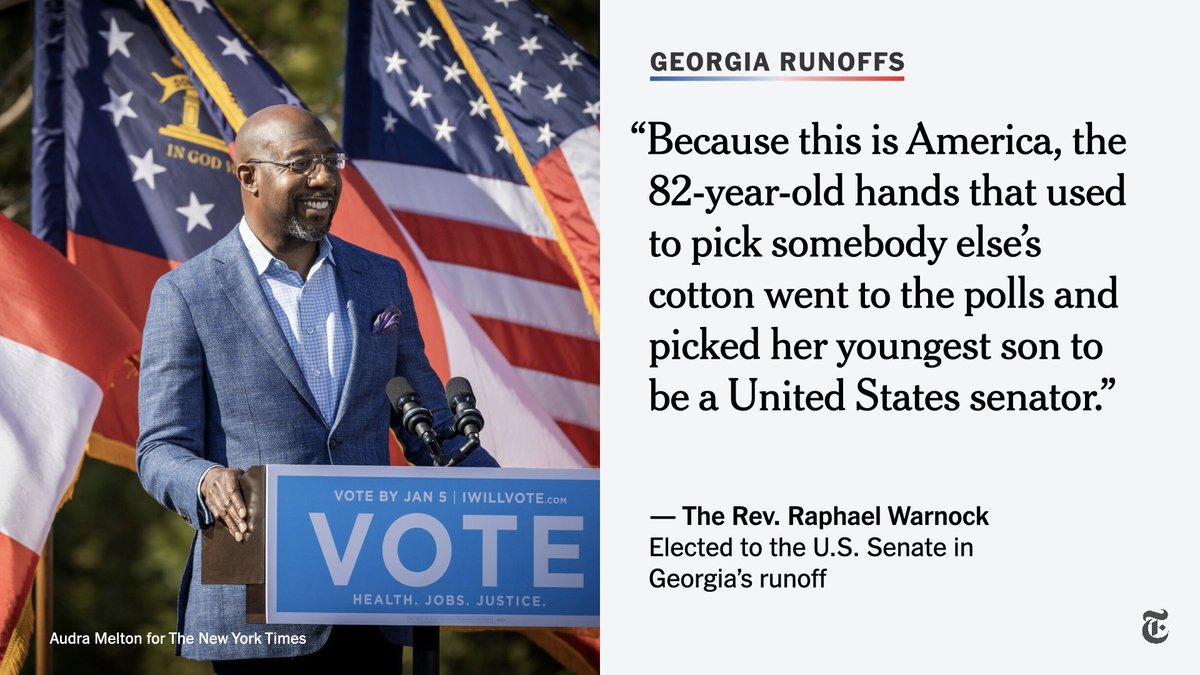 I do not know much about Jon Ossoff but he has to be a vast improvement over shifty eyed racist Trump devotee Kelly Loeffler. I have read that Ossoff is a Jewish man "descended from Ashkenazi immigrants who fled pogroms in the early 20th century," and that he grew up in a family of Holocaust survivors. This will hopefully mean he has empathy, compassion and more soul than most politicians.
This should have been the top of the news but their success was marred by the dramas at the Capitol.
It has all been so stressful!
The weather was sunny but very windy for a lot of the holiday period. Of course since I started back to work the weather has been sweltering. People who live in countries with air conditioning really take it for granted and probably cannot imagine existing in such crazy weather conditions without air conditioning (or heat in winter).
It is a bit of a challenge to resist jumping in the pool when it is in my line of vision of my desk while I am sweltering.
Last weekend I spotted that RuPaul's Drag Race Season 13 is now on Netflix! There is a new episode released each week so I cannot binge but I am so excited!!! I love everything about this show. Here is a teaser to get you salivating.
I always need a series or two to watch when Norm is working or pottering about and I have just finished my latest ones so I have started watching 'Tiny Pretty Things' on Netflix. It is about a group of young adults attending Chicago's only elite dance school, the 'Archer School of Ballet' which serves as the company school for the city's renowned professional company: City Works Ballet. Many teen girls are basic little bitches but add in the hunger, pain and competitive nature of a dance school and you have the ingredients for a toxic pool of poison.
Lauren Holly stars as Monique Dubois, the head of the school. I do not recognise the remainder of the cast but they are all quite young and I am a bit out of touch with pop culture these days. It seems that they are all professional dancers and you can see that some are better dancers than actors but it is mostly let down by the script. It could be written by a couple of 14 year old kids. Some of the lines are just so twee and trite! But there is a lot of dance and a lot of beautiful bodies (and a lot of sex, both straight, gay and a bit of both) so if you are interested in any of those things it is worth a try. If you do let me know what you think.
One caveat is that the series highlights the ways that men manipulate women for sex or just to dominate them. There are some difficult scenes if you are triggered by abuse.
Speaking of sex, I just discovered recently that many young women have an account on Only Fans. It is subscription type interactions where people can make cash from exploiting themselves. Sort of like a more revealing and titillating TikTok with a coin slot. Of course I am not a member of the site so I am full of assumptions and most likely spewing misleading information but check it out yourself if you are so inclined. There is no shame in doing what you have to do to survive, I guess 'Only Fans' could be thought of as the socially distant version of a 'Gentleman's Club'? Maybe this is a safer way for women to earn money than via prostitution. I find it sad that women have to resort to these activities to make money but I guess at least no one is physically touching them. Still, I would not be keen on my own daughters showing their money makers to anyone with a dollar.
This week Harry Styles released his new video for 'Treat People With Kindness'. What got my interest was that it stars Phoebe Waller-Bridge from Fleabag. Another tidbit for you is that she was also the head writer and executive producer for the first series of Killing Eve, another series which we loved. I am not completely in love with this song, but most of Harry's songs do not grab me the first listen, so we will see if this one becomes a hit.
Now for something completely different, I bring you an opera performed by animals, yes you heard me right, animals (animated ones obviously, there are limits to my ridiculousness). The music is "Squilla Il Bronzo Del Dio – Guerra, guerra" and it was performed by The Orchestra of the Welsh National Opera, Dame Joan Sutherland, Samuel Ramey, Marie-Ève Racine and Marc Antoine D'Aragon. It made me smile and I hope it does the same for you.
I have had a week of such high anxiety. I am crying constantly, cannot sleep and am so full of aggro. The virus and the ongoing drama in the US is making me feel quite ill. I am happy for a weekend of rest.
I hope that you all manage to stay safe and healthy. Please try to stay at home as much as you can, this new strain is much more contagious than the 'original' version. If you must go out please ensure you practice social distancing, wash your hands and wear a mask (and wear it properly FFS!).
Until next time, socially distant Kisses from the Kitten xoxoxoxoxox