Our last weekend in the states was spent with me in bed as I was so ill. I missed our family dinner which had been planned on our last Saturday and also a BBQ with friends which was organized for the Sunday. I spent most of Monday alternating sleeping with packing.
Mom caught the bug from me as well and with her asthma I was very worried about her. She went to the doctor on Tuesday after we left and they gave her a steroid injection and antibiotic so she is now a bit better.
On Tuesday morning my uncle Joe popped by to say cheerio and drove with us to the shuttle that took us to the airport.
We flew from Atlanta to Johannesburg and went through immigration control and customs then checked our bags for a second flight from Johannesburg to Cape Town. The trip was approximately 20 hours but seemed longer as I was still so sick and as usual could not sleep on the flight. I coughed the whole trip and hopefully I haven't started a world wide plague.
I watched loads of films on the long haul flights. The main one that stays in my mind is 'Once Upon a Time in Hollywood' which was written and directed by Quentin Tarantino.
I love Tarantino's work. It is no surprise that the film won several Golden Globes: best comedy or musical, best screenplay and, for Brad Pitt, best supporting actor. As usual poor Leo got nominated but did not win. I thought LDC was very good but have to admit the lovely Brad was the star of that film. Leo plays old school fading Hollywood star Rick Dalton and Brad plays his stuntman Cliff Booth. The film starred so many other brilliant actors such as Dakota Fanning, Bruce Dern, Damian Lewis, Kurt Russell, Michael Madsen, Maya Hawke, Lena Dunham and Al Pacino.
I had read nothing about the concept of the film beforehand, but as a Manson family obsessive I knew Cielo Drive was the place where the Manson Murders took place and when Leo and Brad turned into Leo's drive and Tarantino focused on the street name I realized that there was going to be some connection to Sharon Tate's infamous death. However despite some facts being represented in the film, many were part of a parallel universe.
Cliff meets the Manson family when he gave a beautiful young hitchhiker a lift. This is how Dennis Wilson of The Beach Boys met Manson, when Dennis gave two of Charlie's girls a lift and took them to his home, eventually letting Manson and many of the family stay with him for a life of debauchery until his agent chucked them out.
In the Tarantino film Cliff took the hitchhiker to Spahn Movie Ranch in Chatsworth California in LA County. There Cliff sensed something wasn't right and as a result had a run in with several of the family. This was indeed where the family stayed for a while in 1968 and 1969 creating their own little commune which thrived on mental manipulation, sex and drugs.
I won't give away the ending but it is a Hollywood twist on reality where the bad guys always lose and the good guys always win. I adored it and give it a full on 5 Kitten Stars ⭐️⭐️⭐️⭐️⭐️. This film is a must watch.
I also watched a bizarre little arty independent film called Love is Blind starring Matthew Broderick, Chloe Sevigny and the beautiful Shannon Tarbet.
Shannon plays 'Bess' who is Matthew and Chloe's daughter but she cannot see or hear her mother. She is undergoing therapy and the film follows her various issues and experiences. It is quite beautiful and ethereal in parts but is a bit slow moving. I would love to have that beautiful tree house from the film.
I give the film 3 Kitten Stars ⭐️⭐️⭐️.
I give the tree house 5 ⭐️⭐️⭐️⭐️⭐️.
After our plane finally landed in Cape Town, we caught an Uber as soon as our bags were available but we still got home very late.
The dogs went insane when we got in, Panda squealed for ages.
Pixie collapsed in my lap refusing to leave me and Navajo ran in circles of excitement.
Neither Blue or Lola kitty were anywhere to be seen.
Norm and I faffed around settling in and playing with the dogs so only got to bed around midnight. Norm's head was stuffed up and he snored all night and kept waking me up.
The next morning the dogs were awake and wanting out very early. Panda has a nasty habit of humping your foot under the duvet if you don't get up. So charming.
I eventually came downstairs but went back to sleep on the couch and slept most of the day. Sleeping on a leather settee under a faux fur blanket in such heat was a bad idea! I woke stuck to it like glue with Blue snoozing on top of me.
Later Lola appeared and the two cats alternated clinging to me. Pixie slept at my feet. I've missed them all so much.
Norm shopped as we had nothing in the house after such a long trip away. He got roast chicken and veggies and made a yummy salad. I made a home made bleu cheese dressing for the salad.
We are now committed to eating low carb again as I have gained so much weight and am now back up to the weight I was before we started banting. I want to lose weight by Lily's wedding and need to get my blood pressure and arthritis under control. Both of my health issues are related to my diet.
I had a conversation on Twitter with Prof Tim Noakes when I was taken off of my blood pressure meds a few years back. He told me that his studies revealed that the blood pressure drop for most people occurred when they removed sugar from their diet rather than when they lost the weight. This led him to conclude that the weight is not driving up the blood pressure as much as the over consumption of sugar (and carbs) does. Hopefully mine will go down with the dietary change. With my family history of heart disease and strokes it is not very sensible to be carrying so much weight.
Regarding the low carb approach, we will start trying new recipes as it gets boring eating just meat and salad. There are low carb pizza crust recipes, low carb Mexican recipes and even various low carb noodles for Thai or Italian dishes. I want to find Shirataki noodles to see what their consistency is like. If anyone in Cape Town knows where I can find some, hook me up!
Low carb eating is not that difficult it just takes planning. Like everything in life it requires balance and control.
Much like magic.
We started watching "The Witcher" on Netflix and the character Tissaia de Vries mentions that magic is all about channeling chaos. "This is the balance," says Tissaia, describing magic as "organising chaos".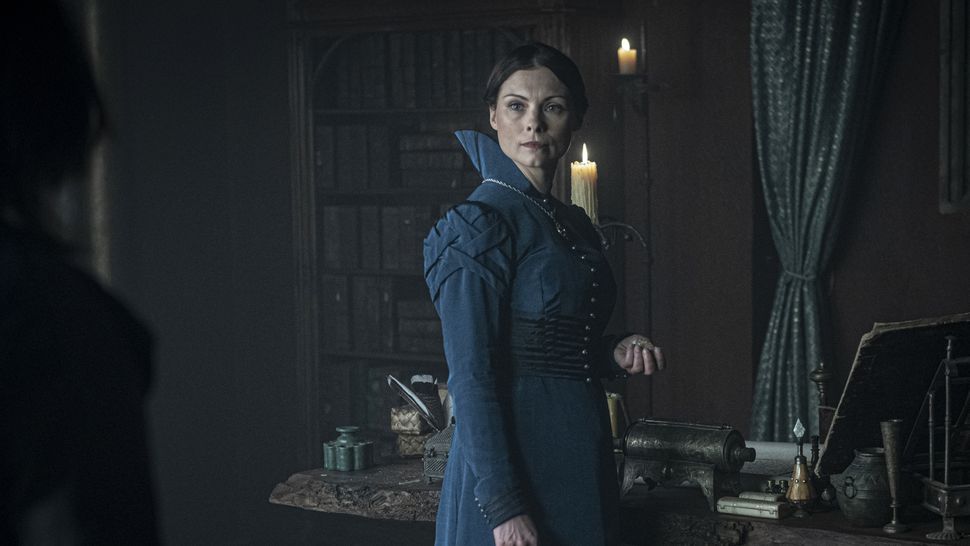 The Witcher magic is all about balance and control.
We both love The Witcher. It's like Games of Thrones with less misogyny and incest. I love that the women characters are powerful.
On Friday I decided my cough was getting worse and booked an appointment to see Dr O, my own GP. It was exactly one week since I saw the doctor in the states. Dr O has diagnosed me with bronchitis and put me on a different antibiotic.
Dr O also put me back onto high blood pressure meds as my BP is still scary high. (170/100) He took it 3 consecutive times with me lying down to relax and it did not drop. I know that it will resolve soon. It is a temporary blip and further motivation for success.
My doctor signed me off of work as I am due back on Monday but we are in a critical stage of our project so I feel terrible about not going in. Hopefully I can get some data results and analyze it from home. The client has such tight restrictions on sensitive data so I doubt it but I can only ask.
Norm cooked a lovely brunch on Friday when we got home from the doctor. He made scrambled eggs with cheddar cheese in them, bacon and avocado and rosa tomatoes.
For dinner we both contributed. I marinated some fillet steaks which Norm cooked perfectly, charred outside and pink inside.
I made fried mushrooms with onions, and spinach puréed with cheese. Norm also made the cole slaw.
It was so tasty and gorgeous.
The poms were desperate for us to share.
We didn't. It was too delicious to share.
Saturday I finally managed to unpack. I didn't put it all away until today as felt so dreadful.
Norm made us brunch again on Saturday and made the same as Friday – cheesy scrambled eggs with bacon and avo. Breakfasts are guilt free on low carb as long as you avoid the toast and potatoes.
Norm set up our Amazon Echo and we spent the whole day listening to various playlists on Spotify. We are deciding whether it is worth subscribing to Amazon Prime or not, but for now Spotify is great for music.
We felt like something indulgent for dinner and I decided to make a low carb pizza. I used the Fathead pizza recipe from my favorite low carb site.
I mixed 2 cups of grated mozzarella and 2 tablespoons of full fat cream cheese in a bowl and microwaved for 1 minute, stirred and microwaved another minute and stirred well. I added an egg then 3/4 a cup of almond flour. I laid it on a piece of baking paper, put another piece on top and rolled it out flat.
I baked it (on the paper) for 10 minutes in a preheated oven, then flipped it over and baked 10 more minutes until golden brown.
I was cooking the sauce at the same time. I sautéed some chopped onion, then added minced beef and continued browning the mixture. After the meat was cooked I added 2 packets of Old El Paso taco seasoning.
I mixed it in and let it cook a few minutes and I then puréed a tin of diced tomato and a bit of salsa and added that to the meat mixture. I simmered it til thick then spread it onto the crust. I added a layer of chopped coriander then a layer of grated cheddar and some grated mozzarella and popped it back into the oven til the cheese had browned.
I then put some sour cream, salsa and sliced avocado on top for serving.
Wow! It was sooooo good. Most low carb crusts are made of cauliflower and taste revolting. This crust was easy and pretty quick. If you add a simple topping such as salami and olives it would be even quicker. This is going to be a new favorite. The crust can also be made into crackers for crudités if you entertain or a replacement for naan bread to go with a curry.
Sunday the 12th of January 2020 is a significant date cosmically and there was a large ceremony held by the Aboriginal tribes at Uhuru Rock in Australia. As an empath and channeler I felt this energetic pull despite knowing nothing about the ceremony until later in the day when my friend Michelle told me about it.
Maybe this was why I was unable to sleep on Saturday night. I coughed and coughed and I was wide awake and almost vibrating with energy. I did not fight it and let the energy pulse and make my mind ping from subject to subject. I saw the room lighting up as the sun came up and eventually went off to sleep sometime about 5ish. Norm let me sleep until 1pm and then woke me from a deep sleep.
I've just been pottering about today. There was a fire in the townships while I was away which displaced many families and so Norm and I both cleaned out our cupboards and have about 6 or 7 large trash bags full of clothes and shoes to donate. And as a bonus my cupboards are tidy!
I've let work know that I am ill and tomorrow I will go back to Dr O to see how my lungs are doing.
Wish me luck and healing energy please ❤️
Until next time, Contagious Air Kisses from The Kitten 😷 xoxoxo