There is a fine line between routine and monotony. One of the things I enjoy about being a consultant is that you work on different types of projects with different clients, but then again I also do not cope well with change, so that constantly challenges me. When life was 'normal' (BC or Before Covid) I used to get tired of the same routine of waking, showering & sitting in traffic. Now my routine is waking, showering and walking downstairs. Now I do not waste all of that time sitting in traffic or waste the petrol getting there or get affected by the stress of the commute. But I am struggling somewhat with the monotony of life. Every day is pretty much the same. I miss Norm and I popping out for brunch or going on a romantic dinner. I miss seeing my friends for long leisurely lunches. I miss my life. But then I focus on the hope that this situation is temporary and that it is my choice to isolate and that I am doing it for my safety. I then try to focus on my blessings and shift into gratitude mode and stop being a moody mare.
My moods are up and down like a yo-yo. One minute content and happy – like on a Friday after work when I am sitting with my husband in front of a roaring fire with a cocktail and some sushi, surrounded by our animals. The next minute I am watching the cluster fuck of chaos of the Axios interview with Trump. Knowing that he is in charge of the ever increasing number of positive cases in the US where my family live and his incompetence and lack of plan cause my blood pressure to shoot up and I start to seethe with anger. The next minute I think about all of the horrid things going on in the world from drug addiction to racism to climate change and I become devastated with sadness and end up crying. The Covid Emotional Roller-coaster is running on full speed.
Last Sunday was a beautiful sunny day and the nice weather has continued this week other than a burst of rain here and there. I was having a bit of cabin fever last Sunday and we decided to go on a short road trip along the coast road from our village of Hout Bay into the city of Cape Town.
As I was getting ready we had a notification come through via the security app advising that there were protests in Imizamo Yethu (IY) and that the roads around the police station were closed.
We decided to still go for an outing and we took Navajo with us as he loves to get out and see new things.
The Poms are so little that they cannot really see out of the cab windows, also Pixie hates going in the car and Panda gets car sick, so we left them both at home. I felt bad as it was Panda's birthday. He is now ten years old but did not look that impressed when we told him about his special day.
Panda has had several near death experiences. He had paralysis from Acute Idiopathic Polyradiculoneuritis and could not move for over 3 months, he was mauled by a big dog and lost most of his front teeth and had to have surgery and almost died from sepsis. He has also had his stomach pumped multiple times due to being a scavenger who eats everything he can find so the fact that he has made it 10 years is quite an achievement! I adore this little guy so much. On Tuesday night I woke Norman up in the middle of the night patting him on the head because I was dreaming about Panda. He was not impressed. (Norman, not Panda. Panda slept through the whole drama.)
OK I am getting distracted. Back to our trip.
We drove out of Hout Bay via the road diversions set up by the police and then up Suikerbossie hill past Llandudno, through Camps Bay and into Sea Point. Sea Point was very busy! There were so many people out walking around as if it was just a 'normal' Sunday.
We stopped at My Sugar in Sea Point to get donuts as a treat for later that night. They had no chocolate covered ones so Norm chose an Eaton Mess and a Lemon Meringue donut. They were R35 each and looked like works of art.
We then drove up past the Table Mountain cable car and along the top of Camps Bay.
We then drove back along the coast road and down into Hout Bay.
We stopped at IceDream for a gelato and then headed home. When we drove past the police department we saw loads of damage and rubbish from the protests and a Public Order Police car was sitting on alert, watching for any new flare ups.
We later saw a post from Hout Bay Community Policing Forum that there had been an attempted land invasion. People were attempting to build shacks on open land between the township and the houses in Penzance. SAPS and Law Enforcement conducted an operation to remove the half built structures which kicked off a protest and residents from IY burned tires, set fire to trees and brush and stoned houses and cars along the border of Penzance as well as setting fires at the SAPS Circle. A petrol bomb was thrown at a house in Penzance, which thankfully did not ignite. The Public Order Police and the SA Army reacted and dispersed the rioters.
After we arrived home Norm went upstairs to work as he had a report to deliver.
I started watching a documentary called 'Brave Miss World'.
The film tells the story of Linor Abargil. In 1998 Linor was crowned Miss Israel and then went on to compete in the Miss World competition. Just 8 weeks before being named Miss World, Linor was raped. She tells the world her story in this Emmy-nominated documentary. In the documentary Linor travels the world to speak to other rape survivors and meet with women who have gone through the humiliation of not being believed when they told their own stories. It is hard to watch but it also seemed to be empowering for these victims to see the release and power that speaking about your ordeal can have. Bringing the 'darkness' into the light. The show is very powerful and I give it 4 Kitten Stars. ⭐⭐⭐⭐
The missing star is purely due to the issues I had with reading the small white captions of Hebrew translations when spoken. I missed a lot of the conversations due to my visual issues. Is it unfair that I blame the captions? Does it matter? 🤔
We ordered take aways from Massimo's for dinner and Norm continued working. Later we shared the donuts. I have to say I guess I am spoiled from growing up on Krispy Kremes as these donuts were OK, but the dough was a bit dense for my liking. I like my donuts light as air. The toppings and fillings were divine and plentiful however. I give the My Sugar donuts 3.5 Kitten Stars ⭐⭐⭐✨
On Monday we had a notification that the rioting had started up again in our village and that more fires were being set.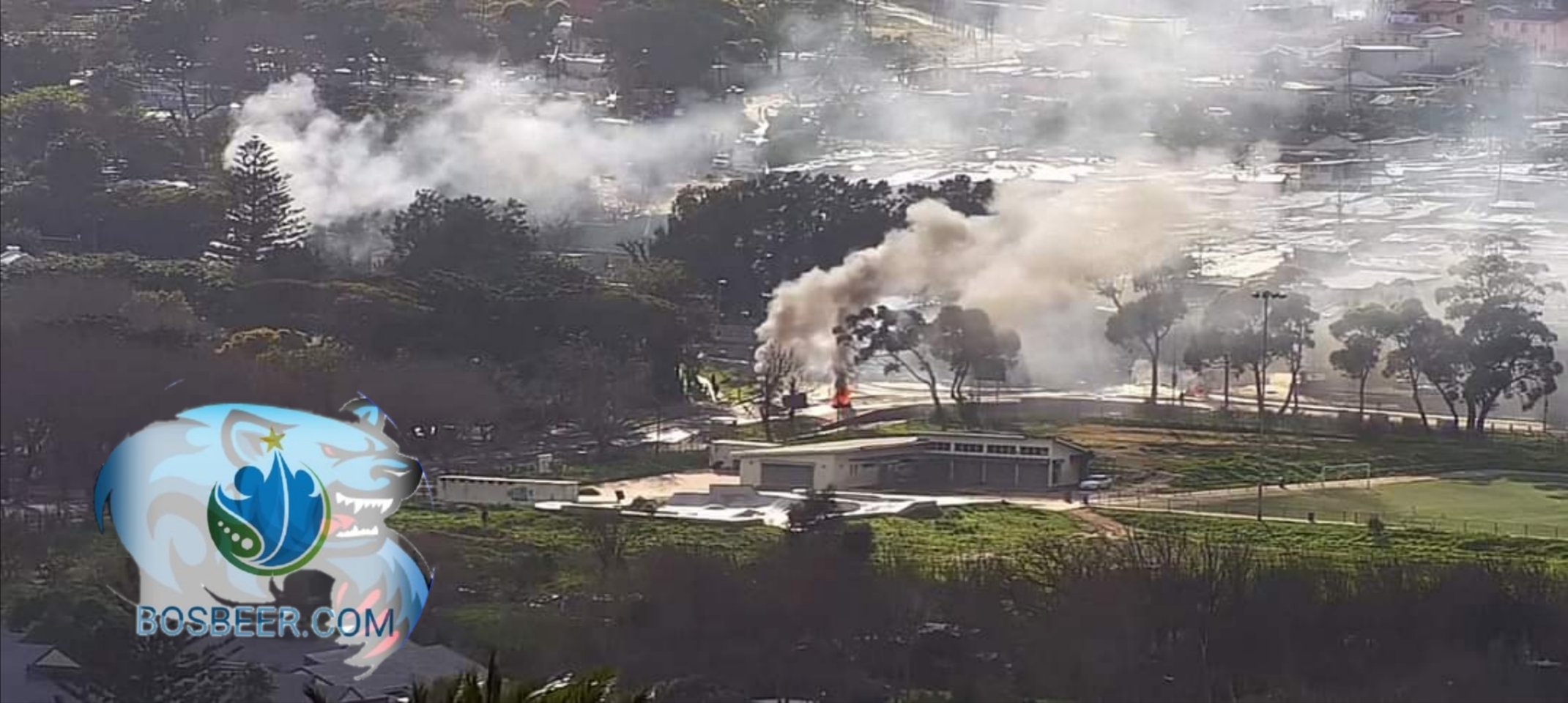 Debris was scattered all over the roads.
According to reports from residents, gunshots were heard ringing through the area. Rubbish and tree stumps were being burned in Penzance Street, according to Jermaine Carelse, City of Cape Town Fire and Rescue Service spokesperson.
We had another notification that our own road was blocked with debris and that it was best that everyone stay home. Norm needed to do a food shop and I only had 1 day of medication left but we decided it was not worth the risk and we made do with leftovers.
On Monday night it started pouring with rain and this continued into Tuesday. It also started getting cold. We hoped that this would deter the protesters but protesting continued throughout the week. We heard an almost constant stream of sirens.
On Tuesday Norm finally ventured out to get my medication and to do a food shop and as soon as he left a notification came through that the protests had kicked off again and that we should avoid the area. Norm had to go through 2 police check points to get to the shops. I worried so about him until he was back safely at home. People can be badly injured or even killed from rocks thrown through car windows and protests can get quite violent.
It all kicked off again on Wednesday. Fires were set up on the mountain above the area where the structures had been removed. Some were saying the fires were deliberately set to clear the vegetation in order to make it easier to build next time. But we have no proof.
As Norm shopped quite late in the afternoon on Tuesday there was very little left in the shops. He did get some chicken sausages so I just made a quick dinner of chicken sausages, coleslaw and chips that night. I also fried sliced mushrooms, a yellow pepper and an onion to complement the sausages.
I had beef mince for the next night so I made a cottage pie. It was perfect for a cold winter night. I added bacon, a diced carrot, celery and a red pepper to make my base, then added a chopped onion and the beef mince and once that was all cooked I added in some chopped cabbage, more carrots, tomato paste, passata, garlic, beef stock and seasonings and let it simmer. Norm peeled the potatoes as I hate peeling potatoes and I made the mash. We topped the meat with a thick layer of mashed potato and some grated mozzarella and baked it until golden brown. I had never used mozzarella but I will now always do so, it went so nicely with the mash, giving that cheesy goodness but not conflicting with the flavours like cheddar would have.
I made brussel sprouts and steamed cauliflower to go with it. It was divine.
The protests started again on Thursday morning.
My friend Michelle was driving through to Hout Bay to collect Navajo to take him to the animal physio so I sent her a message warning her of the road blocks but she got through to us with no issues.
Michelle loaded Navajo into the back of Norm's little truck and set off to the physio. She said Navajo was good as can be in the truck and that he quite happily toddled off with Mandy, the physio, when they arrived. You never know how he will react to new situations or people, he can be quite grumpy and nippy. Mandy said he was very well behaved and that he has severe arthritis in his tarsal joint. She wants us to have the vet do another x-ray to assess the state of it now so we will take him down this week.
It was so cold on Thursday night that I built a big fire and snuggled up with the animals. The cold continued the next day and I worked while wearing my mermaid tail. Underneath it I had on furry slippers and a track suit.
Friday was beautiful during the day but it turned very chilly in the evening so I built a fire while Norm went down to get take aways. I had sushi from K1. I had a trio of prawn delights: prawn tempura, prawn roses and cucumber roses topped with prawns. It was delicious.
This week my research on historic racism in the US has been on "The One Drop Rule".
Louisiana's Act 87 of 1908 declared "concubinage between a person of the Caucasian or white race and a person of the negro or black race" a felony. The law was tested in 1910 when the Louisiana Supreme Court overturned the conviction of Octave Treadaway and his mistress Josephine. Chief Justice Provosty ruled that Josephine was neither "Negro" nor "Black"; rather, she was "Coloured," an intermediate caste based upon dual ancestry, as defined in Louisiana case law.
Within a month of Provosty's ruling, lawmakers reconvened and in 1911, Arkansas passed Act 320 (House Bill 79), also known as the "one-drop rule." This law had two goals: First it made interracial "cohabitation" a felony, and second it defined anyone "who has…any negro blood whatever," as "Negro".
This law was one of many anti-miscegenation laws implemented by the US government. Anti-miscegenation laws were edicts that made it unlawful for African Americans and white people to marry or engage in intimate relationships. The measures first appeared in the United States in colonial times and had two functions. First, the laws helped maintain the racial caste system necessary for the expansion of slavery and the idea of white supremacy. If white masters took slave women as lovers and fathered children by them, anti-miscegenation laws ensured that the children remained slaves because the illicit nature of the relationships left biracial children with none of their father's free status. Second, anti-miscegenation statutes gave white men greater power to control the sexual choices of white women. In the colonial period, white patriarchs used the laws to discourage white women from choosing African Americans as husbands or lovers.
Laws against interracial sex were not new. Virginia increased the penalty for sex across the color line in 1662 and in 1691 criminalized interracial marriages. Maryland did so the following year and by 1776 twelve of the thirteen colonies that declared independence forbade interracial marriage.
"Racial" classification was also constructed in colonial times, with blood-fraction laws defining a "Negro" as having more than a given fraction of African ancestry. North America's first blood-fraction law, in 1705, used a one-eighth rule (a person was black if one great-grandparent was entirely of African ancestry). By 1910, twenty states classified citizens by blood-fraction, most using one-fourth or one-eighth.
Interestingly, the first case which appealed to the Arkansas Supreme Court based on the 1911 statute was a dispute over school segregation, not sex. In 1921, three great-grandchildren of Maria Gocio, who were by all physical appearances white, were expelled from Public School 16 in Montgomery County because Maria admitted to a trace of Cherokee ancestry. The school felt that Cherokee had "Negro" blood. The children's parents sought a mandamus order based on the railroad-segregation law ("visible and distinct admixture"). They lost in State v. School District (1922) when Arkansas Supreme Court Justice T. H. Humphreys ruled that the 1911 law applied ("any trace of negro blood"). The children and their future descendants were ruled to be black because of a great-grandmother's Cherokee ancestry.
By this classification I am also black. Both of my great grandmother's were full blooded Cherokee so I am one/sixth Cherokee. A lot more than a drop of 'black' blood. Maybe a spoonful? A cup? What a ridiculous concept. We are all humans.
The weekly stats for South Africa in regards to the pandemic are that 3,183,658 people have now been tested and the counts of cases, recoveries and deaths are:
South Africa is ranked 5th in the world for total cases and 33rd place when ranked in deaths per million people.
Last week we were at 5th but we have worsened on the overall deaths per million, last week we were 36th.
We have had some good news around the figures in the Western Cape, the province where we live. The Western Cape reports a notable decrease in active Covid-19 cases, as well as a decline in the number of patients requiring hospitalisation, along with a decrease in the death rate. Citing data from from the National Institute For Communicable Diseases, provincial health spokesperson Wendy Philander said that since mid-June to the 1 August the Western Cape has seen a steady decrease in both accounted and unaccounted deaths.
Let us hope that things continue to improve not just in the Western Cape, but all of South Africa and the rest of the world.
Norm and I are both having a pajama day today. Norm brought me a coffee in bed, then I showered and dressed in warm comfy PJs and came down to work on my blog. Norm is working. I have a big gammon (ham to you Yanks) in the slow cooker. I will make some potato salad and fry some red cabbage to go with it for dinner later.
This week I started watching a few new shows on my own as Norm is so busy that he is working in the evenings just to stay on top of his projects. I will catch up on some of these while Norm works today.
I started season 3 of Good Girls on Netflix.
I love this series, if you have not watched the previous seasons, what are you waiting for? Get on it. They introduce a new character for the first 3 episodes of this season, Ethan Suplee who you may remember as Earl's stupid brother Randy from 'My Name is Earl'. Ethan plays a tough guy and a criminal and you can barely recognise him from the pudgy unkempt character he played in Earl!
They also bring back Rio, who is played by the sexy Manny Montana. Meow. The tattooed, seething with barely suppressed anger Rio is definitely a fan favorite! He can call me Mama anytime.
I also started Indian Matchmaking on Netflix. It follows Indian Matchmaker Sima Taparia as she guides clients in the United States and India in the arranged marriage process, offering an inside look at the custom in today's world. Sima tells us that there are only two types of weddings in Indian society: a Marriage or a Love Marriage. In other words they do not refer to this process as an 'Arranged Marriage'
We meet several of Sima's clients and the cameras tag along on a few dates with them. Some of the clients seem like such lovely people and you wonder why they do not have a partner, but for some you can see exactly why they are single. Some of the men are being pressured into settling down and getting married due to their age. Many of the men live with their parents and their Mama is probably tired of washing their underwear and making their beds. Assuming Mama does not have staff to do these tasks. Many of the families seem to be very affluent.
When I worked in the UK I had a team of Indian men that worked for me. One of them was happily single and living his best life in London but his family were putting immense pressure on him to marry. Every time he went home to India they had a parade of possible choices for him. It seems like a very unnatural process but many of the couples who are paired via family connections or matchmaking have been married for decades. Is that due to obedience and low expectations or from happiness? Only they will ever know.
For a bit of lightheartedness I share the cutest little girl taking the #JerusalemaChallenge and dancing to the popular song by South African musician Master KG which features vocals by Nomcebo Zikode (who is also South African).
Here is another video from Defected Records of some very talented little girls dancing to a classic by James Brown.
Dance is so uplifting and to see someone who loves to dance putting their heart and soul into the performance is so positive.
I hope you all stay safe and well in your little bubbles. Stay home if you can do so and if you have to go out please wear a mask. If you feel unwell stay home and keep away from other people and if you live alone make sure someone knows you are feeling poorly and will check in on you.
Until next time, socially distant Kisses from the Kitten x0x0x0x0x