Norm and I ventured out last Sunday as I was getting a wee bit of cabin fever after spending 3 of my 4 day long weekend at home. We went to Dario's which has recently moved to a new location.
We pulled in to the car park and were happy to spot plenty of outside seats were available as we are still a bit reticent about being inside with other people.
We sterilised our hands on arrival and settled in to a corner table.
Once our drinks arrived we took off our masks. The staff wore masks when they approached our table.
The inside of the restaurant is so bright and lovely and clean and fresh looking.
Dario's makes the best hamburgers in Hout Bay in my opinion. In fact they are the only burgers I will eat in Hout Bay and I had been craving one for months! I was so eager to devour it that I forgot to take a pic but Norm snapped one of his after he had already cut it in half so it looks a bit messy (as all good burgers should be!).
They use gorgeous fresh Portuguese bread rolls and make their own beef patties so there are no icky bits. We both dug in and wolfed them down. As always they were delicious!
The owners Dario and Rossella are such lovely people and it is wonderful to see them prospering. They always make you feel so welcome. I wish them every success in their new spot. Now that they are settled in and the restrictions have lightened up we will most likely be visiting often.
After we finished eating we went for a little drive around the village and then we popped into Earthworx Garden World. I want another bougainvillea to plant along my front wall, hoping it will hang over it something like this: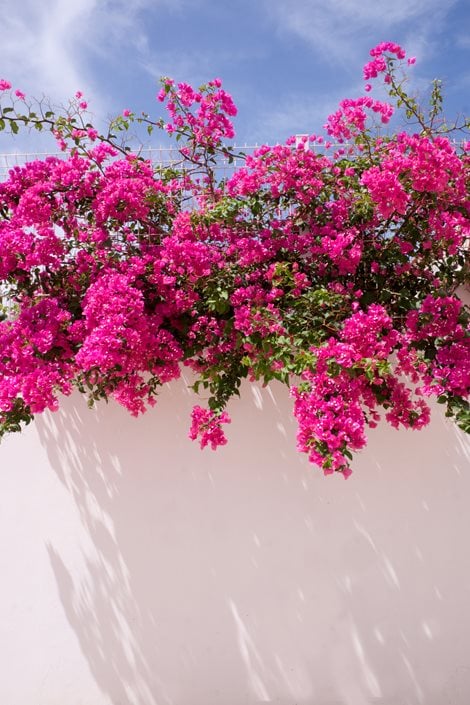 But the ones they had in stock did not look that hearty and were almost R500 so we decided to wait a bit and check some of the other garden centres. I am not 100% sure what colour I want. The one I already have is a bright pink colour like the one above but I love the white ones too.
I also wanted some clivias to go into the bed in front of the house. Mine have just started to bloom and I want to fill the whole bed with them. We can have Mzudumo divide the larger ones but we will still need more to fill the space.
They only had a few clivias so we decided to wait to purchase those as well. I may mix white or yellow in with the orange ones if I am unable to find enough of the orange colour.
I mentioned in last week's blog that my Mom got a new kitty and that we were trying to think of a name for him. Mom and kitty were sitting outside on her closed in patio and the kitty was fascinated with the birds in the garden and stood up like a meerkat. That bow tie just kills me.
When Mom sent us this pic we all decided that his name should be 'Hunter' even though he cannot get outside to actually hunt anything. Mom called out 'Hunter' and he looked up and came over to her! So his name is finally chosen. He lived most of his life in a cage so I think he is very happy to have so much freedom to move around her house. Mom is so happy to have the company and the two of them have bonded and are best buddies. I am so pleased.
We have had cold damp weather all week and I have built a fire every evening. The good thing about the constant rain is that Theewaterskloof Dam is now overflowing at 100.9% capacity, 3 years after the drought nearly led to Cape Town running out of water.
I have cooked cozy, hearty winter food suitable for the weather. I put a gammon (ham) in the slow cooker on Sunday but we were so full from the burgers we had at midday that I only served it on Monday. I roasted a mix of sweet potato, butternut and pumpkin cubes in coconut oil, steamed broccoli and made glazed carrots to go with the ham. The ham was so juicy and tender and just fell apart. It was delicious.
On Tuesday Mzudumo came to do the garden and Norm headed off to the SA Visa department to apply for the renewal of his spousal visa. Luckily it went through with no issues so he is legal again. The visa department shut down during lockdown and it was worrying that his was due to expire and he would have been here illegally.
Panda stood at the window yipping until Daddy got back home.
I cooked chicken sausages for dinner that night. I was feeling lazy so I put them in a pan and topped them with sliced mushrooms and onions and threw in a few knobs of butter and chucked it all in the oven. I roasted sweet potato rounds in olive oil and steamed asparagus and melted lemon butter for the spears.
On Wednesday night I marinated a pork fillet in teriyaki and topped it with mushrooms, onions and a yellow pepper and roasted it in the oven. I cooked brussel sprouts in onions and chicken stock with a pinch of chili and garlic. I sautéed baby spinach then pureed it then stirred in some grated cheddar cheese and a spoonful of cream. It was all so full of flavour and yummy.
I treated myself to some new bits this week. I ordered them from Hello Indigo Halo online. I nabbed these pics from the website. There is a pair of foo dogs, a small Buddha statue and a Buddha planter.
They arrived on Friday and I was rather surprised at the size of the white pieces. I double checked the sizes on their website and the measurements were in centimeters but my brain still thinks in American sizes and 10cm and 10 inches are vastly different. Silly me. I will plant succulents in the Buddha head and add it to my collection on the porch. Pretty soon I will need a bigger porch.
Thursday was the 1st of the month and I started a new project with a new client. I worked for this client on the first phase of this project, documenting their metadata and designing a data quality reporting system. We had a few kick off teleconferences planned and as I was not sure what their protocol was regarding video cameras I put on make up and washed my hair just in case.
Norm had to go into town to run some errands and he stopped at Deux Machina Café to get pastries for us as a treat because he knows I get stressed when I start a new project. As always I have at least one animal sitting on or under my desk.
We also have had builders here putting on a new roof over our garage to sort out the leaks in both the garage and the guest flat. Whoever thought a flat roof design was a good idea is an idiot. This is Mark the builder's dog Harley, he is also a Swiss Shepherd, the same breed as Navajo.
The builders arrived at 7.30am on Saturday as they need to get the roof back on and watertight on the same day they removed it. I had thought I would just sleep through it but the dogs were so agitated they had to come and protect me and the noise from the saw and hammer were so loud.
The dogs barked all morning from the steps, from the window, or from the outside gate.
We finally had to lock them inside to get them to shut up.
It is a lot of money to spend with no cosmetic benefit but it needs to be done as there are constant streams of water coming through and we have had so much rain this year.
Once this work is finished we will bring the guys back to do the next item on our list (it is a very long list). I want the 2 upstairs bathrooms modernised next but Norm is keen on getting the floors redone.
The Covid Scores on the Doors for South Africa are that 4,229,709 people have now been tested resulting in the following counts:
In comparison to the rest of the world, SA is still 10th in total cases.
We have unfortunately gone back up to 26th in count of deaths per 1 million. We spent two weeks at 28th and held at 27th place for several weeks before that. There has been a bit of a resurgence after lockdown restrictions eased but hopefully this flattens out.
The USA is first globally at 213,524 total deaths. I saw this gif which is pretty scary as it demonstrates the steady incline of deaths in the US due to there being no plan in place to deal with it. The only way to manage this is to test, track and trace with isolation of those who test positive.
On Friday it was announced that Trump and Melania have now both tested positive for Covid-19. As he is elderly and obese (and low income?) this could be very dangerous for him. He has now gone to the hospital for a few days as a 'cautionary' measure.
Some people are wondering whether he is infected at all or whether he is just using this ploy to gain sympathy at a time when he is doing very poorly on the polls. He could miraculously 'recover' and then downplay that the virus is dangerous or deadly. Or he can claim to take a vaccine or some other treatment which cures his imaginary infection and that would lead his supporters to take it too (regardless of whether it is safe or not). He could bow out of the next debate due to illness and it provides the perfect cover for damage control by keeping Trump out of the public eye in the face of growing criticism of his mishandling of the virus and the debacle of the last debate where he gave a dog whistle to the white supremacist group the Proud Boys.
If it is indeed true and Trump becomes too ill to lead the country, vice president Mike Pence will be placed in charge. But what happens if Trump dies, does Pence become the Republican Presidential candidate?
"According to the rules of the Republican National Committee (RNC), a vacancy for the candidacy in the case of death would be filled in the same manner that a presidential candidate is selected during the national convention. The 168 members of the RNC would cast their votes and the candidate would be elected by a majority."
Pence would stand in on an interim basis until a new candidate is selected but he is no better than Trump, his hate is just more insidious and hidden behind 'religion'.
It will be an interesting next few weeks.
For my weekly bit from an artist, I give you two videos of covers done by the British singer YUNGBLUD.
First is YUNGBLUD on his own covering a mash up of 'Cardigan' by Taylor Swift and Avril Lavigne's 'With You' in the BBC Radio 1 Live Lounge.
The second is YUNGBLUD & Halsey covering Death Cab for Cutie's 'I Will Follow You Into The Dark'. I adore Halsey, her voice is amazing and she is a stunning beauty.
I hope that you enjoy them both as much as I did. I love covers done in a different format than the original.
Until next time, I hope that you have everything that you need. I hope you can stay safe. Stay at home if possible and if you have to go out please wear a mask. If you feel ill please isolate to protect the vulnerable.
Socially distant Kisses from the Kitten x0x0x0x0x