Monday was a chaotic day. Navajo went to the doggy physio and they did 30 minutes of laser treatment on his ankle. Norm and I both had meetings so my friend Michelle took him for us. Luckily, the dogs all adore her and are happy to go anywhere with her.
It was bitterly cold on Monday and after work I built a big fire while Norm worked upstairs. All 5 of the animals gathered nearby.
On Wednesday it started raining again and the mist was so thick you could not even see the mountains.
Then Thursday and Friday turned bright and sunny again with a chill in the air in the evenings. I am like a yoyo putting on my sweater and taking it off.
Today it is a beautiful sunny day. Norm is cleaning the pool while I blog.
We are getting a bit closer to a normal routine at home in that our gardener Mzudomo started working again this week. We have still been paying him his salary every week while he stayed home during lockdown but we agreed that if we implement safety measures that he could return. In addition to his salary that means he gets two meals a day as Norm makes breakfast and lunch for him while he works. We bought a coverall for him to wear while working and he must wear a mask and sanitise when he arrives. He leaves the coverall here and we wash it so that it is clean for the next week. That means he is not bringing any virus into our property and it is a benefit to Mzudomo too as his own clothes stay clean.
I also had my first pedicure since lockdown on Wednesday. I built a fire when I finished work as it was freezing cold. All of the animals gathered around to be involved as they love Vanessa because she sometimes dog sits for us. If you can see Panda in the background he is licking an empty peanut butter jar while hiding in his bed. Funny boy.
My manicurist Vanessa does house visits and she wears a mask and sterilises on arrival so I felt safe. My hooves were looking pretty rough and it is so nice to have bright red toes again.
Much like my skin without makeup for months my toenails were looking so healthy after months without polish. Our bodies were not meant to be covered up in make up and other oxygen depriving coatings (she says while gazing lovingly at her red toes).
When I am working on a client site I usually do a lot of walking but with the lockdown I have been doing nothing and have barely left my house. So last week I started doing yoga. Lily told me about a YouTube channel called Yoga with Adriene that she uses for her yoga routines and so I am just using those to follow along to. Even the most basic beginner ones are a challenge for me due to my arthritis and my hip replacement. I cannot sit cross legged easily and my wrists and knees hurt if I put pressure on them, but I am just taking it slowly and doing what I can. As my strength improves I hope it will become easier. But at least I am doing something! I am aiming for yoga 3 times a week supplemented between with the occasional dance routine from The Fitness Marshall, I love his routines and I did a few this week.
On Thursday night I attended an online 'Covet Social Event' in honor of New York Fashion Week. Covet Fashion is an online game I have played since it was released years ago. I love fashion and it gives you a view of the trends each season from many different designers. You create 'looks' using the brands, it is sort of like electronic paper dolls. Other players then vote for your looks in a 'who wore it best' sort of manner. The event I attended was about the designer Sai Sankoh. It was in the form of a webinar and we could ask questions or chat among ourselves while the speakers told us about the creative processes behind the game and Sai told us about her brand and her background. Sai was originally from Sierra Leone in West Africa and her designs are full of colour and print and are very African in feel. I love her caftans!
In the news this week is a whistleblower report on forced sterilisation in the Irwin county ICE detention centre in Georgia, which is run by private corporation LaSalle Corrections.
Nurse Dawn Wooten raised a complaint that there was a high number of Latina women being subjected to a hysterectomy with no medical reason. The women do not appear to be consenting to getting a hysterectomy and they are not receiving translation services when complicated medical information is being conveyed to them. According to the complaint sometimes nurses try to communicate using Google or by asking another detained person to translate. Many of the 'victims' are deported after they recover so it is a challenge for the lawyers trying to get justice for them.
If you wish to ring up Mahendra Amin, the Gynecologist they call 'The Uterus Collector', feel free to do so. If you live nearby, maybe pop in and have a word.
The full whistleblower complaint was about lack of 'Medical Care, Unsafe Work Practices, and Absence of Adequate Protection Against COVID-19 for Detained Immigrants and Employees Alike' at the Irwin County Detention Center.
Genocide via this means is not a new concept in the US. Between 1907 and 1939, more than 30,000 people in 29 U.S. states were sterilized while incarcerated in prisons or in institutions for the mentally ill. Many of the operations were done without proper disclosure or even against the 'patient's' will.
When people hear the word "genocide" they often think of exterminations in gas chambers during the Holocaust or mass murder by machete in Rwanda. But the crime of genocide is defined as the intent to destroy, in whole or in part, a national, ethnic, racial, or religious group. This includes preventing births within the group, which is a goal of forced sterilization.
These practices by the US government did not end in the mid-20th century. In fact, Californian prisons authorized sterilizations of nearly 150 Asian and Mexican female inmates between 2006 and 2010. This atrocity was not outlawed until 2014. Southern states also employed sterilization as a means of controlling African-American populations by means of "Mississippi appendectomies," (unnecessary hysterectomies) performed on women of color by medical students at Southern teaching hospitals. A third of the sterilizations were done on girls under the age of 18, some girls were reportedly as young as 9 years old. Were they informed or did they spend years trying to conceive?
I then saw a thread on Facebook where many Native American women were saying that the same thing happened to them in the 1970s. The U.S. Indian Health Service (IHS) applied forced sterilization to American Indian women in the 1960s and 1970s, sterilizing 3,406 Native American women between 1973 and 1976. The numbers included 36 women under the age of 21, despite a court-ordered moratorium on sterilizations of women younger than 21. Their study, however, was very limited and the actual numbers are likely considerably higher.
A study done in 1974 determined that one in four NA women had been sterilised. Some experts estimate that the percent of American Indian women who were sterilized might even approach 50 percent.
The depths of cruelty and inhumanity of the patriarchy still manage to shock me.
On the subject of cruelty, on Thursday it was reported by Police spokesperson, Colonel Priscilla Naidu, that a mob of around 200 protesters from the Fairview Informal settlement stormed onto the property of the Fairview racecourse in Port Elizabeth at around 6 am and released 28 racehorses from their stables.
Public Order Policing, the community, security companies, specialised police units as well as SAPS Kabega Park members were on the scene assisting the stabling staff in rounding up the traumatised racehorses. The horses have now all been accounted for.
Colonel Naidu says the group apparently assaulted the horses with sticks and stones and that the animals fled in all directions, some of them injuring themselves in their attempts to escape. One horse was found dead about a kilometre away in an opening near the houses.
Rumours have been circulating that the dead horse was slaughtered with pangas, that another horse had his legs broken, and that several other animals are likely to be put down as a result of their injuries. One rumour about the cause of the protest is that it was over UIF non-payment, another is that a horse had kicked a worker, he then stabbed the horse and was fired and the community came to protest in his support. Some of the men who attacked the horses were the groomsmen who were responsible for caring for the horses. This made me feel physically ill, who could mistreat an innocent animal in that way?
For non-South Africans who may not know what a 'panga' is, it is a large, broad-bladed African knife up to 22 inches in length. They are sometimes called a machete. Here is an image.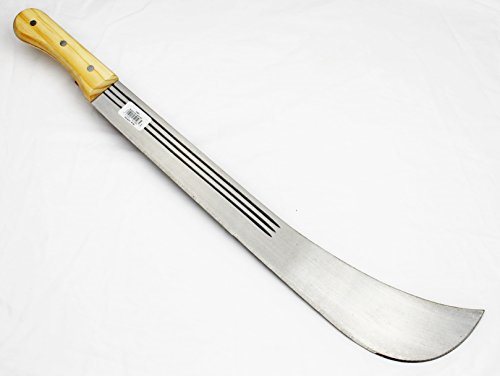 Horses are such trusting animals and when they bond with a human they will do anything for them. These horses will need so much psychological treatment and care to deal with the trauma. It is so savage and it breaks my heart.
The Covid statistics for the week are that 4,003,590 people have now been tested in South Africa and the overall stats are:
On a worldwide basis, SA is now dropped to 9th. Last week we were at 8th, week before that we were 7th (and the week prior to that we were at the number 6 spot). We have finally shifted on the count of deaths per 1 million and this week we have moved down to 28th after holding steady at 27th place for weeks. This shows the entire country is moving in the right direction.
As a reward, South Africa has moved to Level 1 which means more freedom of movement and other loosening of the constraints.
Conversely, Trump has now shifted his agenda to announce that he has no plan to deal with the virus. He has decided that 'Turd/Herd Mentality' is the approach. What he really meant was 'Herd Immunity'. This approach was attempted in the UK and Sweden and the hospitals were rapidly overwhelmed. The UK is now entering their second wave when the US has not even ridden out the 1st wave.
One issue with this approach is that we are not certain that immunity builds up with Covid 19, there is no proof that you cannot be re-infected. The other issue is the sheer number of potential deaths that will occur in the attempt to get to a level of infection that could result in herd immunity. The President is willing to risk the potential death of 2 to 6 million Americans. The figures below are very conservative, the actual fatality rate in the US is 2.9% but we have used 1.5% as a low ball estimate and it still sits at almost 3 million deaths.
For those people who blindly support Trump, regardless of the horrors of his actions, are you willing to see up to 6 million American people die? What if it is your parents, your children, your friends, your family, are you willing to sacrifice them? With numbers of expected deaths that high, there is no chance that you will not be personally affected somehow.
As if that is not horrifying enough, I woke this morning to the tragic news that the amazing Ruth Bader Ginsburg, Supreme Court Justice, passed away last night. This makes me so sad, RBG has been on the federal bench for twenty-five years. In 1993, she became the second woman ever to serve on the United States Supreme Court. Throughout that time she has continued to be a leading voice for gender equality, women's interests, and civil rights and liberties.
RIP to one of my heroes.
RBG leaves big shoes to be filled and I desperately hope that Trump and his wee turtle man Mitch do not manage to fill her post before the election.
We have found some new shows to entertain us while we are housebound.
While Norm was working in the evenings I started watching a series on Amazon Prime called 'Forever'. The main characters are June (played by Maya Rudolph) and Oscar (played by Fred Armisen) and it is about their marriage and life together. I do not want to tell you too much or it gives the plot away.
I almost gave up in the 1st episode even though I love Maya. But I persevered for Maya's sake. It is very, very slow. I can kind of see why it was cancelled after one season. I did however endure to the end of the series so I can assure you it does not speed up. There are a few 'laugh out loud' moments but they are few. I give this show 3 Kitten Stars ⭐⭐⭐ (one for each sad & lonely LOL).
Last weekend I binge watched the series "The Duchess" on Netflix. It is a series developed by the Canadian comedienne Katherine Ryan who also plays the lead character. Netflix describes the series as: 'Katherine's a single mom juggling her career, her tween daughter, her relationship with her boyfriend — and pondering getting pregnant with her ex.'
I thought the series was very funny. It is based in the UK and Katherine's ex and baby daddy is a former boy band member and a right tool. He is played brilliantly by Rory Keenan (from Peaky Blinders). But this all makes for a lot of comedic misadventures. It might not be for everyone – especially if you are prudish or put off by bad language. But I love a bit of saucy nonsense and I laughed a lot. There are only 6 episodes available so it is a quick watch. Let me know what you think? I give it 4 Kitten Stars ⭐⭐⭐⭐
Norm and I watched My Octopus Teacher last Sunday evening. This documentary is not only beautiful but it is emotional, educational, mesmerising and simply amazing. I cannot say enough good things about this documentary. It follows South African filmmaker Craig Foster over a year as he dives in the icy seas off the coast of Cape Town swimming through the kelp forests. He dives without a wet-suit or SCUBA gear which is amazing considering the temperature of our sea averages between 15°C/59°F to 17°C/62.6°F.
Craig had burnout and needed to take time off to recover and vowed to dive every day for a year. On one of his dives his eye was caught by a female octopus who was hiding in plain sight covered with seashells and bits of other debris in order to disguise her from predators.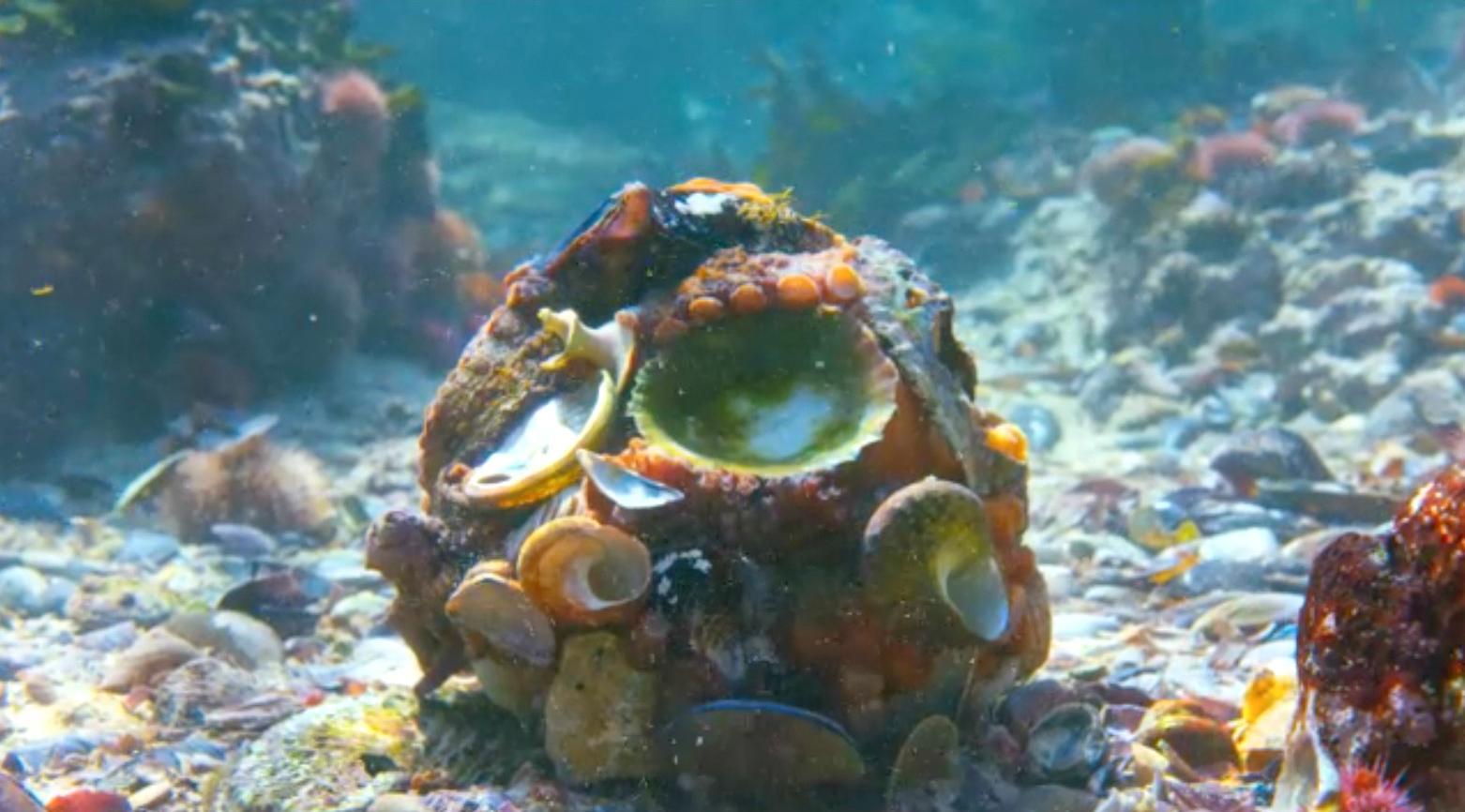 From that interaction he decided to go back each day to the exact same spot and eventually the octopus started to get familiar with his presence and to trust him and they formed a 'relationship'. I wept over the end of the film as it is so touching. I would give more than 5 Kitten Stars if possible but as 5 is max, I give it all of them. ⭐⭐⭐⭐⭐
And finally, for my item that brings joy I provide the Vincent van Gogh art ALIVE exhibition at the Atelier des Lumières in Paris, France. The track is by Don McLean.
And for a bit of unusual freakiness I bring the art of professional artist Johannes Stötter who is known for his groundbreaking work in the realm of body painting and body art.
I hope that you all are able to stay safe. Please stay at home if you can, and wear a mask if you cannot. Think about others if you do not do it for yourself.
Until next time, socially distant Kisses from the Kitten x0x0x0x0x