Another week of lockdown is in the bag. It has been 19 days in total since I left my home.
My very wise friend Michelle was saying that we need to flip the terminology around the lockdown, rather to call it 'Time Out' or even better 'Time In'. We should treat it as a time for inward reflection: to reflect on our 'actions, ways, mindsets, patterns, behaviours, relationships'. A time for letting go of what no longer serves us, of what is holding us back. A time to calm the world and reflect on our relationship with Mother Earth. A time to review our connected-ness and oneness.
Michelle is a very wise woman who has studied the Red Road under Grandmother Robin so I listen to her words with interest. You can check out Michelle's various spiritual offerings on her Sacred Ibis page.
I have seen several posts which talk about this being a period of rebirth and healing and introspection. Those who survive and who can adapt their lives to the New World will thrive and those who cannot change may not thrive. There is a Native American prophecy about the 8th fire which is quite apt.
I think this time is now.
Last Friday night we were relaxing after dinner and we heard shouting and banging and other loud noises outside and when we went onto the balcony we realised that South Africa had joined in with the UK's 'Clap for Our Carers' movement.
Just an FYI, searching for 'NHS' + 'Clap' provided a lot of info about Gonorrhoea so be careful what you click.
I was then sent this image via one of my drumming groups.
So on Saturday night when we heard the celebration start up I grabbed my drum and raced out to join in.
It was so wonderful to hear the sounds of people banging on pots, blowing vuvuzelas, whistling, shouting and making whatever noise they could. It echoed out across the valley. It made you feel less isolated and more connected to the rest of the valley. I love to howl, it is one of my ways to release excess energy. I howled and banged my drum as loud as I could.
The next day I saw a post in our local Hout Bay group asking for drummers who were keen on doing a pre-clap 15 minute drumming session for Mother Earth and so on Sunday I went out at 7:45 and stood on our upstairs balcony which looks out over the valley. I drummed softly in a heartbeat rhythm and I said prayers for Mother Earth to heal and protect us. At 8 the rest of the valley joined in and drummed, banged, sang, shouted, whistled and made whatever noise they could to pay tribute to all of the people in essential roles to keep our country going and to keep us safe. It is not just the medical staff, it is the police, the army, the security services, ambulance drivers, staff in shops and pharmacies, people who work in factories, the truck drivers who keep us supplied with food and medical products and everyone else who is deemed to provide an essential service. We paid tribute to them and gave thanks for their service. I have been drumming and howling every night at 8pm.
On Saturday night the police, ambulance and the security teams all did a parade through the village with their lights and sirens on to say thank you to us for our appreciation. It was loud and I loved it.
The biggest way we can all support those who are making these sacrifices for us is to #StayTheFuckAtHome and Norm and I have been trying our best.
One restriction during lock down is that we cannot walk our dogs so we came up with an innovative way to deal with that. Norm puts on their leads which is a psychological trigger for them. He opens the gate to the driveway, the pedestrian gate and the gate between the two. He takes them out of the main gate.
Then down along our curb (which is still our property) and then back in through the pedestrian gate.
However there are other people who are not only ignoring the order for staying home during the lockdown, they are actually interfering in the front line responders trying to do their jobs. There have been at least 4 incidents where the Emergency Services personnel were attacked by residents during call outs. What kind of person does this?
Western Cape Premier Alan Winde confirmed this week a person has tested positive for the virus in Cape Town's largest township, Khayelitsha. This count is now up to 2.
Thousands of families live in very close proximity to one another in the township and some households have as many as seven to 10 people living together, making social distancing difficult. Add in the current heat and trying to keep bored children occupied in a hot closed space and it is almost impossible.
Water and sanitation is also a major problem, as many houses don't have access to their own water or sanitation and one block of communal toilets are shared between hundreds of residents.
Meanwhile, in the neighbouring community of Mitchells Plain, 7 people have tested positive. This is another of the countries poorer areas.
President Ramaphosa addressed the nation again on Monday night. The transcript can be read HERE. The highlights video is below.
The President announced the statistics for that day and confirmed that 3 South Africans had died by that point and there were 1,326 confirmed cases. The positive news he gave was that there is a plan to try and identify the cases throughout SA.
They are sending "10,000 field workers out visiting homes in villages, towns and cities to screen residents for COVID-19 symptoms. People with symptoms will be referred to local clinics or mobile clinics for testing. People who are infected with coronavirus, but who have no or moderate symptoms will remain in isolation at home or at a facility provided by government and those with severe symptoms will be transferred to hospitals. Using mobile technology, an extensive tracing system will be rapidly deployed to trace those who have been in contact with confirmed coronavirus cases and to monitor the geographical location of new cases in real time. This drive is far-reaching, it is intensive and it is unprecedented in scale."
The strategy is to test, trace and isolate.
On Friday I read that only one week in to the shutdown and more than "47,000 people have been tested and 67 mobile testing units have been organised. There are even drive-through testing centres. Soon the country will be able to test 30,000 people every day."
The South African stats for today (Sunday the 5th of April) are:
The police and army have been strictly enforcing the lock down and have arrested over 2,200 people for violating the President's orders.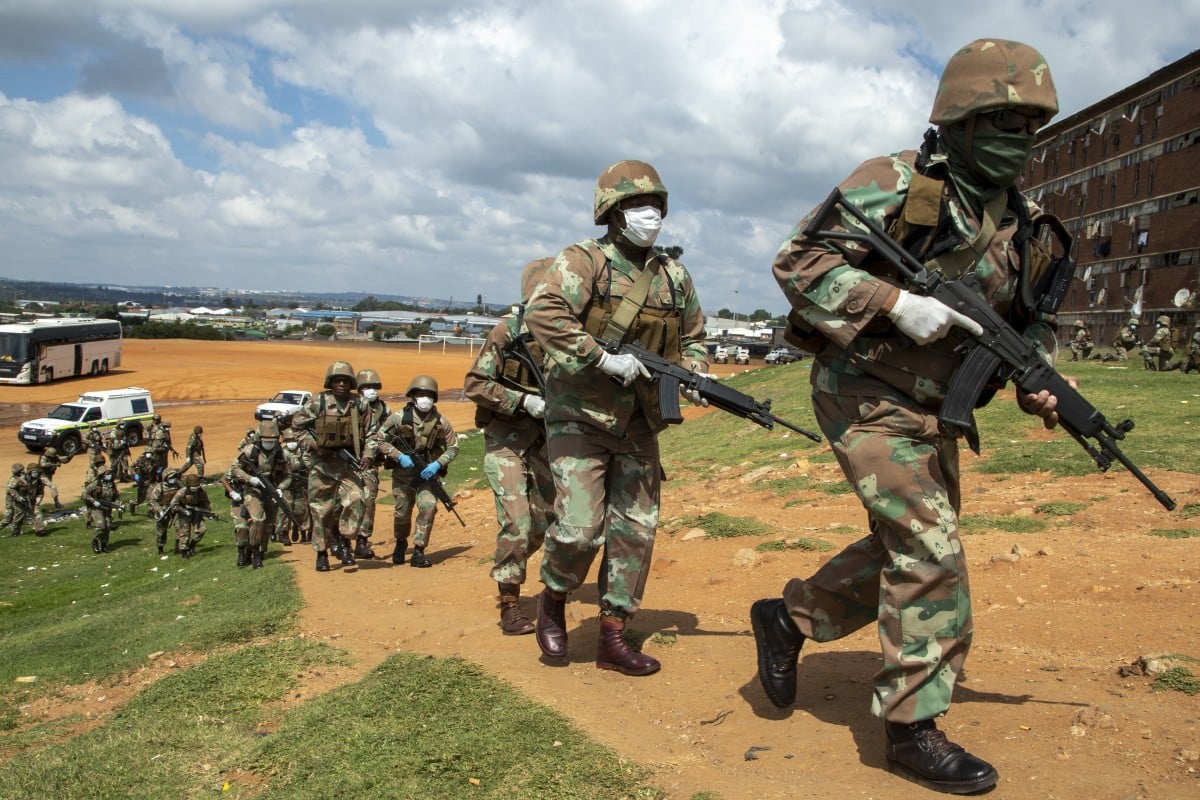 Some say that the police and army are being overly aggressive and have claimed they were subjected to abuse. Rubber bullets have been fired and teargas used and one man was killed by a policeman.
However, overall I am so impressed with how our President is handling this virus while 'leading countries' are not leading this battle at all. The UK has been very slow to act and Trump is literally 'acting' as if he is in a reality show. What do you expect from a reality star? I saw a post that the MAGA idiots wanted a reality star and now they have their wish as they are on 'Survivor'. I certainly would not want that orange buffoon on my team! (Having never watched Survivor, do they have teams?)
During the White House press briefings he is touting corporate bosses and their products instead of informing the nation what is happening and what plans are in place. I wonder what kick backs he got from them as he does nothing without a bit of quid pro quo. He then bragged that his Press Briefing ratings are higher than the finals of the Bachelor. He does not seem to understand his role is to inform and protect, not to entertain. Like all trained monkeys that is all he understands. People need assurance that there is a plan in place to protect them, they are not tuning in to gaze at his bloated ugly mug.
After ignoring the risk of the pandemic the US is now panicking about their lack of preparedness and are resorting to devious tactics to try and plug these gaps. They have 'hijacked' personal protection shipments destined for multiple countries by paying triple the cost to get them for the US citizens. It is nothing better than piracy. Jared Kushner lied about the Strategic National Stockpile's mission statement and the website was then altered to suit his lies. You cannot make this stuff up! There is no integrity, morals or empathy with this administration.
Norm and I have been keeping ourselves entertained with the telly seeing as we cannot do much else. We finished Goliath (4 Kitten Stars) and finished a few new series this week.
I just finished the series "Self Made: Inspired by the Life of Madam C.J. Walker".
It stars Octavia Spencer as Sarah Breedlove who married C.J. Walker and developed hair products for black women using his name as the brand and subsequently became the first female self made millionaire.
I found the story line very interesting but sometimes it was quite upsetting. It is set in the early 1900's and it is so hard to see the way that people of colour were treated at that time (and many might say are still treated). Women were treated even worse than men and the strength of character Sarah had and her determination to succeed is quite awe inspiring. She never gave up until she achieved her goals. Just one of the many knock backs she received would have deterred me but she was made of rubber, the slights and attacks just bounced off her and she kept moving ahead. She had two marriages to men who were not worthy of her love, one of them abused her physically and the other's shallow ego meant he was resentful and felt over-shadowed by her success. Instead of supporting her he had affairs and even tried to destroy her business all while enjoying the luxuries her wealth provided. I give this show 4 Kitten Stars as the daydreams and imaginings Sarah supposedly had annoyed me, especially the boxing scenes between her and her nemesis Addie, I felt it distracted from the story rather than enhanced it. ⭐️⭐️⭐️⭐️
Together Norm and I watched "Tiger King: Murder, Mayhem and Madness".
Wow. There are some bizarre and insane people in this world (and a lot of them seem to be in America).
The show involves several 'breeders' of exotic animals and owners of Big Cat 'farms' (for lack of a better term) and their relationship with the legalities of owning big cats. The primary characters are Joe Exotic, Doc Antle and Carole Baskin. Carole is the CEO and founder of Big Cat Rescue. Joe Exotic is a gay narcissistic former meth addict and seems to be border line psychotic. I found 'Doc' Antle to be another narcissist and his behaviour was predatory and evil as it is alleged that he grooms young volunteers into sleeping with him and some volunteers were even coerced into getting breast implants. Their 'uniforms' were like something out of a cheap pornographic Tarzan film.
Both Joe and Doc live polygamous lives which I have no objections to as long as all of the 'spouses' are willing participants and are not teens or vulnerable souls. Joe Exotic took several young straight boys who had issues with addiction and 'turned' them, married them and kept them high in order to fulfill his agendas. He restricted their movements and would not let them leave the grounds of the compound.
My mind is not made up about the motivations of Carole. I do think that she is a bit of a hypocrite as she started out with her ex-husband buying cats and selling the cubs that they bred, however no one deserves the levels of hatred that surround her. I think she may have killed her second husband for his money and his constant philandering, but he could also be living the life of Riley in Costa Rica. No one except Carole (and possibly her Costa Rican dwelling husband if alive!) knows for sure.
The real victims of this series are the animals. There were some heartbreaking scenes of tigers giving birth and having their cubs ripped away from them while still birthing the rest of the litter. It made me feel physically ill. The scenes about the chimpanzees made me bawl my eyes out. It is hard to watch in that regard but I think we need to show people what these places are really like and what motivates the people behind these sickening places. Did you know that there are only 4 thousand tigers left in their natural habitat and there are 5-10 thousand living in captivity in the USA alone? That is so wrong.
I strongly recommend watching it and I give it 4 Kitten Stars. ⭐️⭐️⭐️⭐️ Just keep your tissues and a large whisky nearby to get you through it. It veers from cheesy hilarity to horror on a regular basis.
On Saturday night we cooked chicken breasts which was the only meat we had left.
I made up a barbecue sauce from ketchup, mustard, garlic and Worcestershire sauce. I covered both sides of the breasts and baked them. Norm peeled and sliced up a large sweet potato, tossed the slices in olive oil and baked them on a cookie sheet. We had no vegetables left so we dug into our frozen supplies and microwaved some mixed vegetables to go with it.
On Sunday I made a pot of chili con carne. The only meat we had left on Sunday was minced beef and I thought chili con carne would be a good option as it lasts for a few meals. I had limited ingredients so I used a lot more onions than normal. I browned 2 chopped onions and removed them from the pot then added the mince to the same pot to brown it. Once browned I drained the excess oil and added 2 tins of sugar beans and a tin of kidney beans. I added a bottle of passata and after I added it I thought it smelled odd. When I checked the label I saw it had dried basil in it. I fecking HATE basil, it is so overpowering. It also is not a usual flavour you add to chili. To try and cover it up I added a packet of tacos seasoning, loads of garlic, chili powder, cumin, paprika and I used a few of the fresh chilis from my neighbour Kate's garden. It ended up coming out quite nice but it was so spicy Norm had to add a load of cream to his. Oops. #Gringo
We had enough left over for lunch the following day which was great as we are out of all fresh veg and salad type foods.
We had the ingredients for a low carb pizza but not much to go into a sauce so on Monday I browned an onion and a chopped carrot and when cooked I pureed it then added half a large bottle of passata and the spices and let it simmer. It was actually quite nice once I added a few spices and other things to it. We had mozzarella, a packet of pancetta, a few artichoke hearts in oil and a packet of green olives.
It was soooo good. I am so pleased we discovered how to make this crust. The recipe is HERE if you want to give it a go. I bake mine for 10 minutes each side to make it a bit firmer but we still have to eat it with a knife and fork as I use a lot of sauce.
Norm finally had to venture out to do a grocery shop last Tuesday as we ran out of most things, especially fresh vegetables and meat. It was great that we then had a restocked fridge for the week but most of the food had an expiry date of one or two days away.
I decided to cook pork chops that night and as I had some of the passata left from the night before I added mustard, garlic, Worcestershire and spices and made a sort of barbecue sauce to pour over. He had bought a bag of sliced sweet potato rounds so I tossed them in olive oil and baked them. I steamed a bag of mixed vegetables and fried mushrooms in garlic butter.
The next day Norm made a late brunch of cheesy scrambled eggs, bacon, avocado and baby tomatoes so that night for dinner I was not hungry and I just had the last of the leftover chili and Norm made himself a big salad.
On Thursday morning Norm said he had a dream about chicken in a creamy tomato sauce so being the good wife I am *cough* I decided to give it a go. I still had a bit of passata in the fridge and some cream so I fried an onion and some sliced mushrooms, added lots of garlic and some seasoning, and once it had cooked I added the rest of the passata and half a container of cream. I roasted the vegetables in the same pan as I baked the chicken in to save washing up and I baked us each a small baked potato.
It tasted really good and Norm was happy. #JobDone
On Friday it was very hot and I was tired and grumpy and craving sushi. I told Norm I could not bear cooking and so he stepped in and cooked the pork fillet we had left in the fridge. As it was so warm he made a huge salad and did some frozen chips in the airfryer and it was lovely. I am a lucky Kitten.
When we woke on Saturday it was a bit cool so we decided to enjoy the fresh morning air and have our coffees on the upstairs balcony.
Navajo is always nearby protecting us.
Last night I attended a virtual 'Tea Party' with some of the women I have known for many years, back from when MySpace was the Thing You Did.
We met at 3pm central time in the US which was 10pm my time. I had a vodka cocktail instead of tea. We all decided to wear hats as if we were indeed going out for afternoon tea in a posh venue instead of hanging out in our individual homes.
It was the first time in almost 3 weeks that I put on a bra or makeup! Much less 'outside clothes'.
The dogs are so happy that we are both home all day. Panda wants to sit in my lap and comes and bashes me repeatedly with his teeny little feet until I tell him to shove off.
Pixie just lies at my feet and I am worried I roll over her but she wants to be near Mommy.
Navajo lies between me and the door.
If I have anything to eat the Poms circle in with a hope that I drop a crumb. Especially if peanut butter is involved. My fave snack is apple slices topped with peanut butter.
Some days Lola wants a bit of attention and makes her needs known.
Norm had to take them to the vet on Wednesday as Navajo has another ear infection. We are unable to put his drops in by ourselves as he growls rather ferociously and scares me silly so Norm takes him down to get the vet to administer the drops.
Pixie had a hot spot and we wanted the vet to look at her to see if she was healing OK and Panda just went so he could say hi to the staff. The staff all adore him since his illness. They got to know him so well. He is such a wee drama queen.
Pixie has had a few accidents this week where she peed herself. She is so fastidious and would rather die than do anything like that in the house so we were worried she had another bladder infection and Norm had to take her back this morning. Unfortunately her bladder was empty so they could not take a urine sample. We are supposed to try and get a sample (errr how?) and if we are unsuccessful then we have to leave her there tomorrow for them to try again.
This morning we had our morning coffee on the balcony then when we went downstairs I sat outside with the dogs. It was a very cool and overcast morning.
The dogs were playing and chasing each other and then decided that something in the street needed a bit of verbal abuse.
The other background noise is Norm and his Dyson. That man loves his cordless Dyson and spends half the day vacuuming dog hair.
This is my new normal.
Our family had a bit of excitement this week when Sharyn Hodges, Lily's wedding photographer, loaded some of the wedding photos to her website. It brought back how fabulous the day was.
And how blessed I am.
You can view the full set of photos HERE.
As always, I encourage you to be grateful for your blessings, whether that is your safety, your home, your loved ones or whatever your own conditions may be.
I am grateful for my comfortable spacious home, my mother, my children, my husband and our pets. Being grateful for our health is paramount at the moment. Please stay home and only go out if you must.
Until next time, Kisses from the Kitten x0x0x0x0x0x