Last weekend was as full of highs and lows as a bipolar disorder riding a roller coaster.
Even though I was prepared for the possibility that the majority of the Republicans would not have the balls to do what was right and vote to convict Trump, I was still devastated when the votes were in and he was acquitted. It made me sad to see some of my friends rejoicing that Trump was not convicted, I cannot understand how any humane person can still support him despite all of the things he has done.
I have often compared the relationship that Trump's supporters have with him to a domestic abuse situation, his supporters just cannot see him for what he is and make excuses for all of his horrific behaviour. Some seem to vacillate back and forth, loving him and then hating him and then loving him again, doing whatever they are directed to do like the slavering dogs that they are.
It also dug the knife in a bit deeper to have the slimy turtle toad man Mitch McConnell saying that the house managers successfully proved their case and that Trump is "practically and morally responsible" for the events of 6 January but still voting to acquit while using the excuse that he did not believe that the Constitution allows for an ex-president to be convicted once they have left office.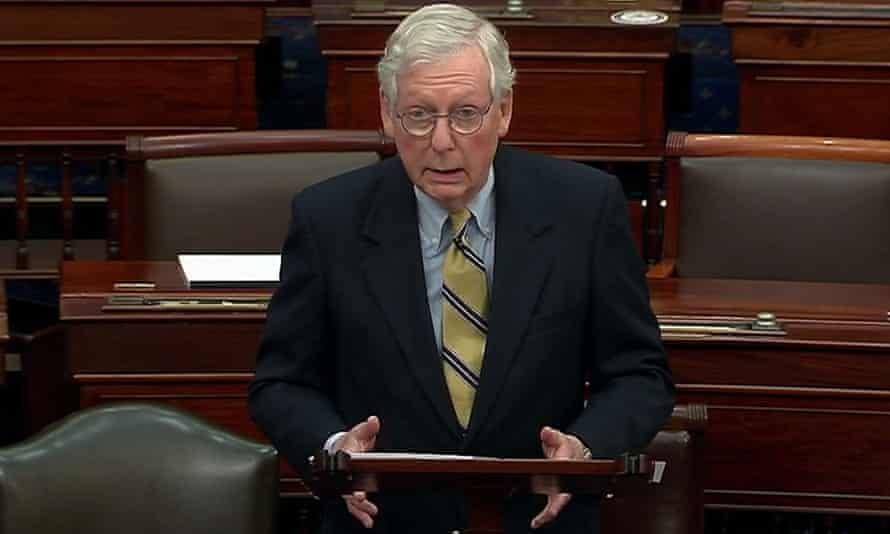 McConnell had himself orchestrated the timeline for the impeachment trials when he was Senate majority leader as he refused Democrats' requests to call the Senate into an emergency session in January. The House impeached Trump for a second time in his final days in office, but McConnell delayed starting the Senate trial until after Joe Biden was sworn in. The ReTrumplicans may fall for those convolutions of reality but the rest of us do not. We see through that decrepit turtle shell to your slimy innards Mitch the Trump-Bitch.
House majority leader Nancy Pelosi called Mitch out in a press conference on Saturday and said the issue of timing "was not the reason that he voted the way he did; it was the excuse that he used. For Mitch McConnell – who created the situation where it could not have been heard before the 20th, or even begun before the 20th in the Senate – to say all the things he said, oh my gosh, about Donald Trump and how horrible he was and is, and then say, 'But that's the time that the House chose to bring it over' – Oh, no. We didn't choose. You chose not to receive it," Pelosi said.
Pelosi was also critical of the other "cowardly" Republicans who voted against impeachment after the attack.
The whole debacle made me feel sick to my stomach and I could barely sleep. I ended up taking 2 sleeping tablets and sleeping until after 9am the following morning which is unheard of with a house full of animals, but Norm kept them quiet somehow (and I was in a medication induced mini-coma).
When I woke up on Valentine's Day Norm brought me a large frothy coffee in bed. After that I showered and dressed and came downstairs to find the most beautiful flowers waiting for me along with a box of chocolate covered strawberry marshmallow pies.
Norm then brought me a coffee, a cinnamon roll and a chocolate croissant.
I felt very spoiled!
We caught up on the news and watched the last episode of the series about Elisa Lam's disappearance at the Cecil Hotel. I think it was very well done and give it 4 Kitten Stars ⭐⭐⭐⭐
Later in the afternoon Norm asked if I was ready to have High Tea and he went to prepare it and called me upstairs to the balcony once it was all set up. He made cute little cucumber and ham sandwiches and he had bought some pasteis de nata, cheese muffins and chocolate and pecan tarts.
He made a pot of tea to go with it and kindly poured a cuppa for both of us.
I felt like a Princess.
The pastries were rich and divine!
After we finished we headed downstairs and I realised that I had forgotten to give Norman his parcel from the Gift Lady that I had ordered. Oops. I ordered mostly low carb options such as cashews, peanuts, mixed nuts and various sugar-free chocolate items.
We relaxed a bit and Norm worked on our new puzzle and I watched telly and played my games.
Later that night Norm went out to get a take away for our dinner and when he came back and opened the gate the downstairs lights all went out. It had been raining when he was out and we assumed that some water was getting in to short the circuit. Every time he tried to put the switch back on for that circuit it tripped again. When we woke the next morning the switch stayed on and the lights were fine. The next day it rained again and the lights stayed on until Norm went out again that evening and it happened all over again. We finally called in the electrician to come and have a look at it in case it was a fire hazard.
Tuesday was a bit much for Navajo's stress levels as we had both Mzudumo here to do the garden as well as the electricians. It seemed to give Nava a bit of IBS. For our sensitive readers let's just leave it there. #Yuck
The electricians managed to isolate the issue to a security light over the garage which was leaking so they repaired the seal on that and now it is hopefully resolved.
After everyone left Navajo had a bit of a snuggle on the stairs with Lola. Navajo speaks to her in his special cat voice and she rubs her face all over him. They are so cute together.
That afternoon we received a security message via the Buzzer app warning us that there was a fire directly behind us on the mountain. This was taken from our back bedroom window upstairs. You can see the helicopter has just doused the fire with water from the nearby Suikerbossie reserve and is turning to go and fill up again.
I filmed this video from the front balcony which looks out towards Suikerbossie reserve. If you look very carefully you can see the helicopter returning with a bucket full of water.
They had a spotter plane, 3 choppers as well as firetrucks on hand.
By that evening the fire was under control and the security teams stayed on site to make sure there were no flare-ups. Thank goodness we had access to the heroes in the chopper and the other people who contributed to our safety.
Then later that evening I read with great delight that Mississippi Democratic Rep. Bennie Thompson, the Democratic chairman of the House Homeland Security Committee, has filed a civil lawsuit against Donald Trump and Rudy Giuliani. Former President Donald Trump and attorney Rudy Giuliani are being accused of conspiring with the far-right groups Proud Boys and Oath Keepers to incite the January 6 insurrection. The lawsuit cites a scarcely used federal statute passed after the Civil War that was intended to combat violence from the Ku Klux Klan. It allows civil actions to be brought against people who use "force, intimidation, or threat" to prevent anyone from upholding the duties of their office.
Added to this is that the Georgia Secretary of State's office has formally launched an investigation into former President Donald Trump's phone calls to state election officials in which he sought help to overturn the results of the election after President Joe Biden's narrow victory was certified twice. They have also launched an investigation into a post-Election Day phone call between Sen. Lindsey Graham (R-S.C.) and Georgia Secretary of State Brad Raffensperger as part of a criminal investigation into whether former president Donald Trump or his allies broke Georgia laws while trying to reverse his defeat in the state.
This all gives me hope that there will be accountability for the people responsible for this attack on the American democracy.
However the ReTrumplicans are still trying to shift the playing field to accommodate their master's needs. Georgia state Republicans introduced a resolution on Thursday that seeks to change the Georgia State Constitution to mandate the use of state-wide grand juries in prosecutions involving election crimes. The move would force prosecutors to draw more grand jurors from predominantly Republican rural areas of the state. Using state-wide grand juries instead of county-wide ones would likely dilute the representation of Black residents on the panel.
The dogs went to the groomer on Wednesday as they were very smelly. They smelled gorgeous when they got home. In less than an hour Panda was covered in dirt and Navajo's drool.
On Thursday we had several deliveries. Norm finally bought himself a new phone as he had been using my hand me down and it was overheating and the battery lasted about 5 minutes. He also bought a tray table for me as we mostly eat dinner in front of the telly these days and I am a notoriously messy and clumsy eater. Hopefully this keeps my clothes and the couch tidy but I am not expecting miracles. It will help with the wrist pain I get when holding my plate though.
Now for the Covid statistics. This week 8,838,937 people have been tested in South Africa, resulting in the following stats.
On a global level SA is 16th for total cases, the UK is 5th and the USA is first.
For the number of deaths per 1 million population, SA is 43rd, the UK is 6th and the USA is 9th. The count of total deaths for the UK is 119,920 and the total for the USA is now over half a million at 507,746.
Using the excess death rate scientists have estimated that around half the population of South Africa has already contracted the virus. We need around 66% to have had the virus or to have been vaccinated to get to heard immunity. The Johnson & Johnson vaccine (single shot) arrived in South Africa and was being administered to health workers this week. That is the vaccine that they are going to manufacture here in South Africa.
I saw that Cape Town Mediclinic posted that they had zero Covid patients on Friday! That is great news and hopefully that trend may continue.
My Mom got her second vaccine this week. She also had her stitches removed from her operation on her leg and is getting more independent at moving around and dressing herself so I hope she can go home in a few weeks. Her mood has perked up a bit as she gains more mobility and independence. She still cannot put any weight on her leg but hopefully it will heal and become stable.
Last weekend while trying to take my mind off of the impeachment hearings I binge watched the series Firefly Lane on Netflix. It stars Katherine Heigl (known for her role in Grey's Anatomy and many films) and Sarah Chalke. Sarah is one of those actresses that everyone instantly recognises but few of us know her name. She has been in so many different shows but you most likely remember her as either the replacement Becky on 'Roseanne' or more recently as Dr. Elliot Reid from Scrubs.
I loved this series. It follows the friendships of Kate Mularkey and Tully (Tallulah) Hart from teenagers to 40-something women and it occurs over 3 different timelines: when they met as young teens, when they were starting out in their careers and then when they were in their 40s. It explores their families and their dysfunctions behind closed doors, regardless of outside appearances. One is from a 'normal' family riddled with secrets and the other is from a family riddled with the damage wrought by addiction and narcissism. The ending left us hanging with so many unanswered questions! I really hate it when Netflix does this because by the time the next series is available to watch you have forgotten so much of the first one and have to watch it again. However, despite the cliff hangers I did really enjoy the series and I give it 5 Kitten Stars ⭐⭐⭐⭐⭐
Norm and I started watching a series together called 'New Amsterdam' on Netflix (and yes I know the trailer is from Amazon Prime).
It follows Dr. Max Goodwin as he becomes the medical director of one of the United States' oldest public hospitals, aiming to reform the neglected facility by tearing up its bureaucracy in order to provide exceptional care to patients. New Amsterdam Hospital is a fictional entity based on the real-life Bellevue Hospital in New York. We are just getting started on it but so far so good, I am really enjoying it. I love a good medical drama.
Regular readers know my love of the NPR Tiny Desk concerts and to honour Black History Month NPR are currently featuring four weeks of concerts and playlists by Black artists spanning different genres and generations. I picked two examples of the new generation of Black artists to share with you and I hope you enjoy them.
First is a performance by GIVĒON. GIVĒON is a soulful R& B singer and his sound is a bit old school to me, the familiar R&B sounds I grew up with. The set list is 'The Beach', 'Like I Want You', and 'Stuck On You'. I especially love 'Stuck on You' so stay tuned until the end of the video. His backup vocalist is RaVaughn Brown, an artist in her own right.
Next is Rae Khalil. Rae gained national attention as a contestant on Netflix's music competition show, Rhythm + Flow which I quite enjoyed, mainly just for Cardi B making me laugh with her nonsense. Rae's set list is "Way Down", "FATHER", "UP LATE", and "MARIA".
Until next time, I hope you stay safe. Remember to do both a mental and physical check-in on your friends, especially those who live alone.
Socially distant, double masked, Kisses from the Kitten xoxoxoxoxo